WoodWorks B.C. names wood design nominees
by Samantha Ashenhurst | January 29, 2018 4:19 pm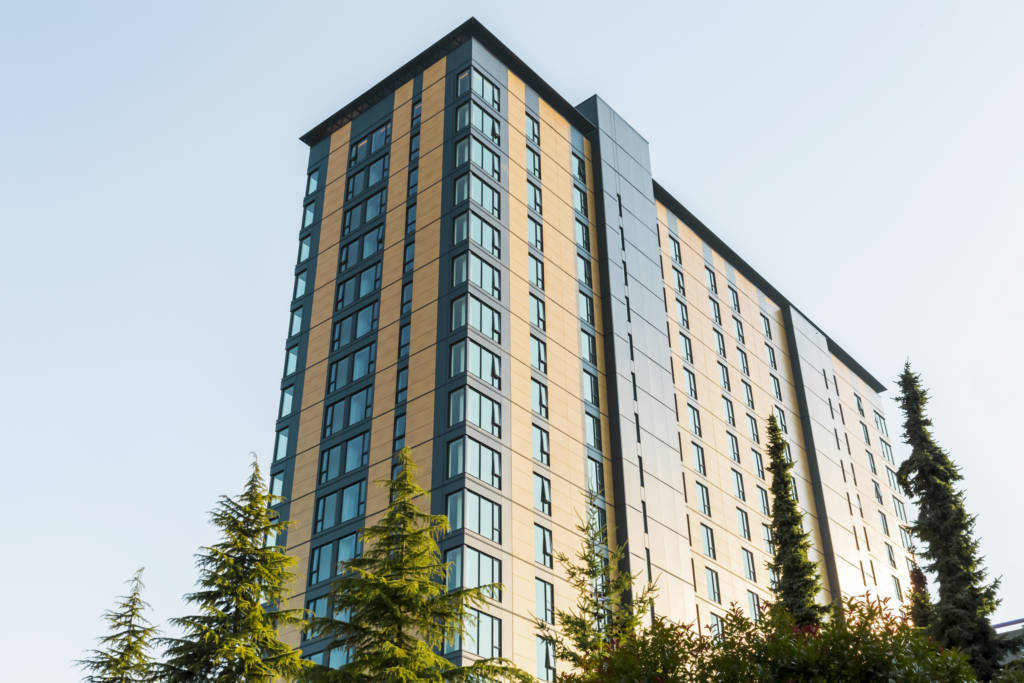 Last week, WoodWorks British Columbia[2], a division of the Canadian Wood Council[3], announced its nominees for the 14th annual Wood Design Awards. More than 100 projects and industry professionals are recognized across 14 categories, including the newly introduced Prefabricated Structural Wood division, which honours creative design and innovative use of prefabricated wood systems, components, and modules in a variety of building types.
This year's submissions are from many locations across Canada and beyond, with designs in China named in the international category. Projects of all types and sizes are among the nominees, including a library, bus shelter, fire hall, and hotel.
Nominated projects include:
Multiunit Residential Wood Design
Aperture (Vancouver)—Arno Matis, Arno Matis Architecture[4];
Brock Commons Tallwood House[5] (Vancouver)—Acton Ostry Architects[6];
King Edward Villa[7] (Vancouver)—GBL Architects[8];
Nakusp Certified Passive House Triplex (Nakusp, B.C.)—Cover Architectural Collaborative[9];
Prodigy (Vancouver)—Adera Development[10];
Riva by Onni (Richmond, B.C.)—Taizo Yamamoto, Yamamoto Architecture[11];
Royce (White Rock, B.C)—Forge Projects[12], represented by Sandy Saran; and
The Shore (North Vancouver)—Adera Development.
Commercial Wood Design
Abbotsford Industrial Shop and Office—StructureCraft Builders[13];
Cha Le Tea Merchant (Vancouver)—Leckie Studio Architecture + Design[14];
Penticton Lakeside Resort, West Wing (Vancouver)—HDR | CEI Architecture[15];
Swallowfield Barn (Langley, B.C.)—Asher deGroot, MOTIV Architects[16];
Taghum Stop Service Station (Nelson, B.C.)—Cover Architectural Collaborative; and
Tudor House Liquor Store (Esquimalt, B.C.)—Andrew Emmerson, GBL Architects.
To view a full list of nominated projects, click here[17].
The winners will be announced February 26th at the Wood Design Awards, hosted at the Vancouver Convention Centre[18] (West). For event details, click here[19].
Endnotes:
[Image]: https://www.constructioncanada.net/wp-content/uploads/2018/01/Courtesy-naturallywood.com-Photo-by-Brudder.jpg
WoodWorks British Columbia: http://wood-works.ca/bc/
Canadian Wood Council: http://cwc.ca/
Arno Matis Architecture: http://www.arnomatisarchitecture.com/
Brock Commons Tallwood House: https://www.constructioncanada.net/introducing-brock-commons-looking-up-to-the-worlds-tallest-contemporary-wood-building/
Acton Ostry Architects: http://www.actonostry.ca/
King Edward Villa: https://www.constructioncanada.net/mid-rise-wood-frame-construction-gets-innovative/2/
GBL Architects: http://www.gblarchitects.com/
Cover Architectural Collaborative: http://coverac.ca/#!/
Adera Development: https://adera.com/
Yamamoto Architecture: http://www.yamamotoarchitecture.com/
Forge Projects: https://www.forge.ca/
StructureCraft Builders: https://structurecraft.com/
Leckie Studio Architecture + Design: http://www.leckiestudio.com/
HDR | CEI Architecture: http://www.ceiarchitecture.com/
MOTIV Architects: http://www.motivarchitects.ca/ourmotiv/
here: http://wood-works.ca/wp-content/uploads/2018-WDA-Nominations-by-Category-MEDIA.pdf
Vancouver Convention Centre: https://www.vancouverconventioncentre.com/
here: https://www.eventbrite.ca/e/2018-wood-design-awards-in-bc-tickets-37242156292?aff=WWBCwebsite
Source URL: https://www.constructioncanada.net/woodworks-b-c-names-wood-design-nominees/
---