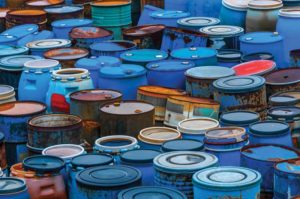 By Joanna Wcislo
When a specifier must develop specifications for a remedial design project, there are certain things that should come to mind for successful completion of the project. A remedial design must consider contaminants generating pollution as a result of historical human activity (whether industrial, commercial, agricultural, etc.) which caused the initial problem, leading to the remediation and construction activity, as well as potential human health and environmental impacts during implementation of the remedy.
Contaminated site remediation projects can involve a wide variety of contaminants (e.g. petroleum hydrocarbons, metals, volatile and semi-volatile compounds, polychlorinated biphenyls (PCBs), per- and polyfluoroalkyl substances (PFAS), and other contaminants.
Ontario's Environmental Protection Act, R.S.O. 1990, c. E.19, generally defines "contaminants" as "any solid, liquid, gas, odour, heat, sound, vibration, radiation, or combination of any of them resulting directly or indirectly from human activities that causes or may cause an adverse effect."1
In addition, the contaminants may be in different media such as soil, groundwater, surface water, sediment, or air; and some or all of the contaminated media may be classified as hazardous or non-hazardous waste in accordance with local provincial regulations such as Ontario's RR.O. 1990, Reg. 347, General waste management. It is critical to have experts who are fluent in remedial design, permitting and implementation, to develop remedial projects as key team members. This article will guide an architect, engineer, contractor, or specifier on what a proper remediation specification should include. It will focus on specifying remedial design projects and how best practices, defined by three Ps (planning, parameters, practicality) can be most effectively applied. Although the exampled provincial regulations are given for projects based in Ontario, the same principles can be applied to remediation projects in other provinces/territories.
Planning
The first "P," planning can give foresight into a project. Knowing information gathered during site environmental and non-environmental (e.g. geotechnical) assessments and investigations; human health and ecological risk assessments; remedial technology pilot testing; remedial action plans (RAP); and permitting and approval requirements can substantially help in the development of specification and will subsequently affect how smoothly a project will go once remediation begins. Having well-versed experts on the team ensures the right plans are made at the right time, and timely permits and approvals are received.
It is also required to identify and communicate these plans with authorities having jurisdiction (AHJ) for the anticipated remedial activities to obtain permits and approvals. AHJs must be notified of potential or known hazards in accordance with local provincial/territorial regulations. For instance, Ontario's Occupational Health and Safety Act (OHSA), Ontario Regulation (O.Reg.) 213/91, Construction Projects, Section 26 for "falling into or onto a hazardous substance or object,"2 and further in Sections 51-53: Accident Notices and Reports. Hazardous conditions shall only be verified by a competent person, in accordance with local regulations such as O. Reg. 213/91, Section 14 (5). Designated substances and other hazardous materials (DSHMs), including asbestos and other DSHMs are defined by local provincial/territorial regulatory requirements, such as OHSA's O. Reg. 278/05, Designated Substance–Asbestos on Construction Projects and In Buildings and Repair Operations, in Ontario. Each province has its own Environmental Protection Act; for Ontario, the Ontario EPA is the primary legislation governing pollution control and prohibiting discharges to the natural environment that cause an adverse impact, as well as providing permits. However, these regulations do not detail how to design and implement remedial projects.
Communication also raises awareness of typical permitting timelines during the design phase, where some of these can take place, such as requesting a sewer discharge permit from a local municipal authority such as a Permit to Take Water (PTTW) from the Ontario Ministry of Environment, Conservation, and Parks (MECP). Although the contractor is typically required to identify and plan any communication with local AHJs and regulatory agencies, who often have the responsibly to make various approvals (usually based on criteria submitted by the contractor to the owner's consultant), it is imperative for the specifier to be initially aware of regulatory expectations. Communication with the AHJs can save valuable time in execution and allow accurate pricing during the bidding period.
RAP usually describe site conditions, remedial objectives, and which permits and approvals are required to implement a project. Regulatory permits and municipal approval requirements often identify plans to be included in bid documents for various phases of a project (e.g. pre-remediation, post-remediation, or monitoring phases). Requirements for the contractor to create and submit an appropriate plan, as discussed in this article, are strongly recommended as project specifications. Some plans also require regulatory approval or permit issuances results; these are required prior to project implementation, when the remediation activity considered is implemented. A listing of remediation-related plans to consider may be found in Appendix A on page 3.
Contractor-prepared and submitted plans provide the basis for remedial site implementation practices that are consistent with the remedial design or approved RAP. Typically, the owner's consultant has created the remediation design, the contractor develops a remediation plan based on the design and acquires any permits required to implement the plan, although some permits need to be in place long before remediation occurs—for example, a PTTW to sample during geotechnical testing, long before the design is conceptualized.

Control the content you see on ConstructionCanada.net!
Learn More.