The importance of specifying a metering faucet
May 22, 2015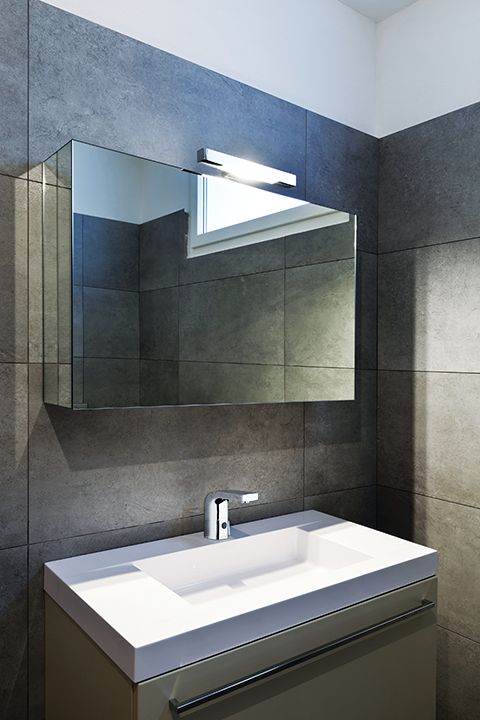 By John Fitzgerald and Pat Tanzillo
When it comes to faucets in commercial or institutional buildings, there are considerations specifiers should keep in mind for the right outcome—in other words, saving water without sacrificing performance. Besides every project being different, each type of facility has its own unique requirements. There are the water conditions, local codes, performance characteristics of the faucets, and a wide range of other variables that range from owner or contractor preference to material availability.
Selecting a faucet
One of the prime motivators in the faucet specification stems from meeting building design and function expectations while providing a safe, clean, and comfortable environment. Some of the considerations for the specifier include the following areas.
Conservation and sustainability
Specifiers and project teams should take into account how easy it is to select the faucets when it comes to limiting the flow rate and operating time to help conserve water. Does the manufacturer offer a range of choices, or are selections limited to a few models?
Flexibility and expandability
In a commercial or institutional facility, how difficult is a changeout? Components like handles, spouts, and cartridges should be closely examined to determine how easy it is to make such routine changes. While maintenance is not typically a specification issue, these considerations are increasingly falling into the specifer's lap because they affect the building's overall performance. One of the best ways for the specifer to think about this notion is to have a discussion with the maintenance team in the building or a similar project they are working on.
Cleanliness and sanitation
Today, it is difficult to go 24 hours without hearing the importance of hand-washing in controlling the spread of diseases. From the specifier's point of view, how do the faucets address sanitation and safety? Are there hands-free options? Or, as in the case of metering faucets, do they limit the 'touch points' between the user and the faucet? By automatically controlling water flow, the faucet will reduce contact with hands/fingers allowing a more hygienic hand-washing area.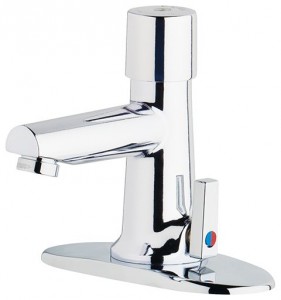 Accessibility
Are the faucets just meeting or exceeding the requirements of the Canadian Standards Association (CSA) B125.1, Plumbing Supply Fittings, or Americans with Disabilities Act (ADA)? For example, ADA states hand-operated metering faucets must remain open for a minimum of 10 seconds, and CSA does not have a minimum time requirement. Many people consider ADA simply a 'chip' on the table that must be played in order to be specified. However, a comparison of faucet models will always produce differentiation for the specifer when examining the performance characteristics.
Esthetics
Perhaps one of the most subjective considerations is the faucet's appearance. While more the realm of the designer than the specifer, the latter's role is increasingly important because looks without performance will simply result in failure. Reliable operation is relative, of course, and it is up to the specification writer to work closely with the designer in finding suitable alternatives to meet the design vision.
These are just some of the considerations that will affect the specifer's decision on the faucet type, but for simplicity, the metering faucet has been one of the proven and often overlooked that meet all these considerations. As a result, they belong at the top of the specifier's short list.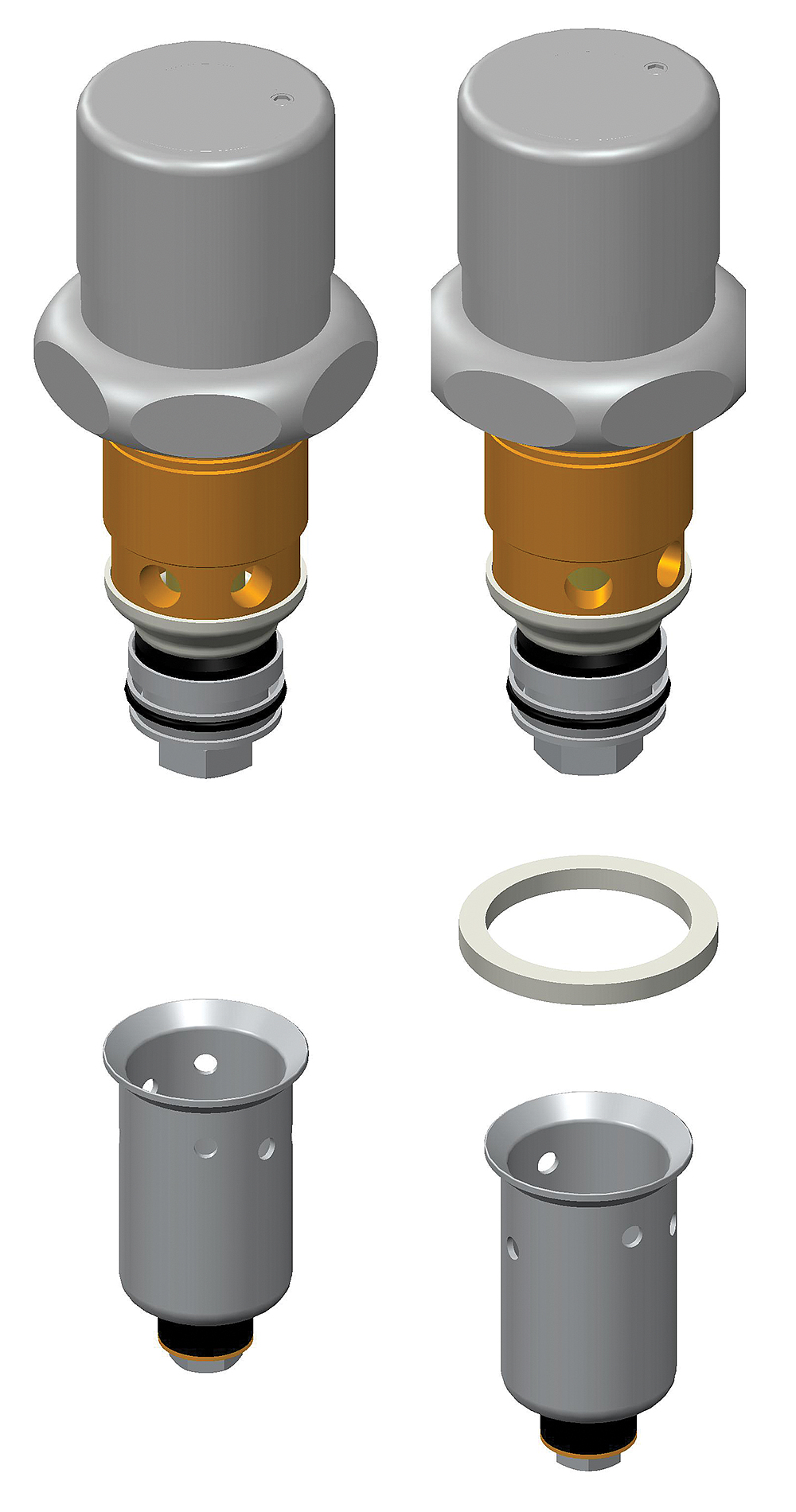 Metering up close
Metering faucets are an extraordinary piece of engineering, containing many features that have evolved to meet the considerations previously mentioned. Throughout this evolution, the improvements are not always obvious because they are within the faucet. A cartridge, for example, while the heart of any faucet, is especially innovative in metering fixtures. The cartridge regulates the flow of water (time), which the most important component affecting overall faucet performance. Unlike electronic models, or simple on/off handles, the metering faucet must be precise—cartridges had to be developed for maximizing performance, and also easy adjustments.
Metering faucets also can contain pre-installed, free-spinning supply hoses making installation easier. Many offer one-piece, chrome-plated, cast-spout bodies and vandal-proof components. Additionally, there are now many different types of cartridges used in metering faucets for specifiers to consider. Understanding their differences will help understand not only the metering itself, but also how the functionality has evolved to deliver proven performance.
Manual metering
The manual metering faucet is activated by pushing down on the top handle to begin the flow of water. The water will run for a set time, determined by the setting on the mechanical cartridge and the amount of water pressure present. Manual metering faucets are preset at the manufacturer, usually 12 seconds per cycle, and have the ability to be adjusted in the field.
The original manual metering device cycled water by changing the timing mechanism (or dashpot). The dashpot had a hole that allowed for precise control of the water that flowed through it. Adjusting it was a simple matter of regulating water flow through the porous washer's compression over the hole. The cartridge had a spring
that is used to retract the valve, and water was thereby controlled through the washer's compression. In other words, the more force compressed on the washer, the harder it was for the water to flow. Although the manufacturer sets the timing as a reference point, it can be changed, giving the metering faucet a layer of flexibility to meet various conditions.
Eventually, improvements were made using the same concept of moving water through a hole and a control pin where water bled through the orifice to control the tolerance. One change, for example, was the modular cartridge, which had a spring that made an actuator move up and down. Thus, placing a filter on the bottom of the cartridges protects the cartridge against line sediment, which increases life expectancy and reduces maintenance.
As the actuator moves up and down, control points allow water to bleed through, which in turn, is controlled by time adjustments. Depressing the handle, the cartridge closes on release or within a two- to 30-second cycle time.
Another change was an external timing nut for easy adjustment with no need for shutting off the water, or adding another filter screen to protect against contaminants.
Metering faucets and the environment
As energy conservation and a desire for green buildings continue to grow, so does the requirement for water-saving devices. When choosing a metering faucet, the specifier has to know whether it can meet the ongoing shifting landscape of environmental regulations.
For example, water flow measurement data is vital information when using metering faucets, but so is following water conservation guidelines such as any chosen green building rating programs or other local plumbing codes.
Perhaps the most important consideration from the specifier's point of view is to acknowledge the difference between run or cycle time—gallons per cycle (gpc) vs. flow rate gallons per minute (gpm).
A cycle equals the number of seconds a faucet allows water to flow once activated:
Installed usage per activation (gpc) = Flow rate (gpm) * (Duration (sec/cycle) / 60 sec).
However, cycle time as defined by the EPAct referred to manual metering faucets, self-closing faucets and electronic faucets. Conversely, the criteria in some environmental design tools, such as LEED, use actual water volume consumed, which calculates flow rate, given as:
Flow rate (GPM) = (Installed usage per activation (GPC) / Duration (sec/cycle) * 60 sec.
Therefore, knowing the differences between gpc and gpm is imperative when dealing with environmental building design tools.
For example, if a specifier follows one code requiring gpc for metering faucets, the criteria match is simple: confirm the metering faucet being specified matches the faucet guideline flow criteria. However, if the same building is also striving for certification under the Leadership in Energy and Environmental Design (LEED) program, the specifier must evaluate the faucet criteria based on the version of the rating system being followed. If following LEED 2009, then the same criterion applies. However, if following LEED v4, closer attention to the details would be needed.
The specifier needs to know which version of LEED the building is being designed to meet (if any). This is especially true for metering faucets (manual and electronic) since the requirements have changed. In comparison to LEED 2009, where the baseline requirement was 0.94 L/cycle (1⁄4 gpc) for metering faucets, metered faucets must follow the 1.9 L/minute (1⁄2 gpm) in LEED v4. For example, it would take a 0.94 L/cycle (1⁄4 gpc) metered faucet with a 30 sec/cycle to meet the 1.9 L/minute (1⁄2 gpm) LEED v4 baseline criteria. To achieve the 20 per cent reduction prerequisite, a 0.94 L/cycle (1⁄4 gpc) metered faucet would need to be adjusted to 38 sec/cycle (achieving 1.5 L/minute [0.40 gpm]).
Overall, the metering faucet is a beneficial choice for environmental considerations. The flexibility, adaptability, and continued innovation to meet water conservation goals keep them at the top of specifier's short list for commercial and institutional facilities.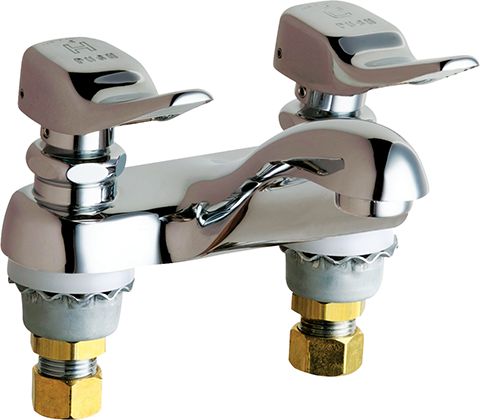 Electronic metering
Electronic faucets are really metering faucets when considering they limit the time water flows. However, electronics adds another layer of control over the timing of water flow. Similar to manual metering, the duration of time can be through an outlet such as 1.9 or 5.7 LPM or (1/2 to 1 ½ gpm).
Faucets activated by an electronic sensor have various designs differentiated by the type of sensor used and its field of sensitivity. Electronic metering faucets are designed to activate when motion is detected by incorporating intelligent electronics—including 'smart' technology that addresses false activations resulting for environmental surrounding influences. An electronic metering faucet minimizes water consumption by releasing flow only when hands are present in the water's path—stopping immediately when hands are removed.
By combining low-flow outlets with precise electronic metering, the specifier has full control of water usage. Some electronic metering faucets can be programmed with hand-held devices, thereby allowing maintenance to fine-tune performance to match application requirements physically touching the faucet's internal electronics to maximize water savings.
It is important to keep in mind water condition is any faucet's biggest determinant to performance. Tolerances are impacted by water. For example, dirty, corrosive, treated, or other severe water quality can hider expected performance. Continued innovation comes from understanding the end-user environments where the faucets perform such as sediment and chemically treated water.
Conclusion
Metering faucets are not the first thought that generally comes to a specfier's mind in approaching a commercial or institutional facility, but they should be. Their proven performance, and continued innovation make them among the most effective ways to reduce water consumption through precise control.
As hard as it is to imagine improving a device that has as its one major purpose turning on and off the flow of water, the metering faucet, over the years, has evolved. These fixtures contribute to conserve simply by regulating the run time (i.e. cycle time), thus controlling flow rate (gallons per minute).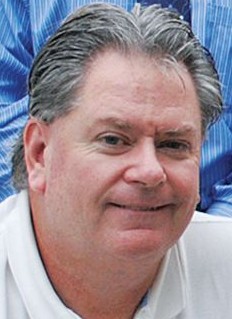 [5]John Fitzgerald is Chicago Faucet's vice-president of marketing and has been with the company since 2006. He has more than 25 years of experience in business-to-business and business-to-consumer marketing and business management. Fitzgerald can be contacted by e-mail at john.fitzgerald@chicagofaucets.com.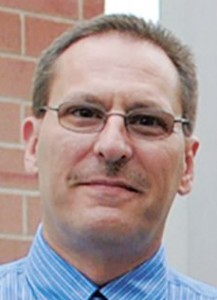 [6]Pat Tanzillo is Chicago Faucet's product manager of commercial products marketing. With 35 years of experience in the plumbing industry, Tanzillo started his career in engineering and currently conducts product training nationwide and manages the company's commercial products. He can be contacted at pat.tanzillo@chicagofaucets.com.
Endnotes:
[Image]: http://www.constructioncanada.net/wp-content/uploads/2015/05/faucets_Edge_install.jpg
[Image]: http://www.constructioncanada.net/wp-content/uploads/2015/05/faucets_3502-4E2805ABCP.jpg
[Image]: http://www.constructioncanada.net/wp-content/uploads/2015/05/edit11.jpg
[Image]: http://www.constructioncanada.net/wp-content/uploads/2015/05/faucets_802-336ABCP.jpg
[Image]: http://www.constructioncanada.net/wp-content/uploads/2015/05/Fitzgerald_headshot.jpg
[Image]: http://www.constructioncanada.net/wp-content/uploads/2015/05/Tanzillo_headshot.jpg
Source URL: https://www.constructioncanada.net/the-importance-of-specifying-a-metering-faucet/
---