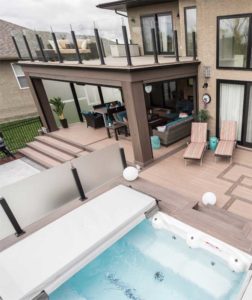 By Jennifer Ogilvie Brackett and Kim Smallwood
The demand for outdoor living space is rising. It is a natural merging of our desires to connect with nature and expand the livable square footage of homes. According to the American Institute of Architects (AIA) Home Design Trends Survey, an outdoor living space is one of the most desired special function areas of a home. Contributing factors are a growing staycation mentality and a preference for healthy lifestyle choices. Therefore, incorporating outdoor living spaces with rooftop decks is a smart investment.
Whether in single-family homes or commercial residential properties, maximizing useable square footage is always an advantage. Roof decks can be a stand-out feature in a competitive marketplace.
In fall 2019, real estate service firm CBRE reported Canada's multifamily market (buildings with more than four residential units) is the most robust it has ever been with rental rates at or near 10-year highs in almost every market. With Canada's population growth outpacing all other G7 nations, rental demand in the multifamily market shows no sign of slowing down. Vacancy rates continue to decrease despite the increase in new rental units. In contrast to a slowdown in single-family starts and increased vacancy rates in commercial spaces, the COVID-19 crisis does not seem to have impacted the multi-residential market. In April 2020, during the peak of the pandemic, multiple dwelling starts in urban areas of Canada were up 35 per cent from March (excluding Québec). The only sector that may feel an effect from COVID-19 is student housing, but overall, the outlook is positive. In a March 2020 report on the pandemic's impact on the real estate market, agency Marcus & Millichap says, "The apartment market will continue to deliver favourable performance."
The urban wellness shift
Millennials desire access to both urban amenities for social activities and nature for mental health. With fewer cars and a mindset for experience over assets, there is a generational preference for renting homes instead of units. Cities are doing their best to address the challenges of affordability and public health, so design strategies for multi-unit residential buildings (MURBs) are becoming increasingly important.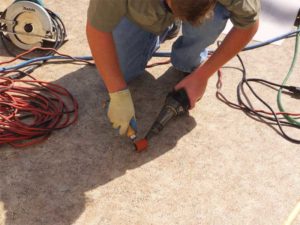 Flat roof decks are relatively easy to design and build, but are often an overlooked way to meet these design requirements. They can provide private, outdoor spaces in individual multi-residential units without increasing the overall footprint of the building. Additionally, roof decks on shared common spaces can increase social interactions, thereby raising the unit's value and rental revenues.
Categories of flat roof materials
The three most common categories of flat roof membranes are modified-bitumen (mod-bit) roofing, built-up roofing (BUR), and single-layer membrane roofing.
Modified-bitumen roofing
Mod-bit roofing is composed of asphalt rolls, usually 1-m (3-ft) wide and typically made of two layers—base and cap sheets. Mod-bit roofing can be installed in four basic ways:
hot-applied with hot tar;
cold-applied with solvent-based adhesive;
torched down with an open flame that melts the two sheets together (commonly referred to as torch-on roofing); or
peel and stick with base and cap sheets that self-adhere once a release tape is removed.
On a pedestrian roof deck, mod-bit roofing would need an additional walking surface on top.
Built-up roofs
BUR is often referred to as tar and gravel roofs. This type of roofing generally consists of layers of felt mopped into place with hot tar and then covered in small stones or gravel to protect the tar from the damaging effects of the sun. On a pedestrian roof deck, built-up roofs would need an additional walking surface on top.
Single-layer membranes
Single-layer membrane roofing is available in various materials including ethylene propylene diene monomer (EPDM), polyvinyl chloride (PVC), or thermoplastic polyolefin (TPO). Single-layer membranes are installed in one of two basic ways:
ballasted or weighted down with large river stone; or
adhered or glued down.

Control the content you see on ConstructionCanada.net!
Learn More.