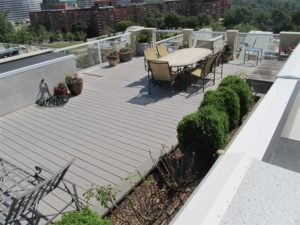 Concrete pavers are commonly used over non-exposed membrane assemblies, as they have minimal maintenance requirements, but they can look industrial, which may not be the desired effect on a leisure roof deck.
All of these types of non-exposed membrane assemblies can create quite a dead load that a structure must support. In addition to the ability to support the weight, the roof deck construction must allow for adequate clearance from the substrate to door openings to allow for the entire assembly, including drainage slope or sleeper system, pedestals or adhesion layer as needed, and the wear surface itself. Each jurisdiction will have specific requirements for rough door opening above the deck surface.
While the wear surface in non-exposed systems offers attractive finishes such as tile or wood, these options can be costly to maintain and repair. Not just related to surface maintenance, but if any renovation or structural work is required, the removal and replacement of the wear surface can be disruptive to maintenance budgets.
Exposed roof deck membrane assemblies
Exposed roof membrane assemblies are simply a flat roof membrane not covered with the materials mentioned above, and can be subjected to light pedestrian traffic. CCMC defines light pedestrian traffic as "limited to residential applications, without exposure to mechanical equipment such a snowblower."
In the early 1980s, vinyl deck membranes were first used as roof deck material, although its first actual 'approval' as a roofing membrane in Canada did not come until 1990.
The advantages of an exposed roof membrane are that it is lightweight (as opposed to a non-exposed membrane system) and does not require the extra thickness. It is cost-effective and easy to maintain and repair with a long life expectancy. Life expectancy of exposed membranes can vary based on production quality and intensity of UV exposure. With proper care and cleaning, an average life expectancy is 15 to 25 years. This longevity makes waterproof vinyl membranes a suitable option for green building projects, as they qualify for Leadership in Energy and Environmental Design (LEED) credits for building reuse, and in some cases, cool roof ratings with solar reflective index (SRI). There are a variety of attractive designs to choose from in texture and colour. Single-ply vinyl roofing membranes have made huge leaps since the days when one or two solid colour surfaces were all that was available.
The biggest disadvantage of an exposed roof membrane assembly is that it is exposed to the environment, which means eventual fading and staining as it ages. It is also only suitable for light pedestrian use, so for high traffic areas, a non-exposed system is recommended. The longevity of an exposed roof membrane is dependent on application and workmanship as well as a suitable, properly prepared substrate (which often comes down to the knowledge of the applicator as well).
Selecting a non-exposed or an exposed roof deck membrane system
Outside of meeting its loadbearing needs, a big consideration is fire-rating requirements. To be used for a roof deck over habitable space, the roofing membrane must be fire-rated in conformance with Underwriters Laboratories of Canada (CAN/ULC) S107, Standard Method of Fire Tests of Roof Coverings. Also, the whole roofing assembly must be considered for the project's fire-rating requirements. For example, a non-exposed system with a fire-rated membrane surfaced with concrete pavers will achieve a higher fire rating than when surfaced with wooden deckboards. (It is important to note fire-rating requirements vary by jurisdiction).
Characteristics of exposed (pedestrian) vinyl roof membranes
There are various types of walkable PVC sheet membranes designed for decking use. Each can be somewhat different in their manufacture, but they do share some common characteristics. These premanufactured products are available in rolls, typically 23 m (25 yds) in length and 1823 mm (72 in.) wide. Thicknesses range from 1 to 2 mm (40 to 80 mils). However, the most common thickness for exposed walkable roof membranes is 1.5 mm (60 mils), which exceeds the residential roofing code requirement of 1.2 mm (48 mils), per Section 9.26, "Roofing," of NBC, and provides allowance for wear abrasion. Most deck vinyl options are manufactured with UV stabilizers, mildew inhibitors, and chemical resistance.
Today's market offers a large selection of slip-resistant textures and contemporary colours and patterns. This esthetic advantage allows for unique exterior design options versus the more industrial-looking solutions previously available in the flat roof surface market.
The most relevant elements of the construction of PVC membranes are backing types and reinforcement style, which gives added stability and multi-directional strength. The backing type and style of reinforcing (usually polyester or fibreglass) is typically how the product is described in specifications. The most common options are:
woven polyester, non-embedded backing (a.k.a. woven back) – offers good seam weldability and good adhesion to subsurface qualities;
vinyl backed with embedded fabric (a.k.a. vinyl back) – offers excellent seam weldability and average adhesion to subsurface qualities (heat forming is required for 90-degree corners); and
non-woven polyester, non-embedded backing (a.k.a. fuzzy back) – offers excellent adhesion to subsurface and average seam weldability qualities.

Control the content you see on ConstructionCanada.net!
Learn More.