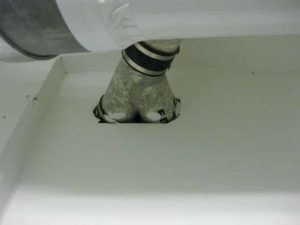 Design and layout
Due to the many associated complications, any attempt at noise mitigation design will, at best, be a sloppy endeavour. Mitigation of various known noise sources (such as the chiller on the roof, the train passing by the block at 4:40 a.m. each day, or the subway running 24 hours a day) can be planned and have elements incorporated into the building during construction. The majority of community noise, both present and future, cannot be so easily addressed.
The best compromise for new construction (now required by most jurisdictions) consists of measuring current noise levels in the proposed building locations, extrapolating future levels, and designing the building façade to reduce the expected noise to the desired level. Individual room usage ratings will usually determine what these levels may be. For instance, the kitchen, bathroom, and hallways might have a 45-dB rating, the living room might be rated for 40 dB, and a bedroom might have a rating of 35 dB, per Canada Mortgage and Housing Corporation's (CMHC's) Road & Rail Noise Effects on Housing (For comparison, see an overview of the noise levels various sounds produce at).
In multi-unit dwellings, in addition to requiring ambient noise levels in different areas not to exceed particular points, STC ratings are specified for construction assemblies separating uses (e.g. distinguishing a dwelling unit from the rest of the building with a minimum STC of 50 or giving a refuse chute or elevator shaft a minimum STC of 55).
In addition to these minimum STC requirements, efforts should be made during the design stage to isolate the building's mechanical equipment as well as passive noise generators (e.g. garbage chute) from the structure, thus reducing, to some extent, the structure-borne noises. This can be achieved by using a sound control technique or underlayment, employing vibration isolation connectors, allowing provisions for clearance for duct and service penetrations, or incorporating gaskets, mounts, isolation or separation pads, resilient channel, acoustical sealant, sound-absorptive insulation, and other resilient materials to block or damp noise and vibration.
Best design and perfect execution during construction would still ultimately result in compromise, since people still need to breathe, and sound will continue to travel in air. However, analyzing potential design issues (such as the building location, orientation, and proximity to neighbouring properties and traffic, the size, volume, and shape of a given space or room, and the selection of sound-absorbing materials, isolation pads, and resilient connections) will minimize the impact of noise and vibration on the occupants and promote building durability and better performance.
It should be noted a proper noise mitigation specification, as well as a proper strategy for sound control and isolation of demising boundaries, should be co-ordinated properly between the prime consultants at the preliminary stage of design. The specification should take into consideration the size, volume, dimensions, proportions, and configuration of the rooms/interior space to eliminate echoes, reverberation, and flanking paths. This could take the form of laying out suites and adjacent rooms according to their functions. By doing so, certain awkward scenarios are eliminated, such as placing bathroom against bedroom, kitchen or living room against bedroom, bedroom against stairs, or bedroom against elevator shaft, refuse chute, gymnasium, amenities spaces, or mechanical and electrical operating systems. This approach of defining design criteria and objectives will strengthen noise mitigation and pay enormous dividends to participants and end users.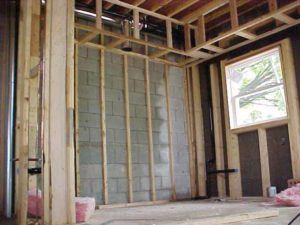 Shop drawings and specifications
Acoustics should be reviewed from specification, design, installation, and performance perspectives. In some cases, shop drawings for the floating slab (commonly used to isolate the generator slab from the rest of the building structure) are prepared and submitted as required. In some other instances, sketches from the previous project become adopted on the new one due to building similarities and can become the only job-specific detail of this risk area or assembly. Therefore, the noise emitted by equipment may propagate to the livable space below through the lack of detailing, shop drawings, and specifications.
Equipment specs should be reviewed and carefully considered based on the project requirements. Once equipment is specified, shop drawings and detailing should follow to isolate it from the rest of the building relative to its scale, noise emission, and anticipated vibration.
Determining the type of boiler, compressor, fan coil unit, or bathroom exhaust fan in accordance with American Society of Heating, Refrigerating, and Air-conditioning Engineers (ASHRAE) recommended criteria, specifying the installation of a motor mount in an underground parking garage, or stipulating resilient connections are all critical factors for the success of any given project.
Acoustical recommendation and reporting are provided during the construction process. However, acoustical specification should also be an essential part of the process to mitigate the associated risk.
Even when one has worked on hundreds of condominium projects using specifications or project manuals to navigate through construction, one will not come across a full and comprehensive acoustical mitigation specification. Is one really needed? This question remains to be answered. However, it would make good sense to have one to complement existing specification sections by addressing job-specific requirements.

Control the content you see on ConstructionCanada.net!
Learn More.