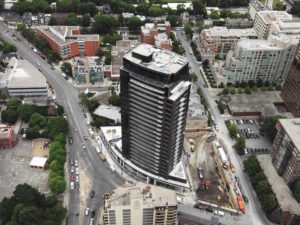 by Ibrahim El-Hajj, M.Sc., Arch., EQI, CACB, MRAIC, BCQ, OAA
Many questions can arise when considering the issue of noise mitigation. For example, why might designing to the minimum Ontario Building Code (OBC) requirements not get you a pass when it comes to sound transmission class (STC) rating? Is this a design issue or a blind spot in OBC? Is the tendency to design more compact and smaller units the reason behind noise complaints? Should specification of acoustical performance be considered? While this article is tailored to the requirements of the Ontario Building Code (OBC), a future piece will consider acoustics in the context of the National Building Code of Canada (NBC).
Traditionally, sound control has had limited importance in building design and construction. Nowadays, it is incorporated at various construction stages (from below grade to the building envelope to separation between suites/rooms and operating systems). It has been used:
at below-grade portions of buildings adjacent to subway stations or other sources of vibration;
at demising/party walls, slabs, ceilings, drop ceilings, plenums, soffits, and roofing assemblies;
around mechanical equipment/rooms (e.g. boilers, compressors, heat pumps, air louvres, plumbing, waste disposal systems, and HVAC systems) located within or outside a building;
around any electrical equipment/rooms (e.g. generators, transformers, elevator rooms, light fixtures, etc.);
at garbage/recycling rooms, garbage compactors, refuse chutes, floating slabs, garage door openers, and shafts;
within mechanical and electrical equipment as well as operating units and devices;
at curtain walls, window walls, spandrel panels, and other cladding systems, as well as at other junctions and construction joints between fire- or acoustically rated assemblies; and
when a building is located in close proximity to highways, subways, rail stations, streetcars, stadiums, airports, aircraft corridors, and similar.
Basically, the discomfort of noise and vibration is caused by three main factors: occupants, building utilities (i.e. system operation), and external sources.
When wondering about the purpose of acoustics and the main sources of noise, it would be prudent to reflect on factors that play into noise control, such as:
human beings and their behaviour, lifestyle, and level of comfort;
the perception of sound versus noise (i.e. noise can be defined as unwanted sound);
side effects and symptoms;
people's sensitivity, age, and tendency to complain or not complain;
type of noise and vibrations;
density and congestion;
dimensions and volume of the interior space;
layout of suites and building configuration;
acoustical shop drawings;
acoustical specification;
prime consultant co-ordination;
geographical location as well as relevant environmental considerations; and
bylaws, regulations, and the current building code requirements.

Control the content you see on ConstructionCanada.net!
Learn More.