Green and BIM projects decline
The usage of building information modelling (BIM) has dipped in 2019. This time, only 39 per cent of participants say their firm uses it on more than a quarter of all projects. Last year, that number was 44.
In terms of sustainability, 19 per cent of respondents said they work on projects directly related to green design targets more than half the time, down by four per cent from last year.
Predicting the future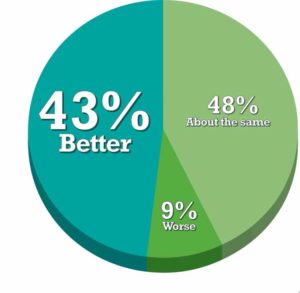 Judging by the survey, many in the design/construction industry have a right to be optimistic—only nine per cent see the next five years as particularly troubling. After all, 62 per cent say the last half-decade meant either increased or steady profitability.
That is not to suggest there are not any concerns, of course. The tariffs imposed on aluminum and steel by the United States affected many of the participant's work.
Further, "economic downturn has reduced government transfer payments to fund municipal projects," said a project manager from Alberta.
"The economy is not doing very well. Slow economy equals not much building," suggested a project estimator.
A Winnipeg VDC co-ordinator "saw a drop in commercial permits due to uncertainty in the market."
"Low Canadian dollar has raised building cost as well as increased government regulation," wrote a building designer from British Columbia.
An Ontario architect felt, "the cost of construction has gone up so quickly, institutional project budgets are simply not keeping up. Even costing reports, if they are more than a few months old, are grossly underestimated."
On the bright side is this note from a Québec architect: "We are having more projects now because the government of Québec is investing a lot in schools. The existing schools are not enough for the growing population."
We also asked what could be the single biggest factor impacting design/construction firms over the next few years. Here are some of the important considerations:
the economy (whether a recession will set in and if the oil industry will see growth);
availability of skilled labour;
general market activity (such as growth in sectors like the housing market or infrastructure spending);
Canada's political landscape (provincial and federal elections and regulatory changes);
advancements in technology including BIM; and
the United States (including tariffs and the Trump presidency).

Control the content you see on ConstructionCanada.net!
Learn More.