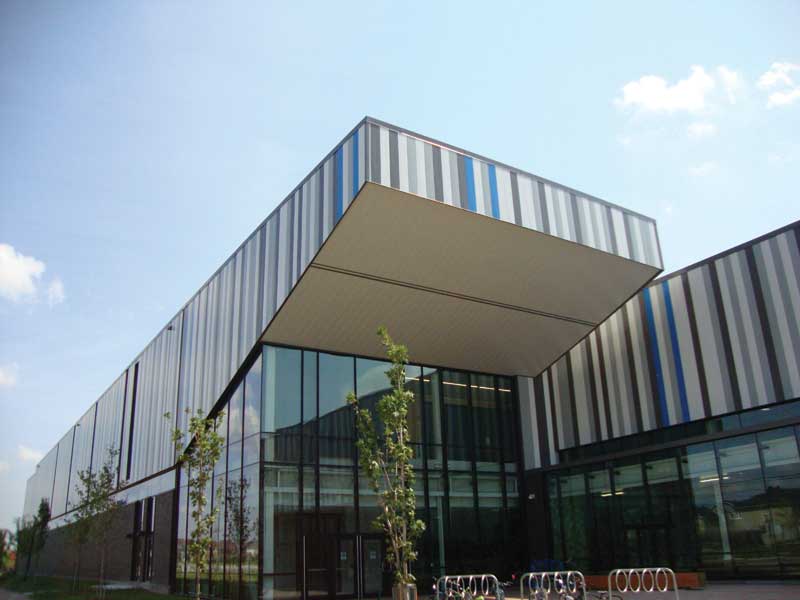 Transparency in the North American steel industry
The North American steel industry provides resources to help building professionals earn LEED v4 certification. In particular, the industry has been working to develop a complete list of available EPDs for steel building products. The steel-industry EPDs are more comprehensive than those of some other building materials, creating an all-encompassing view of each product's environmental impacts. (Construction professionals interested in viewing and using EPDs and other transparency resources in their building projects can visit the Steel Market Development Institute (SMDI) site, www.buildusingsteel.org, for a list of steel product EPDs and updates on other sustainability resources.)
Currently, there are EPDs for these product categories:
cold-formed steel studs and track (Steel Recycling Institute [SRI]);
open-web steel joists (Steel Joist Institute [SJI]);
steel roof and floor decks (Steel Deck Institute [SDI]);
roll-formed steel panels for roofs and walls (Canadian Sheet Steel Building Institute [CSSBI])'
insulated metal panels (Metal Construction Association [MCA]);
fabricated steel plate (American Institute of Steel Construction [AISC]);
fabricated hot-rolled structural sections (AISC);
both primary and also secondary structural steel frame components (Metal Building Manufacturers Association [MBMA]); and
roll-formed metal wall and roof panels (MBMA).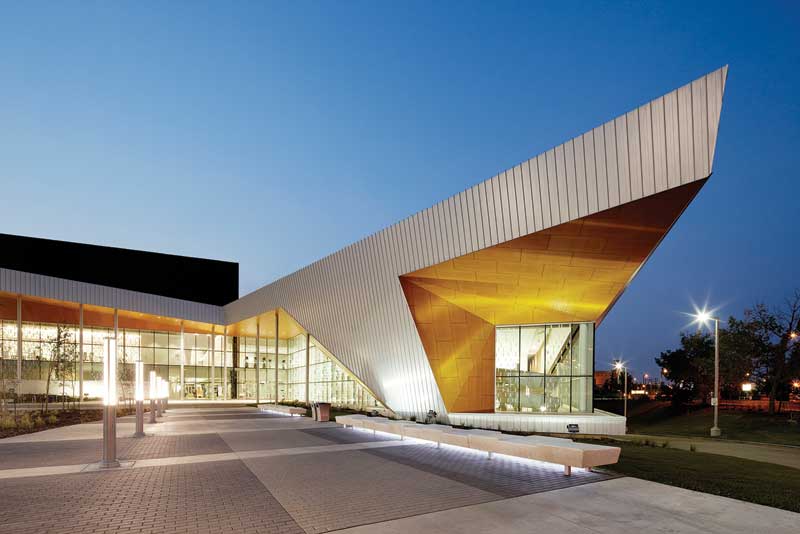 Future of sustainability in the steel industry
As green building requirements increase in number and stringency, the steel industry is expanding its efforts to improve sustainability and transparency. Many manufacturers of construction products are currently working to develop health product declarations that provide a transparent path to declaring the ingredients used in products and their related health hazards. These HPDs will help building professionals earn additional credits within the new LEED v4 rating system.
Some of the building information modelling (BIM) programs are beginning to directly embed environmental information in building designs to help assess the life cycle environmental impacts early in the materials decision-making process.
An increased knowledge and understanding of the environmental impacts of building materials will lead to an increase in truly sustainable buildings in the future. Construction professionals and the general public are becoming increasingly aware of the need for consideration of sustainability principles. The industry will likely continue to see the impact of this increased demand, as well as continued improvement in tools to demonstrate how materials, products, and buildings affect the environment as architects, designers, and specifiers design the sustainable steel buildings of the future.
 STEEL ROOFING FOR COLDER CLIMATES
Steel roofing systems are often chosen by school, government, commercial, industrial, and institutional building owners due to their esthetics, durability and life cycle cost benefits. They are available in several stock sizes and finishes, and can be customized to satisfy the requirements on both simple and highly complex iconic projects.

Due to their light weight per unit area, steel roofs can provide structural savings in buildings when compared with heavier non-metal roofing alternatives. For reroofing projects, steel roofing can often be applied over the non-metal roof, saving removal and disposal costs. Above all, steel roofing systems provide significant advantages in reduced energy use and overall sustainability.

Buildings consume two-thirds of all electricity produced and one-third of all energy produced in North America. While it is recognized that adding insulation under the roof surface can reduce cooling and heating costs, there is a diminishing return on the strategy of increasing insulation to conserve energy costs. This is where 'cool roofing' can play roles in further reducing the energy consumed and in minimizing the heat island effect created in large urban areas.

Steel roofing materials are available in a variety of finishes, colours, textures, and roofing profiles, with varying levels of reflectivity and emissivity to fit building needs in a wide range of regions and climates. Reflectivity is the ability of a roof to reflect solar radiation back into the atmosphere, preventing it from being absorbed into the building envelope and reducing the need for energy to cool the building. Emissivity is the ability to emit absorbed solar infrared radiation back to the atmosphere.

Since much of Canada has long, cold winters, this time of year's 'heating load' conditions generally have a greater influence on energy consumption than the summer's 'cooling load' when analyzed over the course of a full year. The degree of influence depends primarily on the geographic location, the insulation level in the roof assembly, and the cost of energy. For example, heating loads in Winnipeg are much higher than in Windsor, Ont., because of the former's greater number of heating degree days. These climate factors require building professionals to consider materials with different reflectivity and emissivity properties than their colleagues working on projects in warmer climates such as the southern United States.

Calculations involving solar reflectance and emittance can be used to determine the energy savings attributable to a roof. Steel roofing can reduce energy costs associated with air-conditioning. For cooling loads, it is advantageous to reflect as much solar radiation as possible, and to re-emit as much of the absorbed infrared radiation as possible. However, for energy savings associated with heating loads, absorption of solar infrared radiation is beneficial; it is best to retain absorbed solar radiation rather than emit it back into the atmosphere.

In other words, for colder Canadian climates, it is best to have roofing products with high reflectivity and low emissivity. Metallic coated steels, such as Galvalume Plus (i.e. 55 per cent aluminum-zinc) combine these properties, making them the best option for low-slope roofs in Canada.

In addition to their energy-saving benefits, steel roofs can contribute to a building's use of renewable energy. They provide the optimal foundation for photovoltaic (PV) installations since the roof can be expected to last longer than the solar system it supports. When it is ultimately removed as part of building demolition or renovations, steel used in metal roofing is fully recyclable, allowing it to credibly claim both a high level of recycled content and 100 percent recyclability by recognized definitions. The product's recyclability also provides significant savings on construction removal and disposal costs.

Residential buildings can also benefit from steel roofing applications. This sector has grown significantly as residential customers begin to see the long-term energy savings and other benefits of steel roofing. For residential customers interested in steel roofing, a rebate coupon for up to $500 is available from Canadian Sheet Steel Building Institute (CSSBI).*

* Visit steelroofsource.com.
Mark A. Thimons, PE, LEED AP, is the vice-president of sustainability for the Steel Market Development Institute (SMDI), a unit of the American Iron and Steel Institute (AISI). He is responsible for overseeing the Steel Recycling Institute (SRI), as well as research projects demonstrating the life cycle advantages of steel in all markets. Thimons serves on the board of directors of the Sustainable Buildings Industry Council (SBIC) and the Cool Roof Rating Council (CRRC). He can be contacted via e-mail at mthimons@steel.org.

Control the content you see on ConstructionCanada.net!
Learn More.