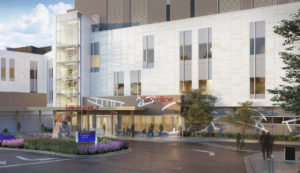 Global architecture and engineering firm, Stantec, and the construction firm, Graham Design Builders LP, have been awarded a $366 million design-build contract for the Cariboo Memorial Hospital redevelopment project in Williams Lake, British Columbia.
The expansion will include in-patient and emergency care, providing the communities of Williams Lake and Cariboo-Chilcotin with access to critical health care services.
The Cariboo Memorial Hospital will be delivered via a progressive design-build model and is one of the first health care projects in British Columbia to be delivered under this model.
Stantec is providing clinical and equipment planning, architectural, interior, and landscape design, energy modelling, acoustics, mechanical, electrical, IMIT, structural, and civil engineering, as well as complete project management services.
Adding more than 9,290 m2 (100,000 sf) and three stories to the existing hospital, the project will include a new emergency department, a 36-bed medical and surgical inpatient unit, a six-bed maternity services unit, a mental health and substance-use in-patient unit with eight single-occupancy rooms, and a new pharmacy.
Engineering solutions deployed on the project include the adoption of technology to improve patient experience, extensive amounts of heat recovery and high efficiency, low carbon mechanical and electrical energy systems resulting in a 72.4 per cent reduction in greenhouse gas (GHG) emissions, and an industry leading projected carbon emissions of only 26.3 kgCO2e/m2/year.
The project is pursuing gold certification under Leadership in Energy and Environmental Design (LEED) Canada BD+C V4. Construction will happen in two phases. Phase 1, which includes the addition, will begin in spring 2023 and is expected to finish in fall 2026. Phase 2, which includes renovations to the existing hospital, will begin in fall 2026 and is scheduled to be complete in early 2029.
"Expanding access to health care services is a top priority for hospitals nationwide, and we are proud to support these initiatives with the Cariboo redevelopment," says Brian Christianson, principal at Stantec. "Our team takes great pride in knowing that we can help make a genuine difference in our community for patients while helping improve the care team experience."