Stacking the Deck: Wood-plastic composites help marinas achieve durability
September 2, 2016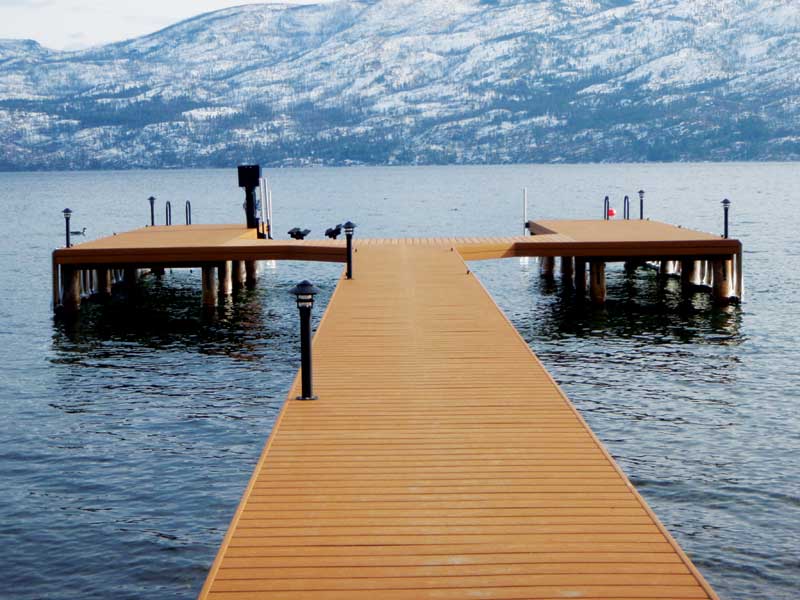 By Brent Gwatney and Randy Pearce
Marinas face some of the most demanding environmental conditions of any type of structure. High moisture, sun, salt, freeze/thaw cycles, fungal decay, and insects all work together to degrade decked surfaces. Additionally, according to the World Association for Waterborne Transport Infrastructure (PIANC), the "intermittent drying and wetting in the tidal and splash zone causes alternate swelling and shrinking of wood, which ultimately produces multiple internal fractures in timber." (For a good discussion of the range of environmental and operating factors that impact marina facilities, see "Inspection, Maintenance, and Repair of Maritime Structures Exposed to Damage and Material Degradation caused by a Salt Water Environment," published by the Association Internationale de Navigation—the older name for PIANC— in 1990.)
Although these negative impacts are most pronounced in saltwater environments, the decking employed in freshwater marinas might also face potentially damaging natural phenomenon and weather elements. To build longer-lasting decked surfaces, many marina owners across Canada are installing wood-plastic composite (WPC) products for their docks, decks, and boardwalks.
A WPC is a non-structural building material that "can be produced to any shape and size, can be hollow core or solid, and can encompass curves or complex forms," explains Natural Resources Canada (NRCan). (For more information, visit the webpage "Wood-plastic composites" at www.nrcan.gc.ca/forests/industry/products-applications/15859[1].) North American manufacturers produce a range of WPC products, including decking, railing, window, and door components.
The wood fibre in WPCs is typically composed of fine particles with a consistency similar to sand or sawdust. This wood fibre is combined with common plastic formulas including polyethylene, polypropylene, and polyvinyl chloride (PVC). The wood fibre and plastic used can be virgin materials or the products of various recycling processes. WPC decking and railing typically contain 50 to 60 per cent wood fibre. Most of the remaining volume is plastic, and this wood-plastic combination might comprise anywhere from 80 to 95 per cent of a WPC board. The remaining components of WPCs might include small amounts of additive such as pigments, stabilizers, and fungicides. (For more information on the range of WPC product compositions and processing methods, see Chapter 13, "Wood/Nonwood Thermoplastic Composites" of the Handbook of Wood Chemistry and Wood Composites, Second Edition published in 2013.)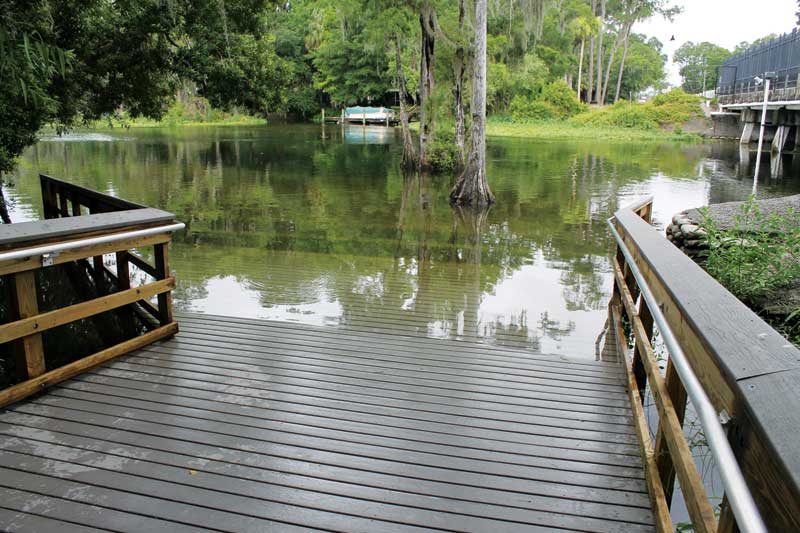 Physical attributes
WPCs combine the best attributes of both wood and plastics—making them true hybrid materials. (See "Wood-Plastic Composites: A Technical Review of Materials, Processes and Applications," an online article, available at www.tangram.co.uk[2].) These properties provide a number of physical characteristics enabling superior performance for decked surfaces in marinas.
Moisture resistance
Wood is a 'hydrophilic' (i.e. water-loving) material that readily absorbs moisture, which is one of the main reasons wood decking might fail. When wood is exposed to moisture, expansion and contraction can lead to warping and cracking. WPC decking contains wood—therefore, total encapsulation of the wood fibres in plastic is essential to its durability. Poor encapsulation in WPCs can lead to exposed wood fibres, either through shortcomings in the manufacturing process or when boards are cut or drilled during installation.
Composite manufacturers have developed two methods of protecting WPC decking from moisture-related damage. The more effective of these two ways is to fully encapsulate wood fibres in water-resistant plastic. Full encapsulation defends boards all the way to their core, allowing installers to cut, drill, screw, and nail the boards without compromising their moisture-resistance. However, this total encapsulation involves a difficult manufacturing process, and has pushed many manufacturers to make decking with a composite core and a protective plastic cap. These boards are known as 'capped composites' or 'cap stock.'
Caps can offer other performance benefits such as improved stain-or-fade resistance, in addition to increased protection from moisture. However, a cap alone is not sufficient to defend against moisture as there are several potential threats to the integrity of a cap including:
covering only the tops and sides of WPC boards and leaving the bottoms and ends of boards exposed to moisture from waves or from standing water on top of joists;
the adhesive used to attach a cap failing under extreme conditions or stress, resulting in delamination, cracking, or separation; and
puncturing the cap with face fasteners and opening up several places where moisture can penetrate and reach the composite core.
Although the cap provides an extra layer of protection, it can have its vulnerabilities. All these factors expose the composite core underneath a cap to moisture, which is why total encapsulation of wood fibres is so important.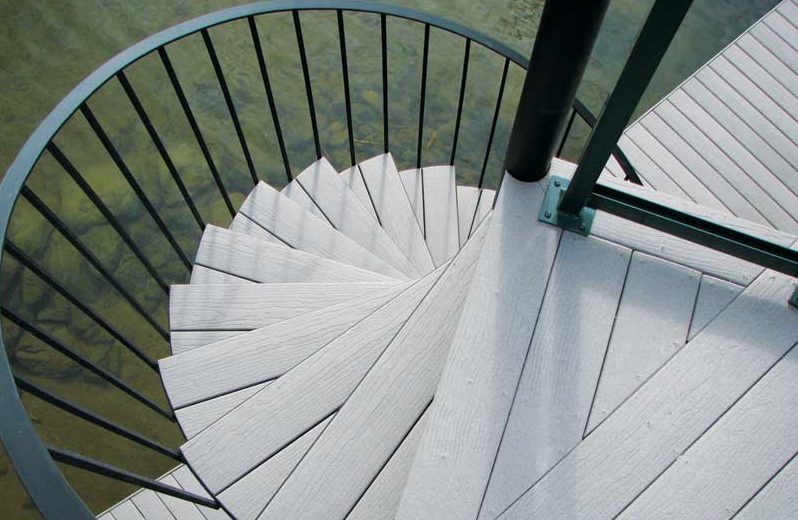 Insects and fungal decay
In addition to moisture, common enemies of wood decking used in marinas are insects, marine borers, and fungal decay. Similar to the plastic defending against moisture damage, it can also enhance a deck board's resistance to damaging organisms. This protection acts as a deterrent, and insects tend to leave WPCs alone. Additionally, the primary marine borers, gribbles, and shipworms do not directly attack WPCs. (For more see J.J. Morrell, et al's article "Durability of Wood Plastic Composites," in Wood Design Focus (vol. 16.3), of fall 2006.)
Consistently good insect resistance does not make all WPCs immune to damage from fungal decay, unfortunately. Decking products with exposed wood fibres have been involved in several class action lawsuits due to this specific problem. However, composite boards with fully encapsulated wood fibres are not susceptible to fungal decay, and some products even guarantee this with limited lifetime warranties against decay, rot, and insect attacks.
Structural considerations
As Natural Resources Canada notes, WPCs are non-structural materials. WPCs are sufficiently stiff to serve as decking and railing, but not for use as joists, beams, piles, or posts.
Despite being less stiff than wood, the typical allowed joist spacing for WPCs—406 mm (16 in.) on centre (oc)—is comparable to wood decking. As with wood decking, the maximum allowable uniform live load for joist-mounted WPC decking depends largely on the width and thickness of the individual boards and the joist spacing. Allowable load values for WPC decking include 2.87 kPa (60 psf) for a 25 x 152 mm (1 x 6 in.) nominal dimension board and 7.18 kPa (150 psf) for a 32 x 152 mm (1.25 x 6 in.) board—both assuming joists at 406 mm (16 in.) oc.
Although WPCs typically weigh more than the wood decking used in residential applications (such as pine and redwood), they usually weigh less than the hardwoods like ipe specified for commercial applications. Thus, in marinas, design professionals typically do not need to make substantial structural modifications to carry the dead loads of composite decking compared to those of ipe and similar hardwoods.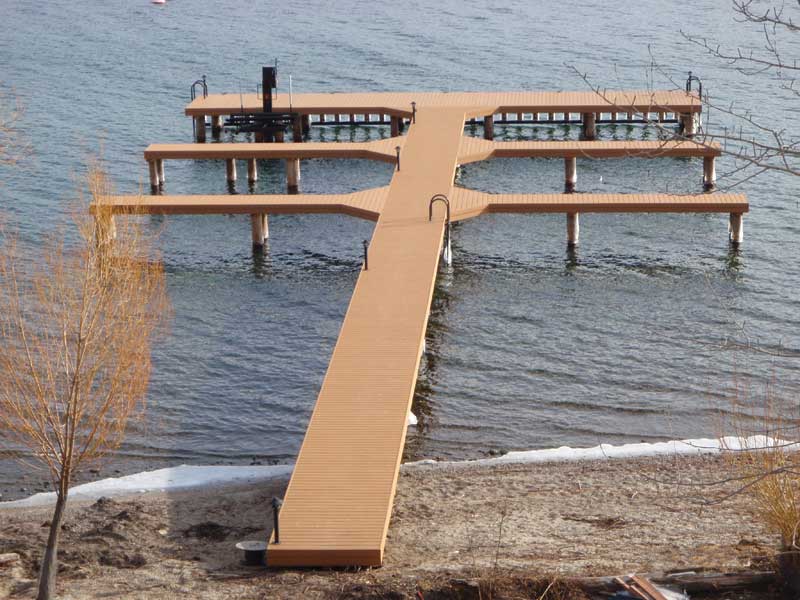 Personal safety
Two important safety factors for decking in marinas are slip resistance and whether the material will splinter.
As marina decking frequently has a wet surface due to waves, boat docking, and precipitation, reducing the risk of slipping is crucial for user comfort and safety. One WPC commonly available in Canada has the same co-efficient of friction (COF) as smooth asphalt, making it less slippery than wood. Unlike wood, the product actually has a higher static co-efficient of friction when wet.
Dry= 0.59/0.64; Wet= 0.92/0.84.
For barefoot marina visitors, splinters can be a painful reality when walking on docks, decks, or boardwalks, or when using outdoor amenities like showers. WPC decking avoids this hazard because the plastic-encapsulated small, wood fibre boards do not splinter.
Esthetics
A complaint with early WPC decking was that it looked too much like plastic—overly smooth and shiny. To address this concern, manufacturers developed WPCs mimicking the natural grain patterns of wood decking. This includes deep embossed patterns and randomizing the grain embossing to avoid looking artificial, as people often notice repetitive patterns in synthetic building materials. Some WPCs also have streaked colours to emulate exotic hardwoods such as tiger wood.
Modern WPCs also are available in a variety of natural wood tones, including hues reminiscent of woods like cedar, walnut, and mahogany, along with earth tones and grays. The range of colours enables designers to mix and match decking and railing, and to complement the colours of other building materials used in a project. Additionally, coloured boards eliminate the ongoing maintenance associated with painting or staining wood decking.
Many WPC decking manufacturers also offer boards with grooved sides to accommodate hidden fastening systems. Such fasteners result in a cleaner finished appearance and exceptional holding power for deck boards.
Port of Orillia
Stretching 386 km (240 mil) from Lake Huron to Lake Ontario, the Trent Severn Waterway attracts thousands of boaters each year. The self-proclaimed 'Jewel of the Trent,' the Port of Orillia Marina on the waterway's Lake Couchiching, is a popular spot for fishing and ice fishing. As Orillia experiences 161 days of rain or snow each year, moisture-resistant decking was a key consideration when the city-owned port built a new 220-slip marina.
"The city wanted a 40-year plus service life for the dock system, with minimal maintenance," said contractor Jordan Kropf. "That requirement eliminated traditional wood. However, they also were looking for something that had a rustic, northern cottage look and feel—not a panel or grating. [A high-performance WPC] fit the bill as an attractive product that offers the required service life and simple maintenance."
"We like the look of the product and expect its durability to save on maintenance over the years," said the facilities' harbour master, Susan Lang.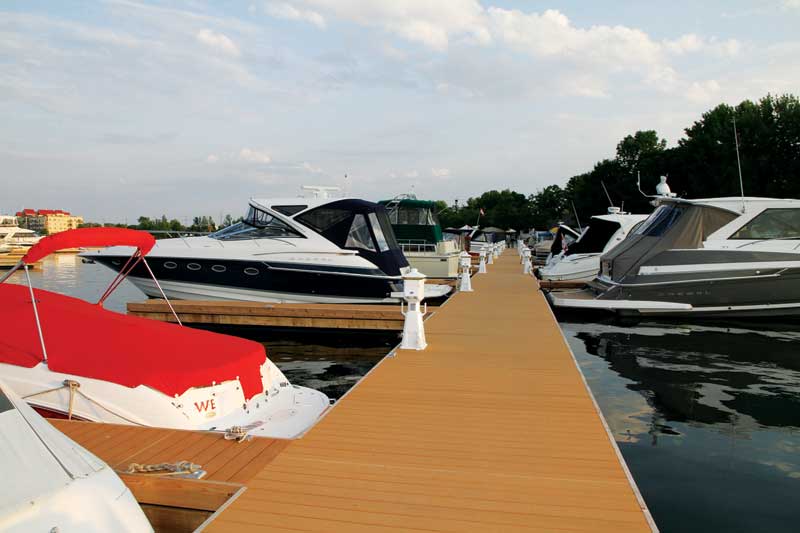 Saint-Félicien Marina
Near Lac Saint-Jean, the Québec riverfront community of Saint-Félicien completed a $3.5-million upgrade to its marina and municipal wharf in 2015. With more than 800 mm (32 in.) of precipitation falling on the region each year, and the high moisture exposure of a marina environment, Saint-Félicien chose a moisture-resistant WPC to surface its boat slips and piers.
Kelowna Yacht Club
Located on British Columbia's scenic Okanagan Lake, the 1000-slip Kelowna Yacht Club is Canada's largest freshwater marina. When the popular marina expanded by 224 slips, it chose high-performance WPC decking for the slip surfaces. These performed so well that they are planning to retrofit all slips with the durable decking.
"The [WPC] decking product has exceeded my expectations to date," said Richard Tremblay, moorage manager. "The fact it is impermeable makes it perfectly suitable for our yacht club environment. It is easier on bare feet than wood. Its consistency and uniformity give it a very clean and professional look. The lack of contraction and swelling through the different seasons minimizes our maintenance. There is no doubt we made the right choice."
What to know
Although WPC decking offers several advantages over wood decking, WPCs vary greatly in their performance and are often pricier than wood. This premium price can be a deterrent to initial purchases, but since high-performance WPC with moisture resistance will eliminate most maintenance costs, it averages a lower cost than wood over the life of a deck.
When choosing among WPCs for use in marinas, or other high-moisture exposures, it is important to evaluate:
moisture resistance, as products with wood fibres fully encapsulated in plastic perform best and can be used in the most intensive conditions, including full submersion;
whether the manufacturer has a history of proven performance free of lawsuits and product field failures; and
warranties against defects.
Warranties can vary from 20 years to lifetime, with some manufacturers even offering additional fade and stain warranties.
Conclusion
The mechanical properties of WPC, such as creep resistance, stiffness, and strength, are lower than those of solid wood, meaning WPCs are unlikely to fully supplant wood in commercial applications any time soon. Given wood's low cost, ubiquity, and ability to be used as structural members, timber products will likely always be used throughout marinas—from piles to bulkheads.
Even so, given the advances in durability and attractiveness of WPC decking, marina owners looking to reduce maintenance and replacement costs, are turning to composites for their docks, decks, and boardwalks.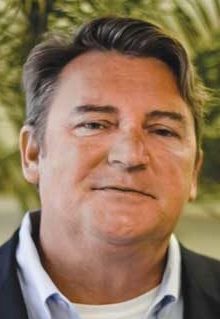 Brent Gwatney is senior vice-president for sales and marketing at MoistureShield composite decking, and serves on the North American Deck and Railing Association (NADRA) board of directors. He has specialized in the building industry for more than 30 years, working with manufacturers, dealers, design professionals, contractors, and building officials. Gwatney can be reached via e-mail at brentgwatney@moistureshield.com[3].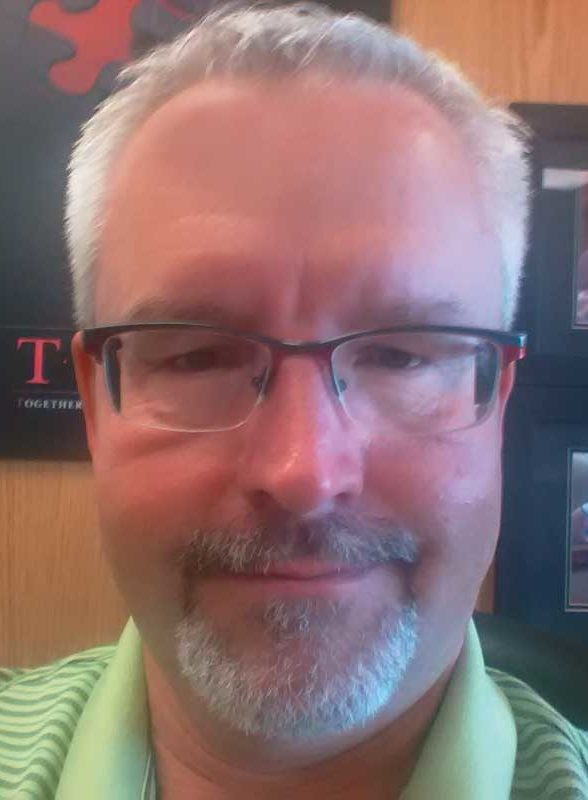 Randy Pearce is national product manager, outdoor living, for CanWel Building Materials. He has more than 26 years of building industry sales experience, and working with key North American manufacturers, national buying groups, and individual dealers across Canada. Pearce can be reached at randy.pearce@canwel.com[4].
Endnotes:
www.nrcan.gc.ca/forests/industry/products-applications/15859: http://www.nrcan.gc.ca/forests/industry/products-applications/15859
www.tangram.co.uk: http://www.tangram.co.uk
brentgwatney@moistureshield.com: mailto:brentgwatney@moistureshield.com
randy.pearce@canwel.com: mailto:randy.pearce@canwel.com
Source URL: https://www.constructioncanada.net/stacking-the-deck-wood-plastic-composites-help-marinas-achieve-durability/
---