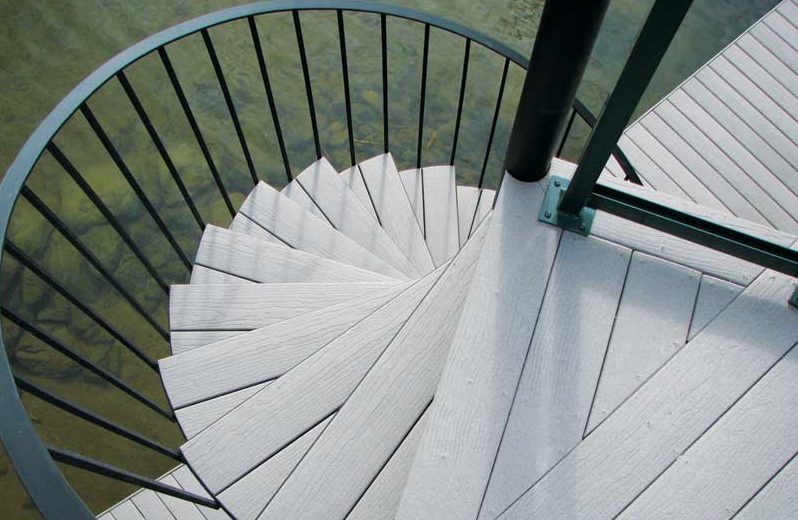 Insects and fungal decay
In addition to moisture, common enemies of wood decking used in marinas are insects, marine borers, and fungal decay. Similar to the plastic defending against moisture damage, it can also enhance a deck board's resistance to damaging organisms. This protection acts as a deterrent, and insects tend to leave WPCs alone. Additionally, the primary marine borers, gribbles, and shipworms do not directly attack WPCs. (For more see J.J. Morrell, et al's article "Durability of Wood Plastic Composites," in Wood Design Focus (vol. 16.3), of fall 2006.)
Consistently good insect resistance does not make all WPCs immune to damage from fungal decay, unfortunately. Decking products with exposed wood fibres have been involved in several class action lawsuits due to this specific problem. However, composite boards with fully encapsulated wood fibres are not susceptible to fungal decay, and some products even guarantee this with limited lifetime warranties against decay, rot, and insect attacks.
Structural considerations
As Natural Resources Canada notes, WPCs are non-structural materials. WPCs are sufficiently stiff to serve as decking and railing, but not for use as joists, beams, piles, or posts.
Despite being less stiff than wood, the typical allowed joist spacing for WPCs—406 mm (16 in.) on centre (oc)—is comparable to wood decking. As with wood decking, the maximum allowable uniform live load for joist-mounted WPC decking depends largely on the width and thickness of the individual boards and the joist spacing. Allowable load values for WPC decking include 2.87 kPa (60 psf) for a 25 x 152 mm (1 x 6 in.) nominal dimension board and 7.18 kPa (150 psf) for a 32 x 152 mm (1.25 x 6 in.) board—both assuming joists at 406 mm (16 in.) oc.
Although WPCs typically weigh more than the wood decking used in residential applications (such as pine and redwood), they usually weigh less than the hardwoods like ipe specified for commercial applications. Thus, in marinas, design professionals typically do not need to make substantial structural modifications to carry the dead loads of composite decking compared to those of ipe and similar hardwoods.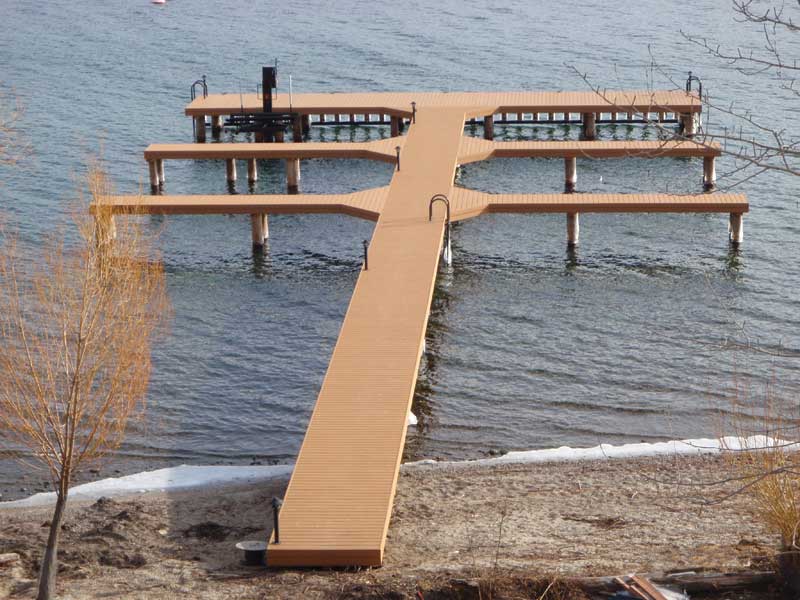 Personal safety
Two important safety factors for decking in marinas are slip resistance and whether the material will splinter.
As marina decking frequently has a wet surface due to waves, boat docking, and precipitation, reducing the risk of slipping is crucial for user comfort and safety. One WPC commonly available in Canada has the same co-efficient of friction (COF) as smooth asphalt, making it less slippery than wood. Unlike wood, the product actually has a higher static co-efficient of friction when wet.
Dry= 0.59/0.64; Wet= 0.92/0.84.
For barefoot marina visitors, splinters can be a painful reality when walking on docks, decks, or boardwalks, or when using outdoor amenities like showers. WPC decking avoids this hazard because the plastic-encapsulated small, wood fibre boards do not splinter.
Esthetics
A complaint with early WPC decking was that it looked too much like plastic—overly smooth and shiny. To address this concern, manufacturers developed WPCs mimicking the natural grain patterns of wood decking. This includes deep embossed patterns and randomizing the grain embossing to avoid looking artificial, as people often notice repetitive patterns in synthetic building materials. Some WPCs also have streaked colours to emulate exotic hardwoods such as tiger wood.
Modern WPCs also are available in a variety of natural wood tones, including hues reminiscent of woods like cedar, walnut, and mahogany, along with earth tones and grays. The range of colours enables designers to mix and match decking and railing, and to complement the colours of other building materials used in a project. Additionally, coloured boards eliminate the ongoing maintenance associated with painting or staining wood decking.
Many WPC decking manufacturers also offer boards with grooved sides to accommodate hidden fastening systems. Such fasteners result in a cleaner finished appearance and exceptional holding power for deck boards.
Port of Orillia
Stretching 386 km (240 mil) from Lake Huron to Lake Ontario, the Trent Severn Waterway attracts thousands of boaters each year. The self-proclaimed 'Jewel of the Trent,' the Port of Orillia Marina on the waterway's Lake Couchiching, is a popular spot for fishing and ice fishing. As Orillia experiences 161 days of rain or snow each year, moisture-resistant decking was a key consideration when the city-owned port built a new 220-slip marina.
"The city wanted a 40-year plus service life for the dock system, with minimal maintenance," said contractor Jordan Kropf. "That requirement eliminated traditional wood. However, they also were looking for something that had a rustic, northern cottage look and feel—not a panel or grating. [A high-performance WPC] fit the bill as an attractive product that offers the required service life and simple maintenance."
"We like the look of the product and expect its durability to save on maintenance over the years," said the facilities' harbour master, Susan Lang.

Control the content you see on ConstructionCanada.net!
Learn More.