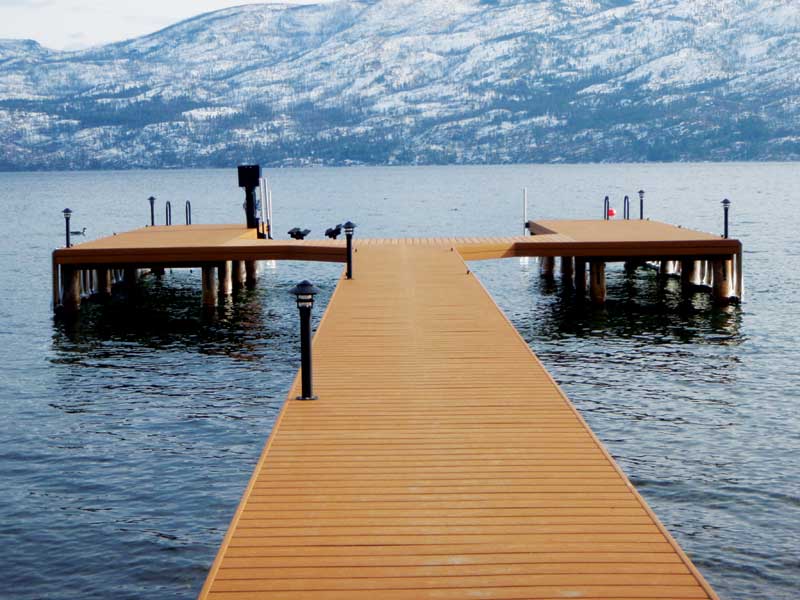 By Brent Gwatney and Randy Pearce
Marinas face some of the most demanding environmental conditions of any type of structure. High moisture, sun, salt, freeze/thaw cycles, fungal decay, and insects all work together to degrade decked surfaces. Additionally, according to the World Association for Waterborne Transport Infrastructure (PIANC), the "intermittent drying and wetting in the tidal and splash zone causes alternate swelling and shrinking of wood, which ultimately produces multiple internal fractures in timber." (For a good discussion of the range of environmental and operating factors that impact marina facilities, see "Inspection, Maintenance, and Repair of Maritime Structures Exposed to Damage and Material Degradation caused by a Salt Water Environment," published by the Association Internationale de Navigation—the older name for PIANC— in 1990.)
Although these negative impacts are most pronounced in saltwater environments, the decking employed in freshwater marinas might also face potentially damaging natural phenomenon and weather elements. To build longer-lasting decked surfaces, many marina owners across Canada are installing wood-plastic composite (WPC) products for their docks, decks, and boardwalks.
A WPC is a non-structural building material that "can be produced to any shape and size, can be hollow core or solid, and can encompass curves or complex forms," explains Natural Resources Canada (NRCan). (For more information, visit the webpage "Wood-plastic composites" at www.nrcan.gc.ca/forests/industry/products-applications/15859.) North American manufacturers produce a range of WPC products, including decking, railing, window, and door components.
The wood fibre in WPCs is typically composed of fine particles with a consistency similar to sand or sawdust. This wood fibre is combined with common plastic formulas including polyethylene, polypropylene, and polyvinyl chloride (PVC). The wood fibre and plastic used can be virgin materials or the products of various recycling processes. WPC decking and railing typically contain 50 to 60 per cent wood fibre. Most of the remaining volume is plastic, and this wood-plastic combination might comprise anywhere from 80 to 95 per cent of a WPC board. The remaining components of WPCs might include small amounts of additive such as pigments, stabilizers, and fungicides. (For more information on the range of WPC product compositions and processing methods, see Chapter 13, "Wood/Nonwood Thermoplastic Composites" of the Handbook of Wood Chemistry and Wood Composites, Second Edition published in 2013.)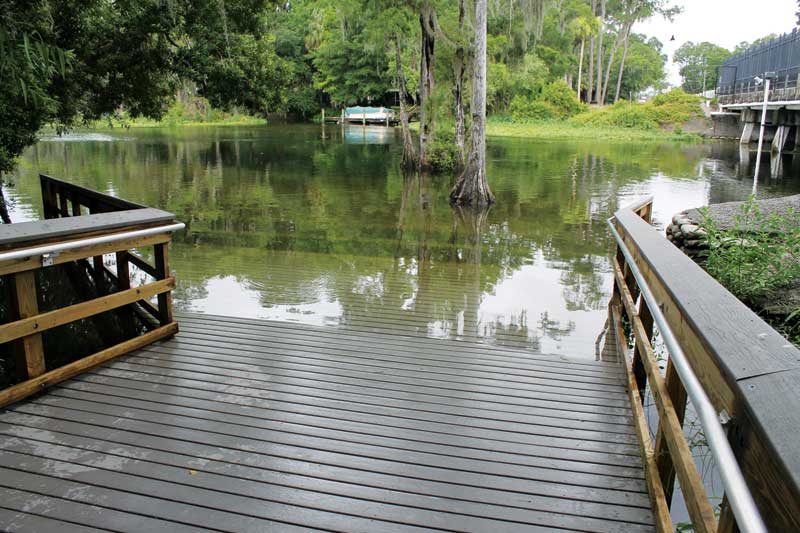 Physical attributes
WPCs combine the best attributes of both wood and plastics—making them true hybrid materials. (See "Wood-Plastic Composites: A Technical Review of Materials, Processes and Applications," an online article, available at www.tangram.co.uk.) These properties provide a number of physical characteristics enabling superior performance for decked surfaces in marinas.
Moisture resistance
Wood is a 'hydrophilic' (i.e. water-loving) material that readily absorbs moisture, which is one of the main reasons wood decking might fail. When wood is exposed to moisture, expansion and contraction can lead to warping and cracking. WPC decking contains wood—therefore, total encapsulation of the wood fibres in plastic is essential to its durability. Poor encapsulation in WPCs can lead to exposed wood fibres, either through shortcomings in the manufacturing process or when boards are cut or drilled during installation.
Composite manufacturers have developed two methods of protecting WPC decking from moisture-related damage. The more effective of these two ways is to fully encapsulate wood fibres in water-resistant plastic. Full encapsulation defends boards all the way to their core, allowing installers to cut, drill, screw, and nail the boards without compromising their moisture-resistance. However, this total encapsulation involves a difficult manufacturing process, and has pushed many manufacturers to make decking with a composite core and a protective plastic cap. These boards are known as 'capped composites' or 'cap stock.'
Caps can offer other performance benefits such as improved stain-or-fade resistance, in addition to increased protection from moisture. However, a cap alone is not sufficient to defend against moisture as there are several potential threats to the integrity of a cap including:
covering only the tops and sides of WPC boards and leaving the bottoms and ends of boards exposed to moisture from waves or from standing water on top of joists;
the adhesive used to attach a cap failing under extreme conditions or stress, resulting in delamination, cracking, or separation; and
puncturing the cap with face fasteners and opening up several places where moisture can penetrate and reach the composite core.
Although the cap provides an extra layer of protection, it can have its vulnerabilities. All these factors expose the composite core underneath a cap to moisture, which is why total encapsulation of wood fibres is so important.

Control the content you see on ConstructionCanada.net!
Learn More.