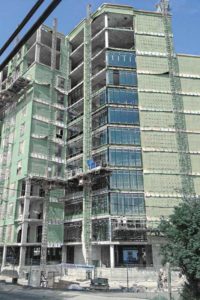 Some advantages in comparison to other insulation types include:
39 per cent lower than the sprayfoam industry average
74 and 96 per cent lower than HFO XPS
77 per cent lower than heavy density mineral wool
52 per cent lower than light density mineral wool
55 per cent lower than unbonded loose-fill and blown-in mineral wool
SPF provides high insulation value per inch, and keeps building components in better conditions longer, giving them longer lifespans. This promotes the reuse of materials and encourages building projects to reduce the reliance on new construction and the need for virgin materials. It is an insulation alternative which is quick to install, has perfect adhesions, and does not settle over time. Lastly, it also has air and vapour barrier properties, exceeds indoor air quality standards, is mould resistant, and has a WRB that is ideal for Canadian weather.
Conclusion
Architects and engineers are constantly looking for the most effective methods to minimize the environmental impact of upcoming projects and developments through specifying low-carbon materials with HFO blowing agents.
Although HFO can be costly and during the pandemic, it was hard to get which led to higher lead time, the sprayfoam industry's shift to HFO-based blowing agent technology is a crucial step towards reducing the industry's global warming contributions. Shifting from third generation HFC-based blowing agents to HFO-based options will decrease the use of products with zero ODP, a GWP value of more than 794, and bring in substantially improved newer generations of SPF with zero ODP and a GWP which can, in certain products, reach a value of one. To be better informed about sprayfoam insulation, roofing system's individual performance, and climatic impact, architects and specifiers are encouraged to request EDPs and seek energy modelling information.
Notes
1 Consult George Wypych, Handbook of Foaming and Blowing Agents, 2017.
2 Review European FluoroCarbons Technical Committee, "Insulation Foam Blowing Agent," www.fluorocarbons.org/applications/insulation-foam-blowing-agent.
3 Read the Environmental Protection Agency's (EPA's), "Transitioning to Low-GWP Alternatives in Building/Construction Foams," www.epa.gov/sites/default/files/2015-07/documents/transitioning_to_low-gwp_alternatives_in_building_and_construction_foams.pdf.
4 See note 3.
5 Watch TEDxReImagineScience, Unpacking the #1 Global Warming Solution, www.youtube.com/watch?time_continue=65&v=tXkYZgQaLr4&feature=emb_logo.
6 Review the North American Sustainable Refrigeration Council's (NASRC's), "The HFC Problem," https://nasrc.org/the-hfc-problem.
7 See note 3.
8 Refer to the Environmental Protection Agency's (EPA's), International Treaties and Cooperation about the Protection of the Stratospheric Ozone Layer, www.epa.gov/ozone-layer-protection/international-treaties-and-cooperation-about-protection-stratospheric-ozone.
9 Learn about the Montreal Protocol at https://www.canada.ca/en/environment-climate-change/corporate/international-affairs/partnerships-organizations/ozone-layer-depletion-montreal-convention.html
10 See note 11.
11 Refer to the Federal Emergency Management Agency's (FEMA's), "Flood Damage-Resistant Materials Requirements for Buildings Located in Special Flood Hazard Areas in Accordance with the National Flood Insurance Program," Technical Bulletin 2, August 2008.
12 Review Honeywell, "Insulation and Waterproofing for Metal Buildings and Metal Roof Systems: The Case for Using Better Insulation and Waterproofing Technologies in Metal Roof Systems and
Metal Buildings."
13 Refer to Architectural Testing, Performance Test Report Rendered to Spray Polyurethane Foam Alliance, Project: Racking Load Tests, 2007.
14 See the University of Florida Department of Civil and Coastal Engineering, "Wind Uplift Behavior of Wood Roof Sheathing Panels Retrofitted with Spray-applied Polyurethane Foam," August 31, 2007, www.yumpu.com/en/document/read/45544489/wind-uplift-behavior-of-wood-roof-sheathing-panels-david-o-.
15 Review the National Institute of Standards and Technology (NIST), "Performance of Physical Structures in Hurricane Katrina and Hurricane Rita: A Reconnaissance Report," 2006, www.nist.gov/publications/performance-physical-structures-hurricane-katrina-and-hurricane-rita-reconnaissance.
16 Read "The Urgency of Embodied Carbon and What You Can Do About It," Building Green, Inc., buildinggreen.com/feature/urgency-embodied-carbon-and-what-you-can-do-about-it, and "Climate Impact of Plastics," Mckinsey & Company, mckinsey.com/industries/chemicals/our-insights/climate-impact-of-plastics.
17 Refer to UL, Fact Sheet: Environmental Product Declarations Program, www.ul.com/resources/environmental-product-declarations-program.
18 See the International Building Performance Simulation Association (IBPSA), About Energy Modeling, www.ibpsa.us/about-energy-modeling.
Author

Doug Brady is chief strategy officer for Huntsman Building Solutions, a global manufacturer of spray polyurethane foam (SPF) solutions used in insulation, roofing, and specialty applications.

Control the content you see on ConstructionCanada.net!
Learn More.