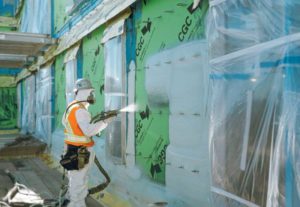 Compared to HFC, HFO molecules tend to break down faster in resin. Consequently, new catalysts were necessary to pair with the HFO blowing agent to sustain the six-month shelf-life industry expectation. This was one of the most difficult hurdles for sprayfoam manufacturers.
The HFO molecule does have a strong benefit over HFC. Thermal conductivity is lower in HFO than HFC. This translates to better thermal performance, on average, compared to a HFC-based sprayfoam While the blowing agent is the primary driver of the R-value of a sprayfoam the overall composition of the resin, in combination with isocyanate, determines its R-value. There has been an increase in aged R-values in systems containing HFO blowing agents.
As for the construction site, the impact of HFOs is minimum as they offer better spraying abilities and less equipment clogging.
Environmental Product Declarations (EPDs) and energy modelling
Many buildings use both types of SPF, closed-cell (exterior or interior) and open-cell (interior), because of their great thermal resistance and air barrier properties. SPF is commonly installed in residential projects, such as single houses, townhouses/condos, as well as commercial, institutional, and agricultural projects, such as schools, hospitals, arenas, stores, restaurants, storage facilities, data centres, and grow houses. The shift to HFO led architects towards greener alternatives, as institutional projects now require GWP building products.
To reduce the construction and building operations sectors' contribution to global warming, it is imperative to do two things.16 The first is to use products which demonstrate reduced embodied carbon. EPDs are important tools for this as they tell the life cycle story of a product in a single, comprehensive report. They provide information about a product's impact on the environment, including GWP, smog creation, ozone depletion, and water pollution. While EPDs do not rank products, and having an EPD for a product does not indicate if environmental performance criteria is met, they are an important disclosure tool to help purchasers better understand a product's sustainable qualities and environmental repercussions, so they can make informed product selections.17
Secondly, buildings must be constructed tighter, better sealed, and more energy efficient to reduce their operational carbon emissions. To assess performance in this area, energy modelling is useful. The pre-construction, whole-building assessment of energy efficiency uses computer programs for calculation. Designers create a model of the entire building on a computer and run it through simulations to show energy performance, usually for an entire year and based on meteorological information. The modelling accounts for all systems within a building and examines how they impact each other.18
Some SPF solutions are based on cradle-to-grave life-cycle assessment (LCA), which communicates transparent, objective, and comparable information about the entire life-cycle environmental impact of products. Some brands have gone as far as to include proprietary polyol with recycled content and a new generation HFO blowing agent with a GWP of one, which is responsible for diminished environmental impact.
As for a wall assembly with only HFO SPF versus assemblies insulated with mineral wool, HFO XPS board stock, or fibreglass insulation, replacing all insulation and membranes in the assemblies with a closed-cell solution at an equivalent R-value, the assembly's GWP is nearly cut in half.

Control the content you see on ConstructionCanada.net!
Learn More.