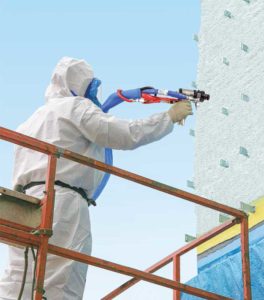 The application of closed-cell SPF in above-grade walls can also increase the structural strength of buildings and assist with wind resistance. The degree of hardening depends primarily on the strength of the building. For example, regarding racking strength, an I-beam modular constructed metal building with a 22-gauge metal panel will benefit significantly less from an interior application of closed-cell SPF than a post-frame constructed building with 29-gauge corrugated metal panels. When installed, closed-cell SPF glues the assembly together, reduces the potential for movement, and adds a tensile strength average ranging from 103 to 172 kPa (15 to 25 psi).12
The Spray Polyurethane Foam Alliance (SPFA) conducted racking performance tests in 1992 and 1996 at Architectural Testing Inc. in Pennsylvania in 2007. The tests demonstrated medium density closed-cell SPF, installed at 32 kg/m3 (2 lb/cf), increases racking strength by 70 to 200 per cent in wall assemblies sheathed with oriented strand board (OSB), plywood, gypsum wallboard, vinyl siding, and polyisocyanurate (ISO) board. The research proved closed-cell SPF significantly increased rack and shear strength in both wood and metal construction. Installed SPF also increases the strength of weaker substrates such as gypsum drywall, vinyl siding, and ISO foam insulation at a much greater percentage than stronger substrates such as OSB and plywood. Notably, special bracing for wind resistance is not required for strengthening purposes when using closed-cell SPF in walls.13
Sprayfoam roofing
One of the most rigid of all SPFs, sprayfoam roofing is applied to the top surface of low-slope roofs. In this application, the material acts as a protective roofing material and as a thermal insulator. Like closed-cell sprayfoam insulation, sprayfoam roofing is known for its air sealing capabilities and its energy efficiency. It is also the highest density sprayfoam as it must provide protection from moisture, rain, wind, hail, and other elements, while withstanding maintenance-related foot traffic. The material offers a compressive strength of 714 to 1071 kg/m
(40 to 60 lb/in.).
Sprayfoam roofing is ideal for use when: the roof deck is an unusual shape; the region experiences extreme storms, wind, or hail (regions with heavy snowfall wind or rainstorms are also examples); a sloped application is needed for drainage; the substrate has multiple penetrations (such as with solar panel supports) or there is equipment mounted to the roof requiring flashing; the structure is unable to withstand additional weight on the roof; and when removing the existing roof is deemed too expensive (as sprayfoam roofing may be applied over an existing roof in a cost-effective retrofit application).
Installed on the roof, sprayfoam creates a protective, monolithic layer which serves as continuous thermal insulation layer, WRB, air barrier, and vapour retarder. The material requires an additional coating overtop to protect the surface from ultraviolet (UV) radiation, foot traffic, and any other weather cycling and elements. Acrylic- and silicone-based coatings are two which are more commonly used.
Applied to the underside of a roof, closed-cell sprayfoam can increase wind uplift resistance. Applied to built-up roofing and metal substrates, wind uplift resistance is enhanced further. A study conducted by the University of Florida in 2007 found that applying closed-cell sprayfoam under a roof deck provides up to three times the resistance to wind uplift for wood roof sheathing panels when compared to a conventionally fastened roof.14
SPF roofing is also resistant to progressive peeling failure, which leads to flashings and copings being pulled away from their original locations by wind. Following Hurricane Katrina, the National institute of Standards and Technology (NIST) examined roofs and found buildings with sprayfoam roofs performed well without blow-off of the SPF or damage to flashings.15
Since it is closed-cell, sprayfoam roofing, like closed-cell sprayfoam insulation, is also a Class 5 FEMA flood damage-resistant material. It is impermeable to moisture and may be cleaned and dried.
Since they are requirements of the building code itself, the new blowing agents will not change any of these properties, rather, the industry is modifying their products to meet these requirements instead.
Manufacturing and performance considerations for sprayfoam systems
When developing sprayfoam systems, manufacturers must be mindful of the inherent established precedents in the market. For instance, the plethora of impingement mix 1:1 ratio in the industry today forces manufacturers of new closed- and open-cell sprayfoam systems to match this chemical blend. The same may be said for when designing sprayfoam solutions for the next generation of blowing agents.

Control the content you see on ConstructionCanada.net!
Learn More.