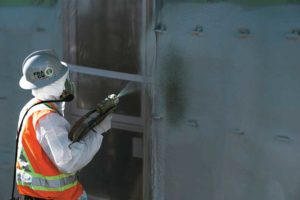 The latter amendment is notable as its goal was to phase-down the production and use of HFCs. It addressed how the use of HFCs resulted in greenhouse gases which are highly detrimental to the earth's climate. Canada was among the first countries to ratify the Kigali Amendment and encouraged others to do the same. By November 2017, many countries ratified the Kigali Amendment to ensure its entry in January 2019.9
To further support global efforts to eliminate HFCs, Canada is also undertaking bilateral projects in collaboration with countries such as Bangladesh, Chile, Mexico, and Panama, to assist them in taking initial steps to control HFCs. As of 2021, HFC sprayfoam products are banned and can no longer be manufactured and installed in Canada.
In addition to direct impacts on the environment, this federal and international history directly impacts the commercial building, insulation, and roofing sectors, as all these industries use various closed-cell sprayfoam solutions. Most notably, top industry leaders in the building products industry are now working to move the construction sector towards adopting next generation sprayfoam systems incorporating HFO-based blowing agents known to reduce global warming inducing greenhouse gases. Provinces and territories complement the federal regulations, aimed at phasing-out the production and consumption of HFCs to HFOs, to help limit increases in global average temperatures and contribute to Canada's international obligations to combat climate change.
Timeline for phasedown efforts
The Regulations Amending the Ozone-depleting Substances and Halocarbon Alternatives Regulations (amendments) published in Part II of the Canada Gazette in October 2017, came into force in April 2018.
These amendments, mandated by the Government of Canada, established a phase-down of HFC consumption, starting with a 10 per cent reduction in consumption in 2019; and further steps in 2024, 2029, and 2034 to achieve an 85 per cent reduction in HFC consumption by 2036.
The amendments also introduce prohibitions, by specific dates, on the manufacture and import of certain products and equipment which contain, or are designed to contain, HFCs and HFC blends with a GWP above a specific limit. Depending on the different types of products in each sector, different dates for their prohibitions apply.10
Regardless of the different dates, the sprayfoam industry continues to introduce HFO-based, closed-cell sprayfoam systems to provide more environmentally sound solutions for optimizing the performance of both the building envelope and roof.
Closed-cell sprayfoam insulation
Closed-cell SPF is a single-source solution for thermal, air, water, and vapour control, providing architects and builders the ability to seal the building enclosure using one product and eliminating the need to specify numerous additional products. The material is durable, versatile, lightweight, and a rigid foam option.
As a thermal insulator, closed-cell SPF boasts one of the highest R-values per inch of all insulation options available. It is ideal for continuous insulation (ci) applications in commercial structures and can be used in interior and exterior applications where it can replace rigid extruded polystyrene (XPS), mineral wool, fibreglass, and polyisocyanurate (PIR) foam boards. The material boasts low water absorption as well as resistance to mould, as demonstrated with ASTM C1338, Standard Test Method for Determining Fungi Resistance of Insulation Materials and Facings. The sprayfoam also excels as a water-resistive barrier (WRB) on exterior wall applications and is tested in accordance with CAN/ULC S742, Air Barrier Assembly Testing, with a pressure up to 5520 Pa (0.8 psi) for air barrier assemblies and tested in accordance with ASTM E331, Water Penetration Testing. The results showed no leakage through the sprayfoam.
When applied in walls, ceilings, and floors, the Federal Emergency Management Agency (FEMA) names closed-cell sprayfoam a Class 5 material, the highest classification for products indicating strong resistant to floodwater damage. Class 5 materials do not require special waterproofing protection, can survive wetting and drying, and may be successfully cleaned after a flood to render them free of most harmful pollutants.11 While the sprayfoam may be applied as cavity insulation or as ci in commercial structures and still qualify as a Class 5 material, it is the only cavity insulation approved by FEMA with this highest floodwater resistance. When applied under slab as insulation, closed-cell SPF is also flood and radon resistant.

Control the content you see on ConstructionCanada.net!
Learn More.