Applications available
There are many uses for precast terrazzo elements. Some of the common products include:
floor base;
shower receptors;
wall panels;
window sills;
benches;
fountains;
countertops; and
stairs.
Precast floor bases with an integral cove radius or straight profile are increasing in popularity as they are more convenient and faster to install. Projects where epoxy terrazzo is used can be excellent candidates for precast floor base. Precast terrazzo floor base can be manufactured to match the main floor colour, or it can be in a different complementing colour to the floor surface to add esthetic appeal.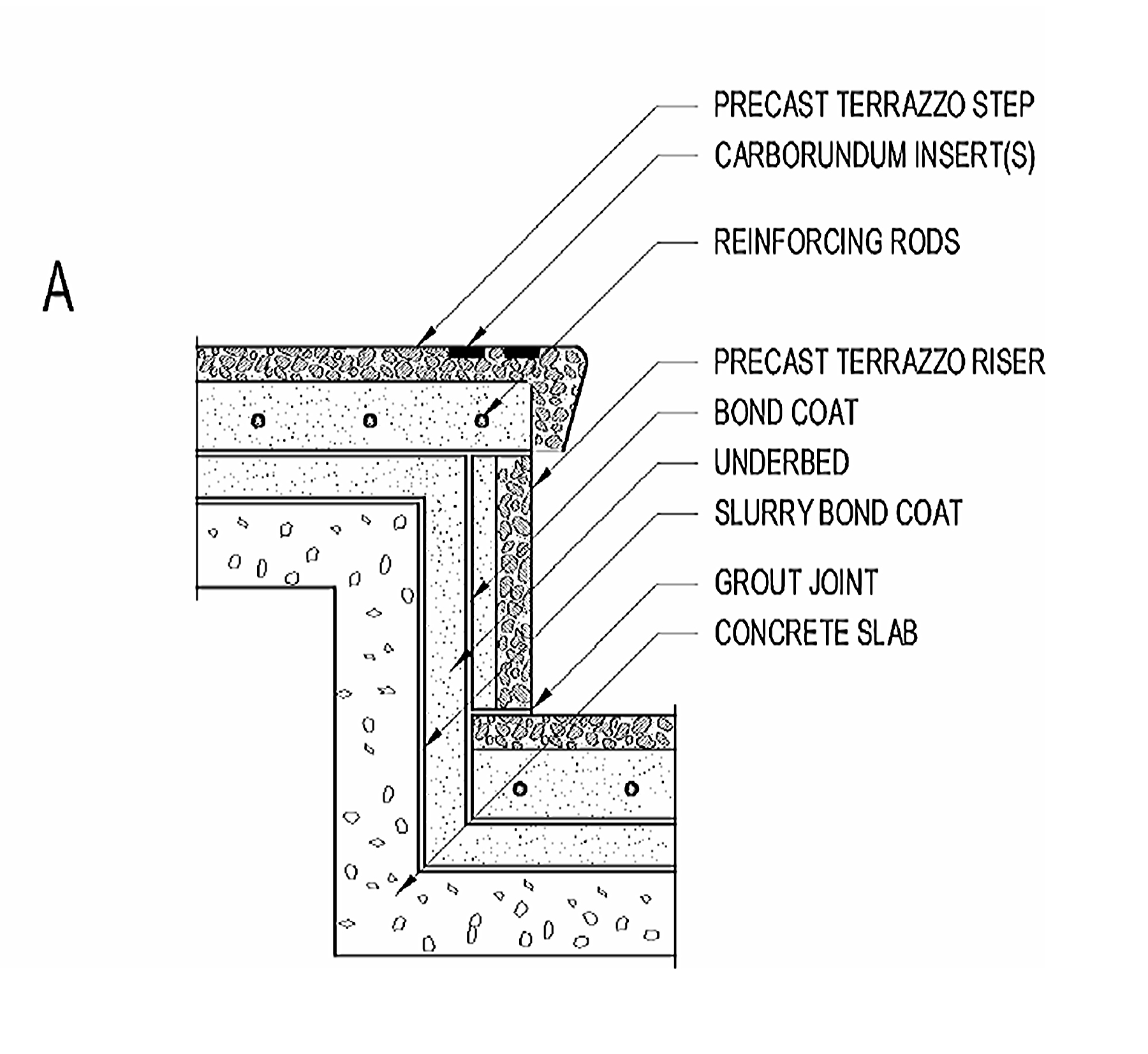 One of the most common precast components is stairs. There are numerous styles of stairs that can be constructed in terrazzo that include:
self-supporting (structural);
treads only;
tread and riser combination; and
tread with different material riser.
Non-skid details can be added to stair treads that include abrasive aggregates or metal strips inserted on the tread surface. Landings can also be precast into various sizes to suit project requirements with the same components. With the combination of coated or stainless steel and precast terrazzo stair elements, grand staircases can be created.
Installation
Installation of precast elements varies depending on the composition of the element (either cement or epoxy with aggregates) and the type of construction being implemented. Fastening systems vary based on the substrate type or construction. If the substrate is concrete, cement precast elements can be installed over fresh under-bed materials that consist of bond coat and latex modified cement mortar. The thin-set method can also be employed to bond epoxy or cement precast elements to concrete substrates with the appropriate latex modified cement mortar or epoxy mortar. When steel substrates are used, precast elements are installed with epoxy mortars and or fastened with pins and/or anchoring systems mechanically fastened or welded into place.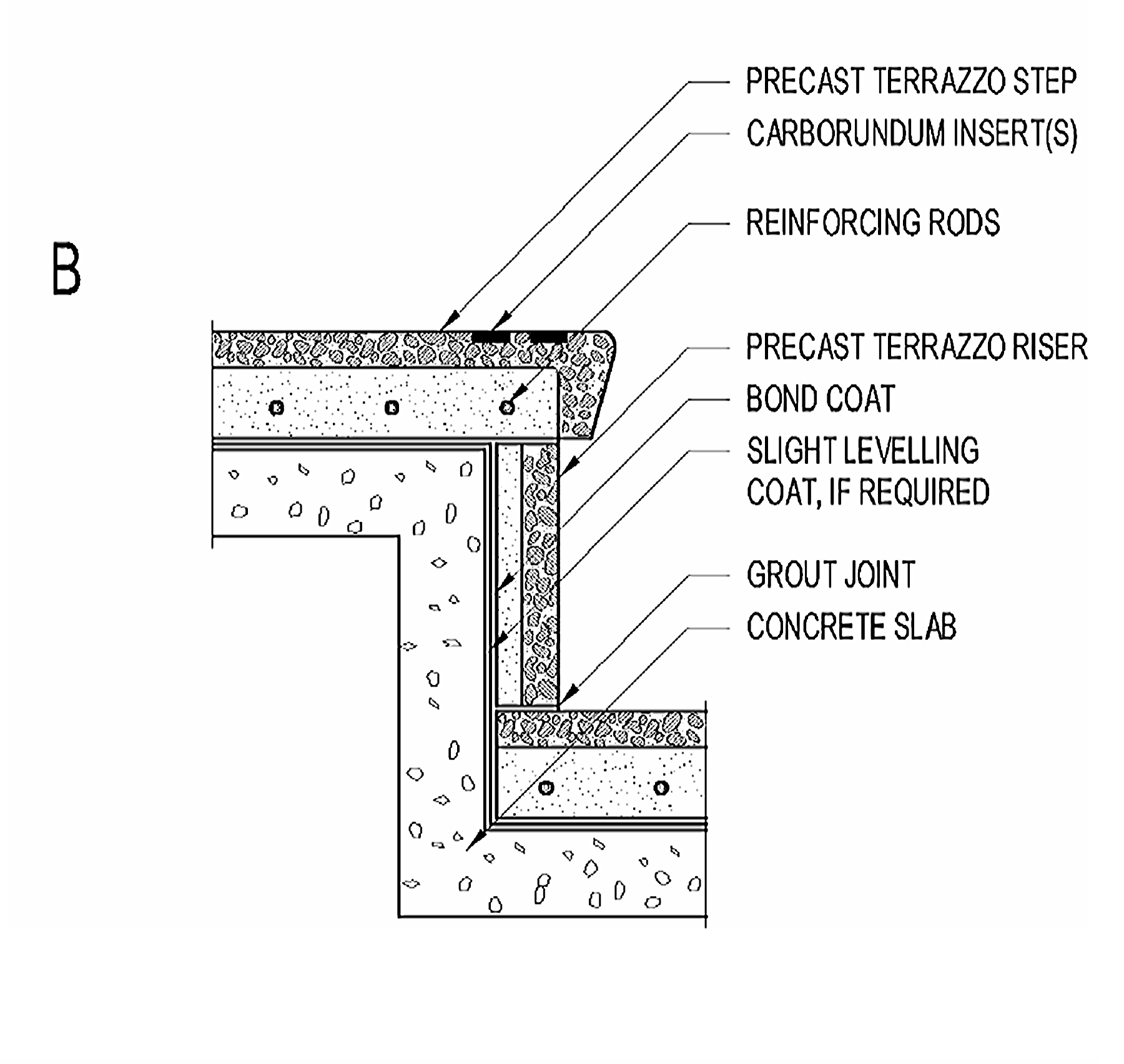 When pre-finished elements, like coved floor bases, are part of a project, they can reduce the installation time significantly compared to cast-in-place equivalents as minimal grinding and polishing is necessary onsite. Further, the precision and appearance of these items can be much better as well. During the installation of a precast coved floor base, it is much easier to comply with local safety regulations compared to cast-in-place floor base. As a result, the use of these items has become very popular on projects that utilize this detail as it is more convenient, safer, faster, and much better quality compared to onsite fabrication.
A typical installation of a precast cove base involves the placement of the precast element after surface preparation and prior to the application of the terrazzo floor. Epoxy precast base is bonded to the wall and floor surface using an epoxy adhesive compatible to, or in some cases the same as the binder used to cast the precast element.
Each component, which can be up to 2 m (6 ft) in length, is first pre-fitted into place and mitre cut for interior/exterior corners using a power saw if required or simply butt-jointed. The thin-set method, employing an epoxy mortar, is then used to bond the precast element to the substrate. After the epoxy mortar is dry (typically the next day), the terrazzo floor is installed up to the precast base followed by grinding, polishing, and sealing of all surfaces.

Control the content you see on ConstructionCanada.net!
Learn More.