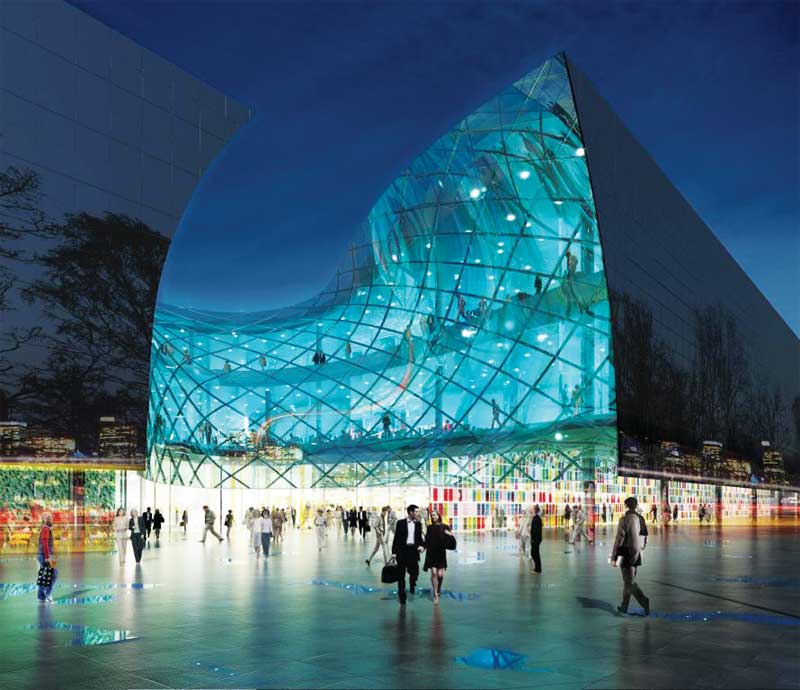 Colour as solar control
The Collège Anne de Bretagne in Paris, France, is crowned in a rainbow of coloured interlayers. Instead of using traditional solar-protecting windows, Philippe Gazeau Architecte chose coloured interlayers to shield the building from thermal loads while creating a dazzling spectrum of colour and light. The laminated glass technology reduces visible light radiation and protects students and faculty from the health risks of prolonged exposure to direct sunlight.
Safety and colour
Thanks to its shatter- and storm-resistant durability, laminated glass is a viable building material for covered surfaces and ceilings. At the local park José Miguel Barandiaran in the Basque region of Spain, architects model how laminated coloured glass can be applied as a playful skylight. The colourful overhead glass discs look like flying saucers to echo the space's futuristic theme. Designed to be safe for playground visitors of all ages, the glass is a protective shield against all environmental elements.
In another example, a dazzling blue glass overhang greets guests at the Arize Hotel Sukhumvit in Bangkok, Thailand. Just as much a focal point as a safety standard, the sapphire installation illustrates how the use of coloured interlayers extends beyond walls and ceilings to any overhead application.
Tips for selecting coloured interlayers
Coloured glass interlayers can add a bold esthetic effect to a space, but there is also an art to selecting the right hue to complement a design.
Start by considering the colour palette of the natural world surrounding the built environment
Many projects draw from the colours of nearby landscapes, mountains, and oceans to blend the interior with the exterior.
Ask the glass vendor about the quality of the glass
Ingberg points out gypsum drywall painted red will not have the same characteristics as red glass. Further, red glass will have different qualities depending on whether it is opaque, transparent, or reflective.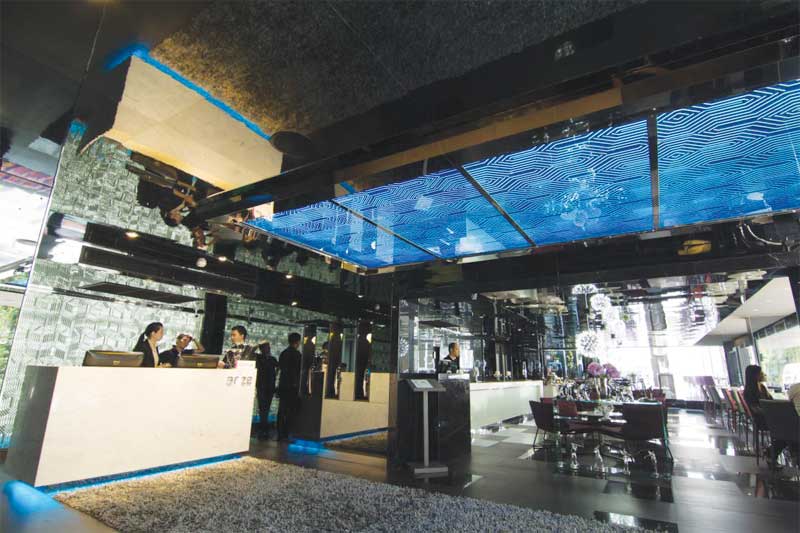 Use the same glass company
Consistency is always the first concern. For projects with large expanses or glass walls, it is important to note glass from Supplier A may have a completely different appearance than glass from Supplier B. Architects and designers are advised to get all glass from the same float line to maximize consistency and create a uniform design.
Remember it might take a few rounds of samples to get the desired colour
One must not be afraid to order as many samples as it takes to find the perfect hue. Finding that 'perfect' colour on a paper reference card will certainly look different than in a laminated glass sample.
Pay attention to labelling systems
Most companies offer RBG (i.e. red, blue, green combinations) or CMYK (i.e. cyan, magenta, yellow, and key [i.e. black] combinations) codes for almost every configuration they offer—up to three layers. A Pantone colour can easily correlate to a RBG colour—most computer software can correlate a Pantone colour to an RBG colour in order to integrate the colour into a building rendering and get an idea of how the final product will look.
Go with low-iron glass when using a white interlayer
All clear glass has a slight blue/green tint that can affect colour. Low-iron glass, while more expensive, is extremely clear and allows the crispness of the white to come through.
Do a mockup
When planning for a large expanse or building façade in a colour, most architects order a 1524 x 2286-mm (60 x 90-in.) panel or a 305 x 305-mm (12 x 12-in.) sample, depending on the size of the building. The mockup helps design professionals—and building owners—see how the colour changes in different daylight conditions, whether cloudy, sunny, or at dusk.
Keep it simple
Ingberg advises the use of several colours at a single time works best when the surface area of a project is large. Too many different colours on a small surface area can kill the effect.
WHITE IS THE NEW COLOUR
White interlayers are a growing trend in Canada, where architects tend to be more conservative with colour. As a neutral base, white interlayers function to complement or subdue surrounding colours. The translucency also can create a calming, minimalist effect when used on their own.

In offices, whites are popular for interior use because they can add varying levels of privacy in conference rooms and meeting spaces. Whites offer ranges from high visibility light transmission (VLT), which gives a warm diffused effect to the glass, to mid-level 65 per cent light transmission. This would be just opaque enough to let faint shadows of figures show through.

At the Cantonal Bank Le Locle in Switzerland, the multi-functional features of laminated glass were used to divide office space with glass partitions. In areas where business transactions are held, the glass serves as a sound barrier and the opaque visibility ensures customers that all bank relations are safe, secure, and private.

One new design trend is the use of white glass walls and partitions as whiteboards. White glass is safe to use with whiteboard markers and easier to clean than traditional whiteboards. Facility managers prefer glass for its durability and cleanliness, as well as its economical and environmental savings compared to using reams of paper during large meetings. Many companies simply have staff members take a picture of the glass wall for their records at the meeting's conclusion. (Of course, some facilities managers note employees just seem to love writing on the walls!)
Julie Schimmelpenningh is the global architectural applications manager for Saflex, which offers the Vanceva Colour System—a specialized line of polyvinyl butyral (PVB) interlayers for laminated glass. She advises clients using the free online Vanceva Color Selector Tool to identify transparent, translucent, or opaque colours to enhance a space. Schimmelpenningh has been a glass industry activist for 25 years with experience in research and development, technical lamination processing, product, applications, and standard development. She is a participating member of ASTM, International Organization for Standardization (ISO), and Glass Association of North America (GANA). She can be reached at jcschi@eastman.com.

Control the content you see on ConstructionCanada.net!
Learn More.