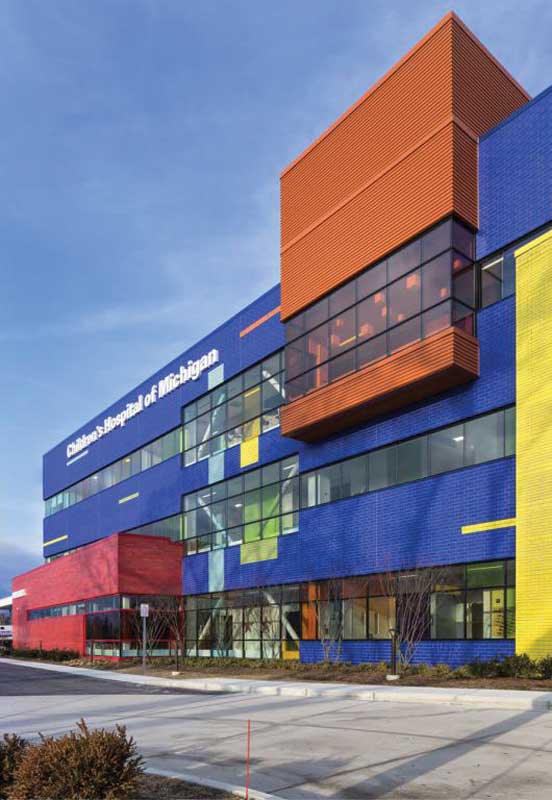 Curating an experience
Creative applications of coloured interlayers are inspiring architects and designers to rethink the ways colour can brighten and bolster a space's function. While some may raise questions about coloured interlayers going out of style during a building's 50-year life, the interlayers are proving to be an exceptional alternative to other hard-surface materials like painted glass, anodized aluminum, brick, dyed concrete, or marble.
The Emporia Shopping Complex in Malmö, Sweden, for example, proves coloured interlayers offer astounding design capabilities as timeless as they are innovative. Built with 815 coloured-glass panels of varying sizes, the shopping centre is a curvaceous, fluid structure with two massive entrances enveloping guests in its fold—one entrance is made of marine blue glass, and the other is the hue of amber found on nearby beaches. The interior of the shopping centre glows with rainbows of staircases, walls, partitions, and other colourful structures.
As Joekim Lyth, office manager at Wingårdh arkitektkontor, describes, the project's dynamic use of colour attracts patrons to a destination that is much more than a place to go shopping.
"We wanted to use colours in a functional way. What really interested us, of course, is how the weather affects the colour," he says. "The sunlight [breaks] though the skylights. At night, the artificial light will make some of the colours glow. But that goes very well with our design intention that every experience should be unique. It's the colour of light that will feed the space that's really important."
Similarly, the Philadelphia International Airport partnered with Darroff Design to create its new Terminal F. With the intention of making the terminal more of a destination for travellers, designers wrapped the terminal's common space with a sky-blue laminated glass railing. This artful touch encourages busy travellers to slow down, enjoy the food court, and take in the beautiful display of public art.
Coloured interlayers especially serve businesses and organizations conscious of using design to communicate their values and services. This is the case at the Cantonal Bank Le Locle in Switzerland, where designers took advantage of the multi-functional features of laminated glass to create segmented glass partitions throughout the office space. In sections of the office where business transactions are held, the opaque glass sends a subtle message to customers that all bank relations are safe, secure, and private. Laminated glass is designed to disseminate and dampen sound waves by targeting those between 1000 and 3000 Hz—the range most sensitive to the human ear.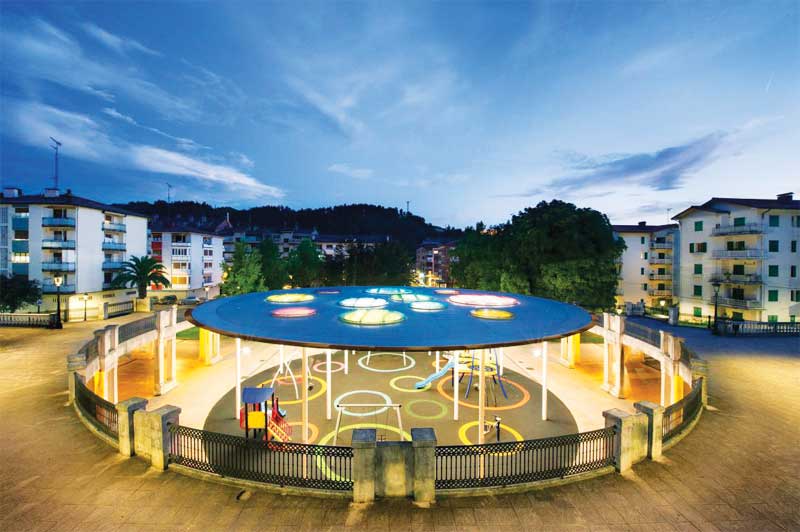 Wayfinding support
Coloured glass also works as a compass. In France's Paris Charles de Gaulle Airport, coloured glass helps note appropriate entrances and exits for taxis, cars, and shuttles. At the Centene Headquarters in St. Louis, Mo., it serves as a wayfinding guide to the rooftop entrance and exit.
Indeed, coloured glass can also help patrons self-navigate through large and potentially confusing spaces. Architect Harley Ellis Devereaux used interlayered glass to create a child-like effect at the Children's Hospital of Michigan in Detroit, which resembles a playful arrangement of three primary-coloured blocks. Each colour creates an intuitive grouping system that lets visitors know where they are in the hospital. Marked by red glass, the emergency room and its adjoining services stand out to help parents and patients quickly locate the right building in urgent situations. The main three-storey building is wrapped in blue glass, grouping together primary service functions and service spaces. The main entrance is marked with yellow glass for a warm welcome.
An increasing number of children's hospitals are finding integrating bright colour makes the space more inviting and enjoyable for kids. In adult wings, softer colours can create a more serene and peaceful environment for healing.
Some college campuses are also colour-coding structures with disciplines—making all science buildings blue, for instance.

Control the content you see on ConstructionCanada.net!
Learn More.