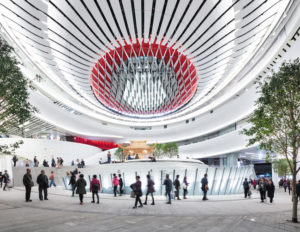 The Xiqu Centre by Revery Architecture and Ronald Lu & Partners, and the Polygon Gallery by Patkau Architects received the 'Lieutenant Governor of British Columbia Award in Architecture – Medal' by the Architectural Foundation of British Columbia (AFBC). This award recognizes excellence in completed architectural projects led or designed by the Architectural Institute of British Columbia (AIBC) members.
AFBC has selected eight award winners in four categories, representing outstanding and exceptional work from the architectural community in B.C. The 2019 Architectural Awards projects hailed from across the province and around the world.
Edgemont Residence by BattersbyHowat Architects, the Hong Kong Jockey Club University of Chicago Academic Complex and the University of Chicago Francis & Rose Yuen Campus in Hong Kong by Revery Architecture, and the Howard Residence by Architecture Building Culture (ABC) won the 'Lieutenant Governor of British Columbia Awards in Architecture – Merit.'
The 'Innovation Award,' recognizing achievements that are not strictly 'architectural,' but that have a direct bearing on the future of architecture in areas such as design, building technology, use of materials, and sustainability went to the Temple of Light by Patkau Architects for advancing construction of complex innovative forms through economical means.
The 'Special Jury Award,' given for exceptional achievement, selected from all awards submissions and determined by the jury, went to the College of New Caledonia Heavy Mechanical Trades Training Facility by Office of McFarlane Biggar Architects & Designers for elevating the design of an industrial academic facility, and to the Duke by Acton Ostry Architects for incorporating community connection into architectural design.