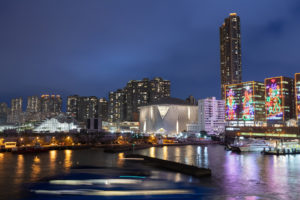 The Xiqu Centre, a performing arts venue in Hong Kong designed by Vancouver-based Revery Architecture, reimagines theatre drapes and the swaying folds of the performers' costumes with a glowing curvilinear façade.
The eight-storey structure was conceived as a cultural sanctuary, blending theatre, art, and public space for celebration and contemplation. 'Qi' or flow is expressed throughout the complex with curved paths and forms designed around a vast circular atrium.
The 10,729-m2 (320,000-sf) venue features a modular system of more than 13,000 scaled fins cut via computer numerical control (CNC) from untreated marine-grade aluminum pipe selected for both its esthetics and enhanced performance. Arrayed in alternating patterns along the building, the curved fins radiate a glow reminiscent of a lantern shimmering behind a beaded stage curtain.
The façade's woven metal panels are pulled back at all the four corner entrances to the building, lighting up the exterior while revealing the flow of visitors in and out of the interior courtyard. Opening up into a circular atrium, this naturally ventilated courtyard plaza invites the public to enjoy the exhibitions, browse shops, listen to music, or watch Xiqu demonstrations.
The centre houses a 1000-seat grand theatre situated at the top of the building and flanked by two outdoor sky gardens. The decision to suspend the main theatre—the heart of Xiqu Centre—27 m (90 ft) above the ground isolates the auditorium from the vibration and high ambient noise levels of the building's surrounding urban context. Elevating the theatre also creates space for the multilevel atrium comprising rehearsal spaces, a smaller theatre of 200 seats, as well as education and administrative spaces, lecture rooms, and retail areas.
Revery partnered with Hong Kong firm Ronald Lu & Partners for this project.
Xiqu Centre is to be featured on the new Hong Kong dollar (HKD) $100 banknote, emphasizing its social and cultural significance to the 'Hong Kong Spirit.'