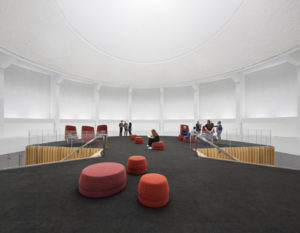 Menkès Shooner Dagenais Letourneaux Architects has won the Grands Prix Du Design award for the best project. The Conversion du Planétarium Dow de l'ÉTS project involved the rehabilitation of an iconic building discerning luminosity and coherent volumes. The inspired use of curves and symmetry, with original touches throughout, and a signature emblematic of northernness, honour the visual identity of this institution.
The 12th edition of the Grands Prix Du Design award, highlighting the talent of Québec architects and designers, unveiled more than 85 projects that have left a mark in the industry over the past two years.
The new talent award was given to architecture firm Catherine Catherine for their potential, reflected in the execution of their projects. The two partners have an appealing approach to space, and nuanced, intelligent viewpoints.
The tribute award presented to Anik Shooner recognized her as a visionary and acknowledged her passion, versatility, and creativity. Her work includes the Chagall: Colour and Music exhibition for the Montreal Museum of Fine Arts, where she has created an immersive experience igniting emotions, and the Lassonde Pavilion of the Université de Montréal, the first Québec university building to obtain Leadership In Energy And Environmental Design (LEED) certification.