Quantifying the benefits of ICFs
April 23, 2018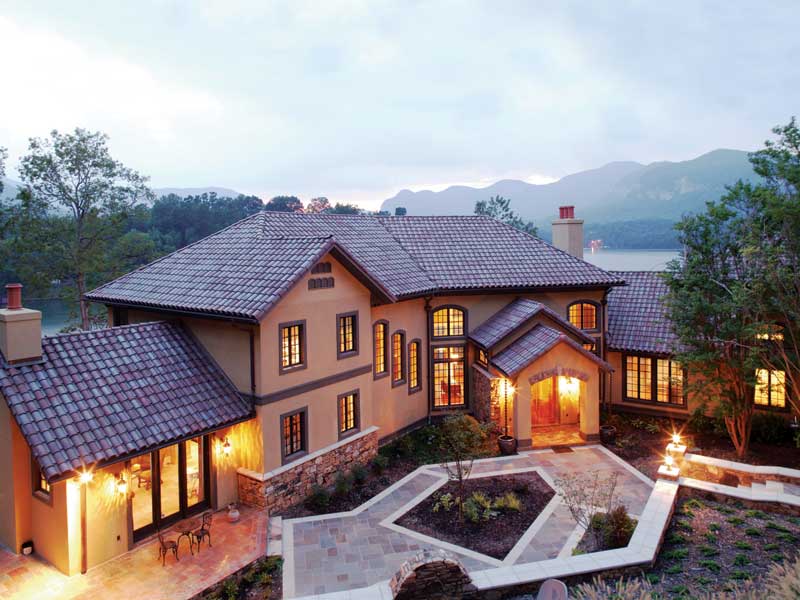 By Murray Snider
Insulating concrete forms (ICFs) are a method of construction using components manufactured from expanded polystyrene (EPS). The forms are stacked, steel-reinforced, and then filled with concrete. When completed, ICF walls provide a solid monolithic structure. The material offers a variety of benefits for residential, commercial, medical, educational, and multistorey construction.
The continuous insulation, thermal mass of the concrete, and airtight envelope all combine to offer energy efficiency in warm and cold climates. Further, the steel-reinforced concrete cores in ICF buildings are resistant to fire, hurricanes, and tornadoes; they can be engineered for all seismic conditions. The foam and concrete structure of ICFs also means the homes and buildings are quiet, draft-free, and do not enable mould.
For builders, ICFs roll six separate construction steps into one simple process:
concrete;
steel reinforcement;
insulation;
air barrier;
vapor barrier; and
furring strips.
Commercial builders will find fewer trades are required, resulting in greater jobsite efficiency. Additionally, since only simple handset tools are needed, the cost of heavy, expensive equipment is eliminated. ICFs are also "winter-friendly"—builders can employ them year-round and spend less on winter heat and hoarding costs.
Many of these benefits and advantages are intuitive, but have yet to be quantified. In 2016, the Insulating Concrete Forms Manufacturers Association (ICFMA) commissioned a series of comprehensive studies comparing traditional wood 50 x 150-mm (2 x 6-in.) exterior wall construction to an ICF wall constructed with a standard 150-mm (6-in.) core.

The research project came about because, for decades, the ICF industry had been asked to provide definitive proof the thermal mass, airtightness, and continuous insulation (ci) features of its building products could deliver real, quantifiable benefits. This article examines the results.
Test results
This particular ICFMA initiative marks the first time a fully Standards Council of Canada (SCC) and International Accreditation Service (IAS) testing facility has been commissioned to evaluate a realistic side-by-side comparison of the two types of wall assemblies within a single study. It quantifies the benefits of both thermal mass and the continuous insulation properties of ICF technology in comparison with traditional code-compliant wood-framed cavity insulated systems.
The studies undertaken at CLEB Laboratories (formerly Air-Ins Industries Inc.) in Varennes, Qué.—just east of Montréal—subjected two specimen walls to tests that were extended over a month-long period of study. One wall was constructed as a code-compliant R-20 wood frame wall with typical gypsum wallboard and exterior vinyl siding finishes applied; the other was a standard 150-mm (6-in.) core ICF wall with two layers of Type II expanded polystyrene (EPS) foam. Each was approximately 64 mm (2 ½ in.) in nominal thickness and, again, had the exact same code-compliant finishes. The tests were conducted in strict accordance with ASTM C1363-11, Standard Test Method for Thermal Performance of Building Materials and Envelope Assemblies by Means of a Hot Box Apparatus.
Results from the test
Quantitative results from the test led to the following conclusions.
The tested ICF wall assembly provided 58 per cent better effective R-value/RSI than the tested 2 x 6 wall assembly.
The former offered a standardized thermal resistance of R-24.1, while the wood-frame assembly was a standardized thermal resistance of R-15. (For the study, the tested wood-frame wall assembly met the National Building Code of Canada [NBC] for above-grade residential walls and the 2015 International Residential Code [IRC] in the United States for climate zones 1-5.)
The tested wall assembly generated up to 60 per cent energy savings compared to the tested 2 x 6 wall assembly.
The reported results comparing the two wall assemblies show the ICF assembly took nearly 324 hours to reach steady-state performance under an exterior air temperature of −35 C (−31 F) whereas the wood-frame wall reached steady state within 60 hours of the start of the test. (Steady state is the point at which the amount of heat being delivered to condition the interior space was exactly equal to the rate of heat transmission that was going through the wall.)
The CLEB studies illustrated when comparing the amount of energy required to maintain both walls at steady state over this same 324-hour period, the wood-frame wall consumes 149 per cent more energy than its ICF counterpart. Even after both walls attained steady state under the test conditions, the ICF wall consumed 60 per cent less energy than the wood-framed wall specimen to maintain temperature.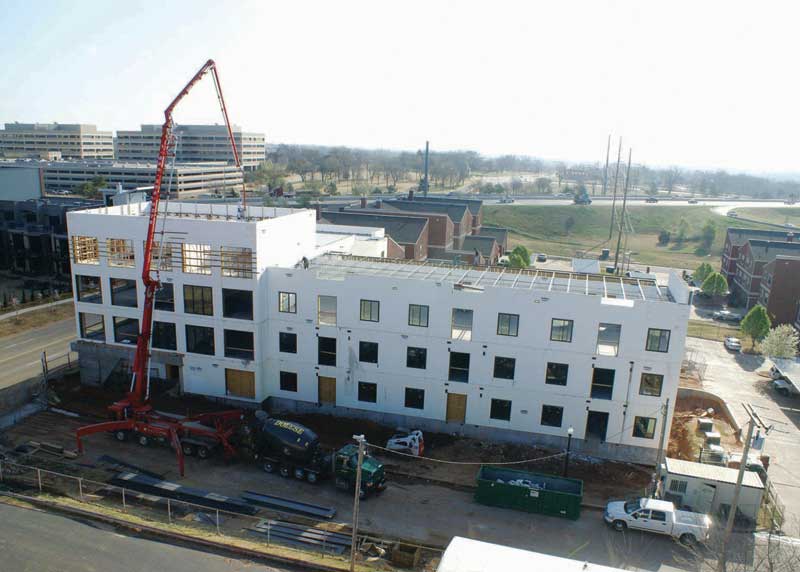 The ICF wall assembly makes measurable contributions to thermal mass and the interior and exterior layers of continuous insulation.
The test results prove the ICF assembly took nearly 324 hours to reach steady state performance when exposed to an exterior air temperature of −35 C (−31 F) whereas the wood-frame wall reached steady state within just 60 hours of the start of the test. This indicates for most real-world applications, an ICF wall likely never reaches steady state. This finding quantifies the thermal mass effect of the high-mass ICF wall and also illustrates its enormous benefits—in that 264-hour interval in this test, during which the wood-frame wall was in steady state and the ICF wall was not, the ICF wall had 60 per cent less energy loss than the wood-framed wall.
The implications of this are significant. For example, if one "typical" home, with 186 m2 (2000 sf) of wall area, is constructed in wood frame to permitted code, while the other uses ICF technology, the study indicates in many climate zones, during the most extreme cold conditions, the latter can save up to 60 per cent of electrical consumption, when incorporating the average kWH value for all of North America.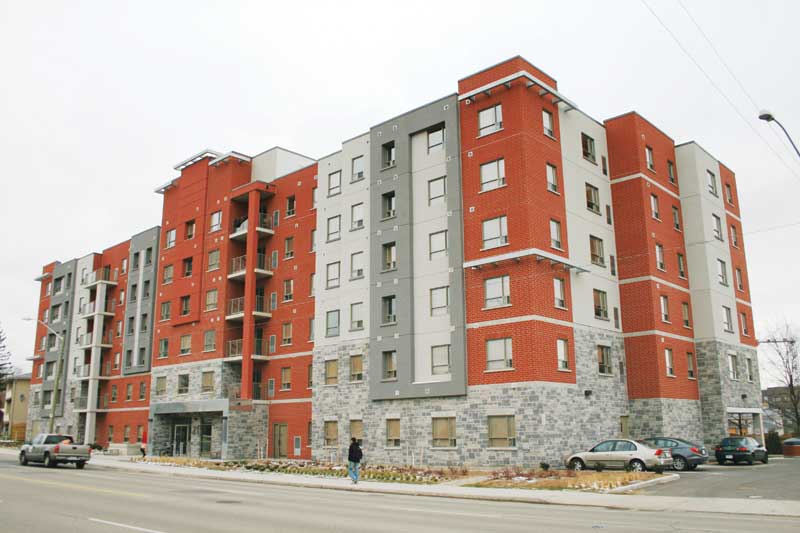 Other benefits gained from ICFs
ICF benefits go beyond energy performance. The material is eight times more fire-resistant than wood, with studies comparing the concrete material's four-hour rating versus 30 minutes for wood. (Visit bit.ly/2CZnX2m[5].)
ICFs offer enhanced acoustics, enabling 40 per cent better (i.e. lower) sound transmission. (Visit bit.ly/2kZdL2E[6].) Further, neither the EPS foam core nor the concrete support mould growth. While the ICFs themselves cannot be left unfinished, this still means once covered, there is no need to be concerned about mould growth whereas wood requires the drywall to be removed before repairs.
Builders can also reap the benefits of using ICF. There is currently a major challenge with the dwindling labour pool in Canada—the combination of six buildings steps allowed by ICF construction means fewer trades are required to complete jobs.
Overcoming challenges
Back in the early 1990s, insulated concrete forms were still struggling to create an identity. As with any emerging product, there was definitely a learning curve. In these early days, there were many different styles of ICF, with varying different considerations to obtain a successful installation. There was also a bit of confusion around how to go to market. Combining all the different processes with the challenge of how to go to market resulted in many mistakes.
These challenges ranged from lack of good training and product support to ICF suppliers selling directly to homeowners with false claims that the assemblies were so easy even a kid could install it. There was also a shortage of proper bracing options and distribution networks.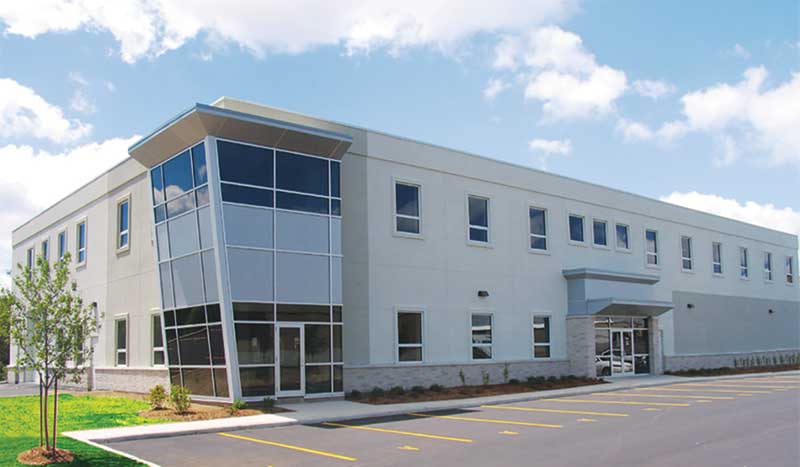 All these factors kept good-quality builders from attaching their name to this relatively new product. However, there was a small group of contractors and companies that saw through these shortfalls in marketing and recognized the many benefits when applying professional builder's knowledge to the installation process.
A growing group of general contractors found using ICFs meant they could significantly reduce the amount of trades. This meant less time on the phone chasing their footing and foundation contractors for a start time. In the custom residential markets, contractors were able to utilize three- or four-person crews to install one floor per week. For a typical 167-m2 (1800-sf) ranch style bungalow from the footing to roof (i.e. basement and main level are two floors), this meant it would only take two weeks for a builder to have a structure with:
full insulation from footing to roof line with no interruption in the insulation and no thermal breaks; and
continuous vapour and air barriers.
Essentially, with one sub-trade and less than 400 labour hours, the project would be ready for mechanicals. The home could be delivered to the customer six weeks from excavation to move in.
The commercial markets have experienced much the same, with mid-rise construction pulling off one floor a week with crews as small as 10. In the United States, some entities, including school boards, have adopted design guides for building with ICF. Over the last five years, there have been more than 400 schools done in this method. Hopefully, similar practices will soon emerge in Canada. What is the most remarkable part of this story is that in the last year or so, most of these schools are net-zero buildings built within or below conventional budgets.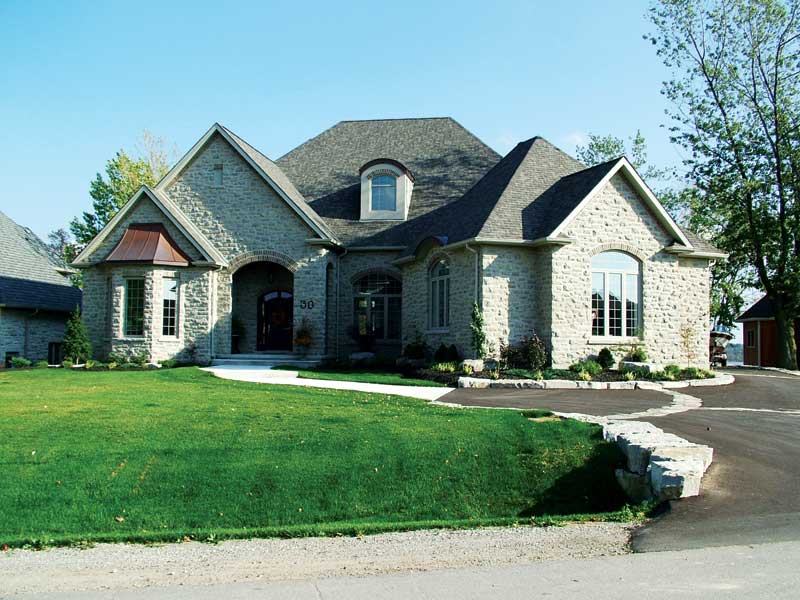 The superior building envelope provided by using ICFs is a key element in achieving net-zero construction by creating an airtight structure that significantly reduces the flow of heat through the wall due to the thermal mass advantage. Building envelopes built with ICFs allow mechanical equipment to run at optimal levels to provide maximum energy performance, resulting in greater cost savings throughout the year.
Conclusion
Today, the ICF industry is much more consolidated and focused. It has learned training professionals is a much better alternative than putting the product in the hands of amateurs. Various manufacturers are consolidating marketing efforts and becoming a solution for insurance companies and consumers when they are considering sustainable methods for rebuilding in areas affected by the recent hurricanes and natural disasters.
For more on ICF construction, see the following articles in Construction Canada: "Weatherproofing ICF Walls: Lessons in Resiliency from B.C. Field Testing[9]" and "ICFs, Wood, and the Changing Face of Mid-rises[10]"
Murray Snider is a board member with the Insulating Concrete Forms Manufacturers Association (ICFMA). Since 1978, Snider has been directly involved in the commercial and residential building industry in varying capacities throughout North America. His passion for building with insulating concrete forms led him to become the President and CEO of NUDURA Inc. Murray can be reached at murray@nudura.com[11].
Endnotes:
[Image]: https://www.constructioncanada.net/wp-content/uploads/2018/04/ICF_house_lake_ext_night_full.jpg
[Image]: https://www.constructioncanada.net/wp-content/uploads/2018/04/ICF_Wall-Model.jpg
[Image]: https://www.constructioncanada.net/wp-content/uploads/2018/04/icfs_Central-Avenue-Villas.jpg
[Image]: https://www.constructioncanada.net/wp-content/uploads/2018/04/icfs_IMG_2140.jpg
bit.ly/2CZnX2m: http://bit.ly/2CZnX2m
bit.ly/2kZdL2E: http://bit.ly/2kZdL2E
[Image]: https://www.constructioncanada.net/wp-content/uploads/2018/04/icf_Cambridge-Office-Building.jpg
[Image]: https://www.constructioncanada.net/wp-content/uploads/2018/04/icf_Residential-DonkerHarris.jpg
Weatherproofing ICF Walls: Lessons in Resiliency from B.C. Field Testing: http://www.constructioncanada.net/weatherproofing-icf-walls-lessons-in-resiliency-from-b-c-field-testing
ICFs, Wood, and the Changing Face of Mid-rises: http://www.constructioncanada.net/icfs-wood-and-the-changing-face-of-mid-rises
murray@nudura.com: mailto:murray@nudura.com
Source URL: https://www.constructioncanada.net/quantifying-the-benefits-of-icfs/
---