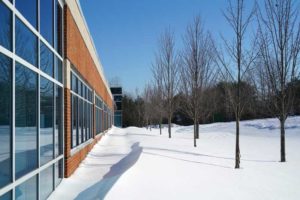 If roof gardens are seen as a viable solution and adopted widely, spray foam is flexible to allow for greater sloping or other changes to mitigate flooding and drainage. Since it is applied in a single layer it is possible to vary the foam's thickness to support structures like roof gardens and solar panels. There are no overlapping materials or tripping hazards common to other roofing solutions, so a smooth and even roof becomes a safe and inviting place for workers or visitors. Also, as part of the overall coating system, walk pads can be put down to create a non-slip, low-wearing surface. The material is safe and durable and holds up well to foot traffic, so access to all rooftop installations, vents, air-conditioning units, and storage can be maintained without worry.
As the commercial building industry moves toward renewable energy there is a greater demand for solar panels on roofs. Solar panels with the installation of SPF make for a renewable and efficient solution for building owners and occupants. SPF and solar panels are both complementary systems and are now being designed for seamless installation. According to an article in Solar Builder, if there is a long-term plan to add a solar array to a roof, SPF allows builders to prep for the positioning of solar panel roof mounting stanchions.
New, greener blowing agents
Canada is introducing new regulations to eliminate greenhouse gas (GHG)-emitting hydrofluorocarbon (HFC) technology and plans to make the full transition to hydrofluoro-olefins (HFO) by early 2020. HFOs have lower global warming potentials (GWPs) and are fast becoming the preferred fourth generation blowing agents for spray foam. In the United States, the first ban on HFC blowing agent is set to take effect on January 1, 2020. In October 2016, delegates to the Montréal Protocol agreed in Kigali, Rwanda, to a historic amendment establishing a schedule for the phasing out of high-GWP HFCs in developed and developing countries. Canada supports the accord, and will soon be seeing low-GWP alternatives in the market.
Building envelope
A building's performance depends on its envelope. The best envelope is created by continuous insulation (ci) forming an unbroken seal. The issue with most roofing and cladding systems is they are not 100 per cent effective against water intrusion. Severe storms, hurricanes, and tornadoes can overwhelm them if they are not able to divert the rain and keep it outside. Some materials have physical limitations in terms of keeping out moisture. Concrete blocks or bricks and mortar are inherently porous and can let water in. SPF in its medium-density, closed-cell form can be used as an exterior ci and can act as a water-resistant barrier (WRB). It also provides an air barrier, keeping moist air from getting through and into the building. This is vital in some climates because warm moist air coming into a building hits cold surfaces and creates a condensation problem on the interior of the structure. Installing a vapour barrier is important in those applications, and SPF is a three-in-one application to form an effective envelope: it insulates and creates an air as well as a vapour barrier.
As a product, SPF technology is over half-a-century old. By the late 70s, SPF evolved into a legitimate roofing application solution. Today, more than ever, the product is a critical component in the fight against skyrocketing energy costs.
In the author's experience, it is not an exaggeration to say whatever the future may bring, spray foam provides an effective solution for flat roofs, and could be the last roof a building ever needs.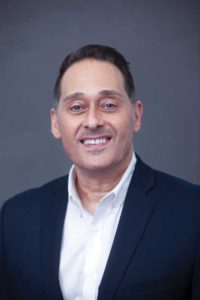 Doug Kramer is the president of Icynene-Lapolla, a manufacturer and supplier of sprayed polyurethane foam (SPF) and coatings. He has almost 30 years of experience in the manufacturing, operations, sales, and marketing of a broad variety of elastomeric coatings and polyurethane foam for construction. Kramer is a member of the Center for Polyurethanes Industry's (CPI's) Spray Foam Coalition (SFC) and a former board member of the Spray Polyurethane Foam Alliance (SPFA). He can be reached via e-mail at dkramer@icynene-lapolla.com.

Control the content you see on ConstructionCanada.net!
Learn More.