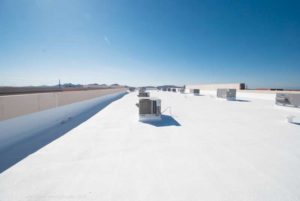 Elastomeric protective coatings come in white, grey, tan, and even custom colours upon request. They are applied over SPF roofs, and most coating products have earned the Cool Roof Ratings Council (CRRC) certification due to its high reflectivity of harmful ultraviolet (UV) rays. The rating program lends itself to manufacturers and sellers who label their roofing products with measured initial and aged radiative properties. The CRRC currently allows the use of two different thermal emittance test methods for its product rating program: ASTM C1371, Standard Test Method for Determination of Emittance of Materials Near Room Temperature Using Portable Emissometers, and the Slide Method. For SPF, the Slide Method adapts the C1371 instrument for use on specimens with higher thermal resistance, such as concrete or clay tile, wood shingles, or insulation-backed membranes. The method involves moving the device head across the sample during the measurement process.
The versatility of spray foam in warm and cold climates means it is a resilient material that can match the weather extremes forecasted to come. Since spray foam is an effective insulator it is being used by the National Aeronautics and Space Administration (NASA) on rockets, tested to both extremely high and low temperatures, to ensure its space-worthiness.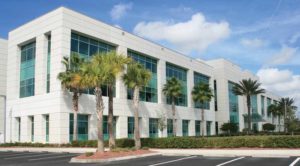 It is also frequently utilized in the Arctic communities where temperatures as low as –32 C (–26 F) in winter necessitate an airtight building envelope. Whether extreme climates and endorsements like NASA's are compelling, it is hard to argue with the economics of an SPF roof. Spray foam could also contribute to a 'cool roof' effect by not allowing the warm air inside to leak out in the winter and trapping in the cold air in the summer. This could mean energy savings compared to an alternative roofing system. Some coatings, for instance, are 88 per cent reflective and can reduce cooling costs by up to 35 per cent.
Wind resistance
Wind uplift is the primary cause of damage to roof systems, and materials are one of the first things to go in gale force winds, with metal roofing panels flapping loose in the wind or becoming dangerous projectiles. Particularly, roof edges are vulnerable to lifting off or loosening wherever mechanical fasteners have been applied. Since spray foam is self-flashing, and adheres seamlessly to the surface, there are no shingles, panels, or fasteners to come loose in the wind. Some spray foam products are even Miami-Dade approved, meaning they are strongly recommended in places like Florida with a hurricane-prone climate. Further, it resists damage from debris that might hit the roof during a severe weather event. SPF is the only roofing system with a severe hail rating by Factory Mutual (FM) Approval.
During the application process, like most applied building materials, there is the potential for odours to penetrate the inside of the building. In the author's experience, with proper ventilation, the smell should subside once fully cured.
Sustainability
Spray foam roofs offer a sustainable solution for a range of commercial, agricultural, industrial, and residential applications. Since it can be applied directly on top of existing substrates, it saves time and money that would have been spent on disposal costs and keeps discarded material out of landfills. Tear-off is not required because, in most circumstances, the substrate does not have to be pulled off to extend the life of the building with proper upkeep. While other roofing systems deteriorate over time and require a complete replacement at the end of their lifespan, spray foam assemblies only require a reapplication of the elastomeric outer membrane every 20 or so years, at a cost of about half the original roof installation. Additionally, repairs are easy to do without having to call in specialized companies. In the unlikely event of the roof getting punctured or cut, maintenance staff can provide the fix by filling any fissures with polyurethane exterior caulking.
Green roofs and solar panels
As the frequency of storms and the volume of precipitation increases, experts are beginning to realize optimizing roof drainage might not be enough. Entirely new approaches might be needed.
Gerry Saunders of the United Kingdom's Building Research Establishment says, "At the moment, buildings and roofs are designed to shed water as quickly as possible. Maybe to avoid more flooding, it would be best if buildings retain water, perhaps by an increase in roof gardens, which would absorb some of the precipitation." Something like a visible low roof can be turned into a green roof. Rooftop rainwater harvesting methods, like catchments, can also be installed.

Control the content you see on ConstructionCanada.net!
Learn More.