By Doug Kramer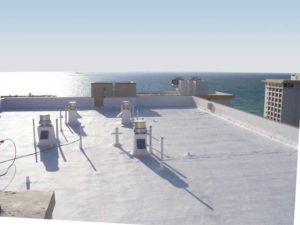 Extreme weather and the regular occurrence of the so-called '100-year storms' is the new normal in most parts of Canada. New estimates from Canada's Changing Climate Report concluded the country's climate is warming twice as fast as the rest of the world's. Along with the warming comes extreme precipitation. In Canada, an extreme precipitation event with a one-in-20-year probability of occurrence is projected to become, approximately, a one-in-10-year event by mid-century, and a one-in-five-year happening by 2100 (under a business-as-usual emissions scenario). To prepare the construction industry for the extreme weather events, the National Building Code of Canada (NBC) is getting a much-needed update, including new guidelines for certifying the resiliency of roofs. This is planned for 2020.
While details are scarce, a briefing note obtained by the Canadian Broadcasting Corporation (CBC) said, "To remain vital in the face of coming climate change challenges, the construction industry will need better, safer, energy-efficient, and affordable construction materials and technology that can maintain or improve lifespan expectations for buildings and core infrastructure."
While there is no doubt the new code will change the way construction is done, some materials have already been shown to better respond to the existing climatic stresses.
Flat roofs and the elements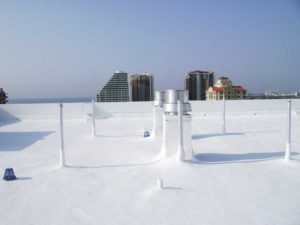 Roofs, and particularly flat ones, face unique issues when dealing with sudden downpours. Builders are discovering sprayed polyurethane foam (SPF) can contend with the 'new normal' extreme weather that is being witnessed. Spray foam has no seams, penetrations, fasteners, or voids that can let water in, and it creates an uninterrupted, monolithic surface for the roof.
After a heavy rain, flat roofs may not drain properly, and in winter they can collect snow and endanger the structure itself. Since spray foam can be applied in multiple layers and in varying thicknesses, it can create better drainage on flat or slightly pitched surfaces. Proper drainage prevents ponding water and deck deflection, and protects the roof from leaks and premature failures, thereby resulting in an extended lifespan. Inspections should be seasonal for commercial flat roofs, taking place twice a year in the spring and autumn, during times of heavy rainfall that could lead to pooling or leaks.
Certified SPF installers are available across Canada for commercial and industrial buildings. A quality tradesperson, remodeller, or contractor in the business of roofing SPFs and trained in handling these chemicals should do the job. The difficulty is not in the installation of SPF, but in understanding the requirements of the roof assembly (e.g. penetrations, parapet walls, and proper edge delta), as well as knowing how to slope for drainage.
In the author's experience, the costs of SPF and roof coatings are two-thirds of other flat roof systems because it is also dampproofing and insulating the overall assembly. The coatings must be applied after the SPF is installed. It is an efficient process—SPF sets in seconds, so coating can take place within two hours. The combination of these two protective barriers should be installed during roofing season, which varies based on the location. The foam reacts slowly at subzero temperatures—coatings can go down as low as –17 C (1 F).
Energy efficient
Spray foam is one of the most energy-efficient materials for roofing since it becomes a seamless monolithic membrane once it is applied. It seals the building envelope to stop heat transfer through the roof deck, minimizes the escape of conditioned air, and restricts unconditioned air from entering the building. With an RSI value of around one per inch (compared to blown fibreglass with an RSI of around 0.35 per inch, spray foam saves on both heating and cooling costs. SPF has a higher RSI compared to polyisocyanurate and expanded polystyrene (EPS), and does not need to be mechanically fastened, thereby decreasing labour time and costs.

Control the content you see on ConstructionCanada.net!
Learn More.