By Bill Maginas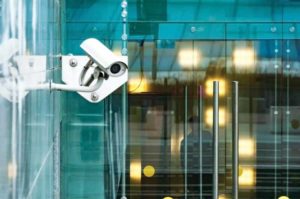 Safety and security are challenges for facilities of all sizes, and is a multilayered effort requiring careful assessment and understanding of the 'what-if' scenarios that could impact one's business. In a new construction or remodel, it is imperative to have plans in place to ensure threats are detected early, and operations can spring back from the unexpected, while minimizing downtime and financial impact. While all businesses are held to safety standards through codes and requirements, it is often challenging to determine the opportunity to revamp and upgrade these technologies. A new construction or retrofit can present the opportunity to upgrade safety systems and technologies to help make a building smarter, safer, and more connected.
Safety planning is not a one-size-fits-all approach for every business, yet keeping an advanced, integrated safety and security strategy in mind when designing, constructing, and optimizing a building for use is critical. Organizations are seeing more value in bringing security and fire- and life-safety components together in a comprehensive, connected plan to best protect the infrastructure. Taking the time to evaluate the safety plan prior to taking on a new construction project or a retrofit can help ensure security and fire- and life-safety technologies are integrated to better protect the facility.
Defining needs for a customized approach
Determining exactly what the facility or business may require is the first step toward becoming prepared and, ultimately, building an all-encompassing plan for safety and security. It is essential to understand the specific facility's points of vulnerability and how those should fit into a safety strategy. Some questions worth asking to help jumpstart this process include:
is the building in a tornado- or flood-prone area and require special considerations for natural disasters when it comes to physically preparing the facility to stay resilient;
is the location susceptible to any specific type of security issues; and
are there any areas of the facility itself that are particularly important to keep secured to only authorized personnel?
After considering these questions, one can develop a list covering the most likely threats—and the worst-case scenarios—for the specific infrastructure to determine the building systems and technologies that need to be updated, integrated, or replaced. This prioritized approach can also help with selecting the right partner, services, solutions, or products to match the facility's specific safety needs.
At the core, safety solutions and technologies should perform seamlessly and without interruption to provide the groundwork for a safe, continuous, and successful operation. To support this, managed security services could be a key component to consider when designing a safety strategy. From real-time alerts to live video look-ins, remote security management can deliver information no matter where one is and assist facility managers in responding to unexpected events or disable alarms even when offsite. Outsourcing access control or video surveillance operations can also help free up resources to focus on other business priorities, but can still provide the peace of mind that the facility's security needs are met.
In addition to a strong security plan tailored to the business's unique needs, fire- and life-safety technologies must be top of mind for security professionals and building managers. An integrated fire- and life-safety plan can help organizations of all kinds stay compliant with codes such as the National Fire Protection Association (NFPA) 101, Life Safety Code, and NFPA 72, National Fire Alarm and Signaling Code, while helping to provide a safe environment for building occupants. Connecting smoke detection, air sampling, suppression, and alarms allows facility managers to monitor and control the technologies from a single platform.
Additionally, it is important to keep in mind the specific needs of a facility when implementing a connected fire- and life-safety plan. For example, a government building may house a data centre requiring another layer of protection. In this instance, beyond keeping people safe in the event of a fire, detection solutions need to be able to handle information technology (IT)-specific needs, like safeguarding servers, to ensure minimal disruption if equipment is overheated or damaged.

Control the content you see on ConstructionCanada.net!
Learn More.