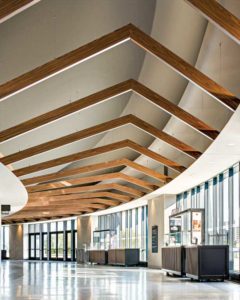 Wood ceiling systems: Design done naturally
With its rich warmth and depth, wood brings the beauty of nature indoors, creating a direct visual connection between interiors and the world outside. Architectural wood ceiling systems range from familiar forms with options for customization to fully engineered custom acoustic solutions, making it easy to give any space on any budget a sense of biophilic style.
Prefabricated wood ceiling forms can be constructed of solid wood or clad in veneers such as cherry, red oak, walnut, and bamboo. Designers can also exert more creative control over their installations with custom toning, sheening, and colour-matching, among other wood finishes.
Like metal, wood does not inherently absorb sound, but some wood products can be specified with micro-perforations or grooving patterns along with a sound-absorbing backer or infill to provide acoustic performance. Acoustical absorption characteristics can also be modified by changing the thickness of baffles or the spacing between baffles.
Wood ceilings are also an excellent option for environmentally responsible building. When using wood products in design, the sourcing, sustainability, and fire rating of the wood are always important considerations to ensure environmental responsibility and occupant safety are prioritized.
Many wood products are certified by the Forest Stewardship Council (FSC) as responsibly sourced. Some products also feature high recycled content, are No-Added Urea Formaldehyde (NAUF), and are Fire-Rated Class A for veneers and Class C for solid wood.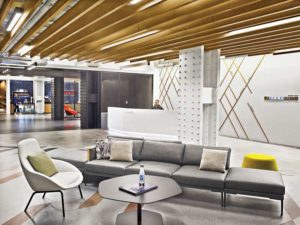 Expanding palettes into an entirely new, creative design territory
Today's metal and wood ceilings expand design palettes into entirely new creative territory, allowing these products to be specified for spaces that were previously reserved only for more traditional ceiling materials.
The industry is brimming with a wide array of metal and wood options that merge stunning visuals with high-performance sound absorption and easy plenum access for a combination which is ideally suited to open plenum applications.
Author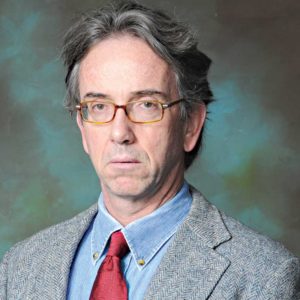 Robert Marshall is senior technical manager for CertainTeed Architectural and has been a ceiling industry professional since 1969. He is the product of one of the world's first acoustic ceiling contracting and distribution businesses; a family-owned company founded nearly 100 years ago in Philadelphia, Pennsylvania. which later became one of the nine member-companies to create the industry trade organization (known today as Ceilings and Interior Systems Construction Association [CISCA]).

Control the content you see on ConstructionCanada.net!
Learn More.