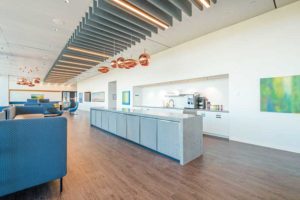 Free hanging elements like baffles and clouds, for example, can be fully finished on all sides for multi-directional sound absorption, so they behave differently than a traditional lay-in ceiling. Typically, 50 to 60 per cent coverage with baffles or clouds will offer similar acoustical performance to a wall-to-wall fibreglass ceiling. That means fewer panels—nearly half—are needed to achieve the same acoustic attenuation that traditional suspended ceilings offer.
Visually, beams, baffles, clouds, cells, and canopies all create a design-forward open plenum look that directly supports the overall esthetic of open plan design. Some specific product lines are distinctive enough to become the centrepiece of the design theme itself.
The landscape of lengths, widths, heights, profiles, and suspension options available in these ceiling categories is vast.
Some manufacturers offer beams in canted, tiered, and diverging forms for added visual depth and topography, while baffles and clouds can be stacked and angled for a sculptural appeal and enhanced sound absorption. Baffles are even available in profiles like waves and zigzags and orientations like horizontal and vertical curves, all of which can be used to add a playful sense of movement and rhythm to the plenum space.
Open cell formats can be specified in a range of interlocking squared patterns that offer depth and dimension while creating islands, peninsulas, and other modules to frame and define specific areas of visual interest.
All these forms also offer quick plenum access, lighting integration, and the versatility to be strategically positioned to conceal HVAC ductwork, plumbing, and electrical lines so they avoid diminishing the esthetics of a space.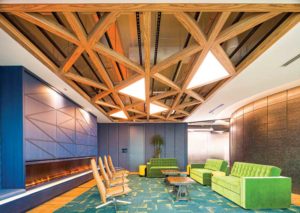 Material matters
Among the various forms of open plenum solutions available, the material makeup of the ceiling product also greatly affects the esthetics and functionality.
Manufacturers offer a variety of ceiling materials suitable for open space design. Wood and metal marry particularly well with the contemporary, industrial style of open plenum looks while the array of finish options in these two categories can achieve visuals that range from cool and contemporary to warm and biophilic.
Some ceiling materials, such as fibreglass and felt, are inherently sound absorbent. Since metal and wood are acoustically reflective surfaces, they are not the first solution designers think of when approaching acoustical design in open spaces.
However, thanks to modern innovations in ceiling product design, typically non-absorptive surfaces like metal and wood can be perforated and combined with sound-absorbent materials to achieve noise reduction coefficient (NRC) values of 0.70 and higher, creating solutions that have the desired combination of esthetics and acoustic traits.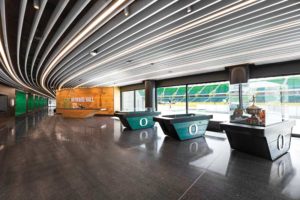 Metal ceilings: Cool, contemporary, and versatile
Metal is a highly versatile material that offers the utmost creative freedom with a wide range of colours and finishes across beams, baffles, and cloud formats for open plenums.
Manufacturers offer a full spectrum of colours from vibrant hues and custom colour matching to shades of black and white. Lighter finishes, such as natural metal or white can increase daylighting in interiors, thanks to higher light reflection values.
One of the most notable features of metal ceiling systems is they can take on the look of decidedly non-metal materials. Metal systems can be clad in real wood veneer or finished with a decorative wood look for a more natural esthetic.
While metal itself is not inherently sound absorbent, certain metal products can be perforated and accompanied by acoustical infill to achieve high sound absorption and stronger acoustical performance. Selecting a product with this capability is essential to increase acoustic properties for metal ceilings.
In addition to their acoustical capabilities, metal beams and baffles are particularly geared for performance by allowing easy plenum accessibility and a variety of installation options. From a practical standpoint, a key feature of beam and baffle systems is their integration with a standard heavy-duty 24-mm (0.94-in.) T-grid system that allows for easy installation. This is the same type of system used for traditional suspended ceilings. Beams mount via hidden scissor clips to enable single-beam access to the plenum as well as freedom from fixed modular assemblies.
These design characteristics make metal an excellent solution for a wide variety of applications: corporate offices, hospitality and event spaces, retail outlets, restaurants, schools, and more.

Control the content you see on ConstructionCanada.net!
Learn More.