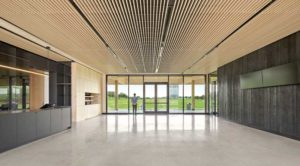 By Robert Marshall
Open space design is ubiquitous in modern interiors. In everything from open plan offices to communal areas in educational facilities to large hospitality spaces, the airiness of open space has been used creatively to promote collaboration, support learning, inspire creativity, or foster relaxation for the occupants who work, learn, play, and interact in these environments.
However, for all its visual power—and budget-friendliness in the building process—open space comes with a unique set of performance challenges that must be addressed to create interiors that meet esthetic goals and the ever-evolving demands of occupant comfort.
Adaptive reuse of historic buildings has remained a consistent architectural trend over the past two decades and beyond, with open space being a centrepiece of the design as older factories and warehouses with open floor plans are converted into offices, studios, or retail spaces. In instances like these, when a building's function is fundamentally changed from its original intent to serve new occupant purposes, unforeseen challenges can arise.
Esthetic intents often collide with architectural realities, especially when, as is often the case with historic structures, acoustically reflective materials like glass, concrete, and metal maintain a significant presence to contribute to the visual theme. Noise control was not typically part of the design consideration when many of these buildings were constructed, and now that they are being used for offices and commercial spaces which require varying degrees of privacy and quiet, optimizing acoustics is paramount.
These challenges are not exclusive to older structures, however. New commercial construction is also often designed with open plans and open plenums, which provide industrial flair but often lead to uncomfortable acoustic environments as unwanted noise travels unencumbered by walls and partitions. Glass, wood, metal, polished stone, concrete, and other reflective surfaces are also ever-present in newer buildings, which further exacerbates the problem.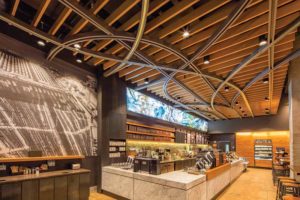 Innovative solutions to old challenges
In the past, wall-to-wall suspended ceilings were typically selected for acoustic control and hiding unsightly building mechanicals. That said, wall-to-wall suspended ceilings are often not visually desirable or practical in open spaces.
Fortunately, there are innovative open plenum ceiling systems on the market that can help overcome performance challenges without compromising esthetics or blowing the budget. Strategic use of open plenum ceiling formats can create show-stopping visuals in open spaces while optimizing acoustics, integrating with lighting, allowing easy plenum access, and cleverly masking HVAC, plumbing, and electrical components.
Despite all this, there are several factors architects must consider when specifying for open plenums.
The importance of form
Form is the first consideration to weigh for the overall performance of the ceiling solution.
When it comes to open plenum solutions, alternatives to traditional suspended ceilings include beams or baffles—free-hanging vertical ceiling elements that can be suspended to create elegant lines and eye-catching designs across ceiling and wall planes; clouds or canopies—free-hanging ceiling solutions, which horizontally suspend stylish lines and soft shapes from ceilings to absorb sound for an unequalled acoustical performance; and open cell, which are a decorative option that allows the visual of an open structure design while providing easy access to lighting and mechanicals above. Each have their place, but the solution that is right for the specific application depends on the project's overall esthetic and performance goals.

Control the content you see on ConstructionCanada.net!
Learn More.