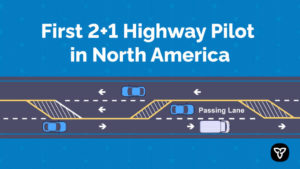 The Ontario government has issued a request for proposals (RFP) for a 2+1 highway pilot on Highway 11, north of North Bay, from qualified highway design consultants for design and environmental assessment.
The highway pilot will enhance road safety and improve traffic flow in Northern Ontario. Proposals can be sent in through the Ministry of Transportation's e-tendering portal until the end of December. The province will evaluate submissions and announce the successful bidder in 2023.
A 2+1 highway is a three-lane highway with a centre passing lane that changes direction approximately every two to five kilometres (1.24 to 3.11 mi). The highway model is used in other jurisdictions around the world and is more cost efficient than a twinned highway.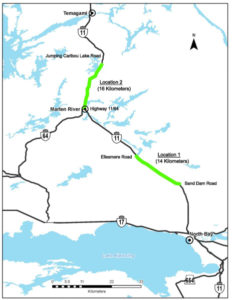 Two potential locations for the 2+1 highway pilot have also been identified. While both sites will be assessed, the design and environmental assessment for Highway 11 from Sand Dam Road to Ellesmere Road—14 kilometres (8.7 mi)—will be prioritized.
The proposed locations for the 2+1 highway pilot were selected based on a site selection criteria report that received input from the public and the 2+1 Advancement Working Group.
"This first of its kind highway pilot in North America will keep people and goods moving safely across Northern Ontario," says Caroline Mulroney, Minister of Transportation. "This is a key next step to get shovels in the ground on critical infrastructure projects that will support a strong transportation network and create jobs."