The white building – then and now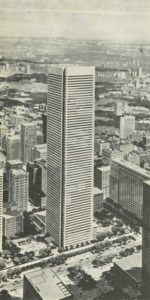 Toronto's 72-storey First Bank Tower has been featured twice in Construction Canada. In the March-April 1974 issue, Roland Bergmann, P.Eng., wrote a paper on the First Bank Tower, a part of the First Canadian Place development then under construction. Bergmann was the principal-in-charge of the tower design. The paper dealt with the development of the concept of the structural system, a technical description of the structural system, and the analysis of the tower structure.
The structure of the tower is an all steel frame, consisting of the perimeter framed tube, which resists all lateral forces, and an interior framing designed for gravity forces only. The basic floor to floor height is 12'-8 with a 9'-0 ceiling. The exterior of the tower is clad in white marble, which extends into the lobbies at the ground floor and concourse levels below grade.
 In the article "Seeing Through Rose-coloured Glasses" (March 2017), Julie Schimmelpenningh briefly describes the facelift the First Canadian Place received in the early 2000s.
 On a stormy spring evening in 2007, a marble panel fell from the 60th storey of Canada's tallest building. Although no one was hurt, the event called into question the safety and durability of the building's aging façade, made of 45,000 marble panels, each weighing around 100 kg (220 lb). It also sparked a multi-phase renovation project years later to remove and replace the marble panels with a material that would not only ensure safety and energy efficiency, but also give First Canadian Place a memorable facelift.
Today, many refer to First Canadian Place simply as the 'White Building.' In 2009, the building owner swapped out the marble exterior with 34,840 m2 (375,000 sf) of laminated glass featuring a white interlayer. Nearly opaque, the ceramic-fritted spandrel panels were chosen for their functionality and esthetic—they conceal both plumbing and HVAC systems running between the floors and have revamped the building with a modern, clean, and easily identifiable design.
he Way It Was…in 1858

Control the content you see on ConstructionCanada.net!
Learn More.