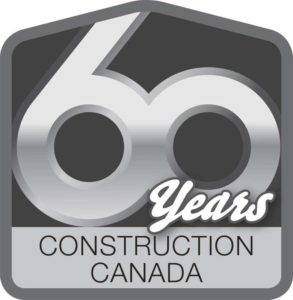 by Nithya Caleb
Construction Canada has entered its 60th year. A quick look through issues past and present confirms the magazine has remained true to its mission of providing architecture, engineering, and construction (AEC) professionals with information on building materials and methods, their applications, and construction industry trends.
Initially called Specification Associate, it was published first as a quarterly in 1959 by Russell Cornell, the magazine's first editor, along with Bob Fernandez and L. Stuart Frost. At the time, the Specification Writers Association of Canada (SWAC) was approaching its fifth birthday—there were only three chapters (Toronto, Montreal, and Ottawa), and the national "office" was really the Frost-Fernandez workplace.
In 1962, the magazine switched to a bimonthly schedule. Five years later, Cornell retired, and editor Stuart Frost brought a new look to the magazine, adding chapter news, letters to the editor, and more features for manufacturers and building contractors.
In the late 1970s, the magazine went through a transition, in a way mirroring the change happening at the association level—SWAC had by then transformed into Construction Specifications Canada (CSC). Specification Associate's editorial calendar was refined, the design overhauled and finally, in July 1980, it became the now-familiar Construction Canada.
In 1998, Kenilworth Media Inc., the magazine's current publisher, began producing the magazine. Two years later, the F. Ross Browne Award was introduced to acknowledge article authors—the honour taking its name from the last president of SWAC and first president of CSC who is known for his passion for effective communication, and for speaking his mind. He brought this attitude to a column called Curmudgeon's Corner, which appeared in Construction Canada from July 1998 to November 1999.
Today, the print edition has grown to nine issues with more than 12,000 readers.
The last decade has seen a big push into the digital realm. The magazine now has a significant online presence as well as a digital edition. The website aims to keep readers up-to-date with industry news as well as present a searchable knowledge base of past articles. The platform has also provided Construction Canada with the opportunity to cover topics not suited to a magazine format. More recently, social media has opened up new avenues (@constructcanmag) to interact with the AEC community.
The construction industry is at another crossroad. As new technologies begin to change the paradigm, Construction Canada will continue to bring relevant information about materials, methods, codes, and standards, for specifiers, architects, engineers, and other building professionals.
The way it was…in 1858
In its November-December 1974 issue, Specifications Associate took a trip to the distant past with the assistance of spec writer Milton Seddon. He obtained drawings and specifications prepared in 1858 by the Public Works Department. The contract was for 13 courthouses and jails to be constructed at several locations in Lower Canada. Terminology in the specification includes "shewn on drawings" and "shewn as detailed." Several other terms and phraseology that many specifiers today have possibly never heard or used are:
Flues to be well cored and pargetted with cow manure

Masonry to be "rough picked or scabbled on face"

Cut stone "steps in long lengths and broad flags, rough bouchard on face"

Moulded emblatures

Spandrils and sofite casings

Cradling and bracketing

Angle beads of inch stuff

Glass of best English or german sheet glass free from specks or veins, etc.

Roof of best eastern township or kingsey slates

An upright hot air furnace with tin tubing

Flatted cedars laid 18 inches apart in the clear

Smith-made bolts and thumb latches

Tinning lapped in the most approved Lower Canada manner
Seddon goes on to write:
From glancing at the specification, the most interesting thing to note is the absence from the great number of individual trade sections that we know to-day. The specification is written "to the Contractor" and believe it or not, that is what still should be maintained to-day when writing a stipulated sum contract. As a grand finale, we wonder if what appears to be the name of the specification writer (or architect) isn't really an opinion expressed by the Contractor. The document is signed "Rubidge". 

Control the content you see on ConstructionCanada.net!
Learn More.