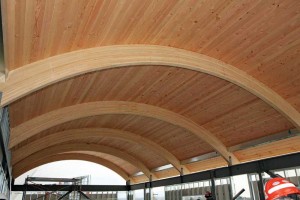 Architects and code consultants have demonstrated the use of mineral wool (rather than fibreglass insulation) in exterior walls, combined with heavy-timber-compliant members as window headers and jambs, offer a level of protection equivalent to a layer of exterior-grade gypsum sheathing behind the exterior cladding. Mineral wool insulation can also be used in the common walls between different dwelling units, providing enhanced firestopping and flame-blocking attributes to these areas.
"When a wood building project is completed with all fire protection measures in place, the building should perform as well as any building constructed with other materials during a fire," says Thomas Leung, P.Eng., Struct.Eng., MIStructE. "A wood building with fire-rated assemblies according to the building code requirements and fire suppression system installed is as safe as any building constructed with other materials—whether it's a two-, four-, or six-storey building. In particular, wood-framed buildings, being much lighter than other material-type buildings, can have superior performance in an earthquake."
Construction site methodology
The evolution and refinement of prefabrication for walls, and potentially other building envelope elements, have changed traditional material ordering and delivery systems. Computer-assisted material sorting and selection ensures use is optimized and waste minimized. A single prefabrication shop may be supplying various projects at one time; any needed waste collected can be reduced, reused, and recycled onsite, making the process both energy- and material-efficient.
When detailed and constructed accurately, prefabrication can speed up construction, minimize inefficiencies, and reduce potential for onsite errors.
Sustainability and affordability
Wood's environmental advantages are considerable when compared to other major construction materials. At a time when 'carbon neutrality' is emerging as a key design goal in high-performance buildings, these advantages are becoming increasingly important.
The extraction and processing of wood products is less energy-intensive than other materials—such as steel and concrete—and often uses carbon-neutral wood waste as an energy source. Therefore, substituting wood for other materials in the construction of any building can help contribute to a reduced carbon footprint.
The conversion of wood into durable building products prolongs the benefit of carbon storage, and through reforestation, the sequestration cycle in the forest continues. Increased urban density, which can be the outcome of mid-rise construction, can help reduce the environmental impact of development in the built environment.
With mid-rise wood-frame construction as a new practice in British Columbia, it is not yet possible to make a statement about overall cost savings relative to other forms of construction. However, based on projects under construction in 2011, it appears the above-grade price of mid-rise construction in wood could prove to be less than steel or concrete building.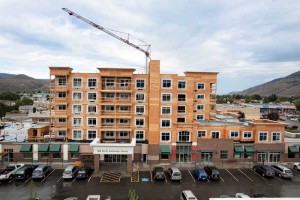 Once this new technology has been streamlined, and particularly if the prefabrication benefits are fully appreciated, construction times will be reduced. Increased speed and more effective use of materials will improve the affordability of housing as advanced wood-frame, mid-rise building technologies become mainstream.
Conclusion
Light-frame wood assemblies can now legitimately take their place alongside other sophisticated construction systems. While six-storey structures may still seem like a new challenge for this technology, Canadian building researchers believe in the possibility of safely extending light-frame wood construction to eight storeys. Indeed, the construction of taller, better performing, and lower-cost wood structures is possible with the evolution of a fully integrated design approach to mid-rise buildings, combined with the introduction of new building materials such as CLT, and the improvement of existing onsite practices.
Jim Taggart Dip. Arch., MA, MRAIC, teaches history and theory in the architectural science degree program at the British Columbia Institute of Technology (BCIT), and is the editor of Sustainable Architecture and Building magazine (SABMag). Taggart worked for more than a decade in the design and construction industry and has been focused on public and professional education since 1992. In 2001, he was inducted as a Fellow into the Royal Architectural Institute of Canada (RAIC). Taggart can be reached at architext@telus.net.

Control the content you see on ConstructionCanada.net!
Learn More.