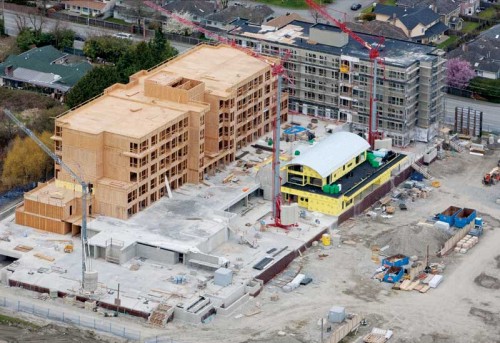 By Jim Taggart, Dip. Arch., MA, MRAIC
Something old is new again on the B.C. construction landscape. Currently, more than 100 mid-rise or six-storey wood-frame residential structures are in development or have been completed. Since the B.C. Building Code (BCBC) was revised in 2009—increasing the permissible height of light-frame wood construction for residential buildings to six storeys—there has been a lot of interest in the building and design community to pursue new projects. It is easy to understand this emerging trend in high-density residential construction when considering the environmental, social, and economical benefits.
As environmental awareness and concerns about climate change escalate, wood is emerging as a suitable material for mid-rise residential and commercial construction. The environmental benefits of wood include:
Peter Busby, CM, AIA, FRAIC, MAIBC, MAAA, MOAA, BCID, LEED AP, an architect at Perkins+Will, recognizes the environmental benefits and versatility of using wood.
"Wood has become an increasingly important part of our practice. It is the only structural building material made by the sun, benefitting nature throughout its life. We can extend those benefits by using wood—two-thirds carbon by weight—as an enduring carbon sink," he says. "Design professionals, policy-makers, contractors, and developers need to work to ensure wood's viability in all building types and sizes in the future."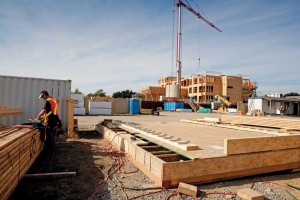 The ability to build residential structures greater than four storeys in wood can fulfil numerous community objectives. Since these mid-rise structures have lower construction costs, they provide an opportunity for affordable housing. The modest increase in height also allows local government to slightly increase density without permitting high-rise towers, creating more pedestrian-friendly communities and addressing urban sprawl.
Modern six-storey light-frame wood construction in British Columbia incorporates highly detailed, scientifically researched, and safe processes. These mid-rise building solutions currently being developed and refined in the province could lead to more sustainable communities and affordable housing that will positively change the face of North American cities.
A building code revision to permit mid-rise wood construction nationally is expected to be considered for adoption as a future target of the National Building Code of Canada (NBC) 2015 code cycle, which would bring Canada closer in line with other international jurisdictions. For example, the states of California, Washington, and Oregon have permitted similar opportunities for developers for more than a decade.
Reviving an old idea
With concrete and steel structures predominately represented in urban centres for most of the 20th century, it is easy to forget wood was once the material of choice for mid-rise construction. In many Canadian and U.S. cities, 100-year-old heavy timber post-and-beam offices and warehouses still stand in testimony to wood's durability and strength.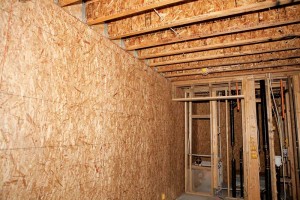 In the new generation of wood buildings, diversity is the key, with different technologies proving successful according to the scale, type, and location of specific projects. Around the world, several methods of wood construction have been successfully employed, including:
modified post-and-beam technique, based on engineered wood products, in a six-storey commercial building in Québec City;
cross-laminated timber (CLT) construction for eight storeys of a nine-storey apartment tower in England; (For more on CLT, see "The Advent of Cross-laminated Timber" by David Moses, PhD, P.Eng., PE, LEED AP, and Sylvain Gagnon, Ing., in the March 2011 issue of Construction Canada. Visit www.constructioncanada.net and select "Archives.") and
modified light-frame system, used for multi-family residential construction in the U.S. Pacific Northwest.
Collectively, these structures (and others like them) have transformed the understanding of what is possible using only standard dimension lumber and the engineered wood products readily available from local retail lumber yards.

Control the content you see on ConstructionCanada.net!
Learn More.