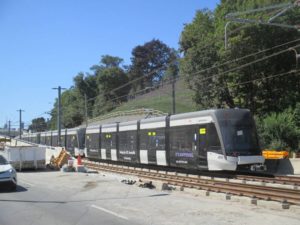 The president and CEO of Metrolinx, the Ontario Crown corporation overseeing the construction of Eglinton Crosstown project, is holding Crosslinx Transit Solutions, the construction consortium assigned to the project, including ACS-Dragados, Aecon, EllisDon, and SNC-Lavalin, responsible for not delivering the LRT by this fall.
Metrolinx has not given a new date for when the project will be complete and open for public use yet.
"We are doing everything to hold Crosslinx Transit Solutions accountable and to redouble efforts to meet their commitments and complete the work quickly so we can welcome riders onto a complete, tested, and fully operational Eglinton Crosstown LRT as soon as possible," says Phil Verster, president and CEO of Metrolinx.
According to CBC Toronto, a source aware of the project said the major issues causing the delay are to do with engineering difficulties in digging and building below the existing underground subway station at Yonge and Eglinton.
Construction for the project started in 2011 and was scheduled for completion in 2020, however, this is the third delay ever since then, which highlights the troubled past between Metrolinx and Crosslinx.
The relationship between Metrolinx and Crosslinx has been rocky for several years. In 2018, the provincial transit agency paid Crosslinx an additional $237 million to keep the project on track, however, in 2020, Metrolinx blamed the LRT's delayed opening date on Crosslinx's failure to meet construction targets, as well as defects in the old infrastructure under Eglinton station.
In 2021, Metrolinx, Crosslinx, and Infrastructure Ontario revised their agreement regarding the cost and timeline for the 19-km (11.8-mi) transit line, after an Ontario Superior Court Justice ruled in favour of Crosslinx—making Metrolinx pay another $325 million to the consortium for the project. Metrolinx then announced the new date for the completion, September 2022, and further stated the line will be in service by 2023.
Meanwhile, according to CBC Toronto, City Councillor Josh Matlow, who represents Ward 12, Toronto—St. Paul's, said Metrolinx's confirmation of the project delay did not come as a surprise to him.
"We all want transit. Transit is the dream, but the construction of this project has been a nightmare," said Matlow. "Metrolinx and the province of Ontario need to take responsibility for their mismanagement."