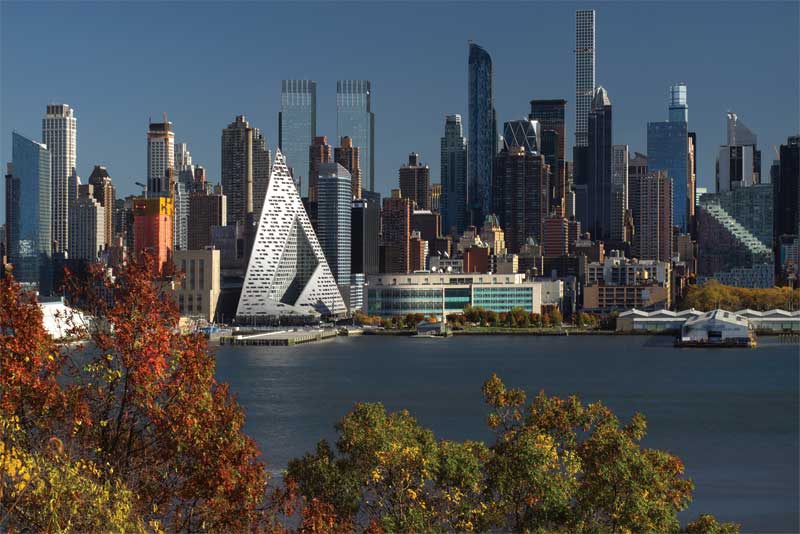 Japanese temple
The first colouring methods for stainless steel were introduced in the 1970s, and were developed for durability. For example, the Type 304 electrochemically coloured shingles on Reiyukai Shakeden Temple (Tokyo) have experienced no change in appearance since their 1975 installation because of regular cleaning.
French museum
La Géode, which opened in 1985, is a geodesic dome with an exterior covered in 6433 mirror-finished Type 316 panels. It holds an Omnimax theatre in Parc de la Villette at the Cité des Sciences et de l'Industrie in Paris, France. The largest science museum in Europe, la Géode was designed by architect Adrien Fainsilber and engineer Gérard Chamayou. It is 36 m (118 ft) in diameter and reflects the sky.
Singapore racetrack
The design architect of the Singapore Racecourse in Kranji, Philadelphia-based Ewing Cole wanted the curved, 400-m (1312-ft) long grandstand roof to remind visitors of the graceful movement of a powerful racehorse in motion. The undulating curves of the project, completed in 1999, were achieved with a standing-seam roof made of Type 316 (UNS S31600, EN 1.4401, SUS 316) stainless steel. Heavy year-round rainfalls are common in Singapore, so the owners wanted a durable, long-lasting roof that would remain attractive with minimal maintenance.
The architect of record was Indeco, 
a Singapore firm.
Canadian National Archives
The Canadian National Archives LAC Preservation Centre (Gatineau, Québec) was completed in 1997. Designed with a 500-year service life, Ron Keenburg's design exceeds current sustainable construction guidelines. None of the interior materials produce emissions (as is required for an archives project), and the ductwork and other interior metal components are bare Type 304 stainless steel.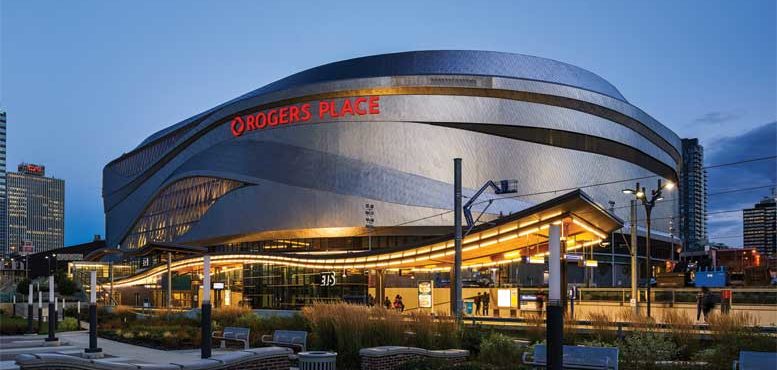 Archives have redundant building-within-building designs to protect their precious contents. Thirty-four 24.4-m (80-ft) tall stainless steel (Type 316 exterior and Type 304 interior) towers support the curved roof beams and the triple-glazed walls of the outer building, bringing in natural light while controlling heat gain and loss. On its completion, this was the largest structural application for stainless steel in the world.
Recent projects
Vancouver's Fairmont Pacific Rim Hotel was designed by James KM Cheng Architects and completed in 2010. Only a few blocks from the ocean, it was inspired by an image of an old-growth fir and cedar forest; the fabricator created a custom Type 316 stainless steel sunscreen emulating glistening trees rising up the building podium's office floors. The proprietary process used variations in the perforation and texturing pattern to create individually unique panels.
Another high-profile project completed that same year can be found in the neighbouring province. Edmonton's Art Gallery of Alberta (AGA) was designed by Randall Stout Architects with HIP Architects as the architect of record. 
A large ribbon of Type 304 stainless steel with a softly reflective, non-directional finish—nicknamed 'The Borealis'—wraps around the exterior and interior of the building. It also forms the roof canopy.
Elsewhere in the city stands Rogers Place arena, designed by HOK and completed in 2016. It is expected to be Canada's first LEED Silver National Hockey League (NHL) arena, using 37 per cent less water and 14 per cent less energy than conventional designs. Twenty per cent of the construction materials are from recycled content, including the Type 304 stainless steel with a non-directional vibration finish used for the roof and curtain wall panels, which could have 75 to 90 per cent recycled content.
South of the border and further east, there is another impressive recent stainless-steel project. New York City's Via (625 West 57th St) is the first building designed by the Danish Architecture firm BIG (Bjarke Ingels Group) in North America. Completed in 2016, the 709-unit residential building won numerous awards, including accolades from Royal Institute of British Architects (RIBA), Council on Tall Buildings and Urban Habitat (CTBUH), and the World Architecture Festival.
The Durst Organization carefully vetted the materials and all aspects of construction with consideration of their impact on the environment. Type 316L was selected for both the façade and the custom structural sections supporting the cleaning system because of the building's deicing salt exposure adjoining the Joe DiMaggio Highway.

Control the content you see on ConstructionCanada.net!
Learn More.