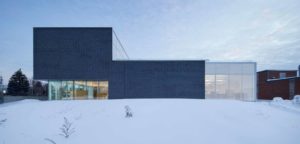 The design of Laval's Lafond Desjardins dental laboratory is emblematic of highly sophisticated architecture not prevalent in industrial buildings, to enrich the city's landscape with elevated design and offer an aesthetically pleasing and engaging workplace.
Montreal firm ACDF Architecture designed the building to demonstrate that industrial buildings offer great opportunities to create sensitive and refined architecture. The lab has a prominent location on Industriel Blvd., a major artery in Laval's main industrial district. The firm positioned the building as a beacon, shining in the distance. At night, the white screen-printed glass glows thanks to a backlight effect created by lights inside, and by day sunlight shining on the windows creates an overexposure effect. Highly textured, antique-finish black bricks cover the rest of the building to give it a contemporary look full of contrasts–the firm's signature.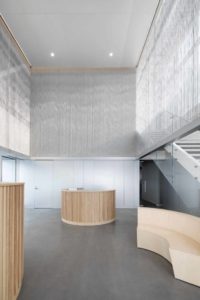 The black brick façade is the largest cuboid volume from which other volumes are subtracted to create functional spaces bounded by fenestration. All volumetric subtractions have their specific purpose, whether to meet different programmatic requirements or to provide optimal natural lighting based on carefully studied solar trajectories. A double-height foyer, terraces upstairs accessed from common spaces and administrative offices, floor-to-ceiling windows strategically positioned based on the architectural program: the contrasting shapes and tones resulting from this volumetric work attract the gaze of passersby without being overbearing.
Although mainly used by employees, the new building also occasionally welcomes patients who come to verify the colour of their future crowns. As a showcase for the company, the foyer is a very important space requiring ample light. The sense of vastness created by its double height, the abundance of natural light from the upstairs garden—filtered through metal-chain screens—and the pure white walls and polished-concrete floor contrast sharply with the exterior. A minimalist space overall, the double-height foyer includes a reception desk, a waiting area for visitors and a naturally lit kiosk for patients.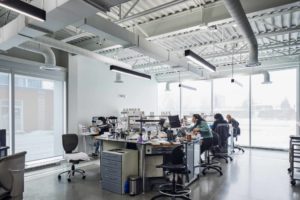 "We are not afraid to work in fields that are not trendy or generally considered amenable to refined projects. Quite the contrary, in fact," said ACDF co-founder Maxime-Alexis Frappier. "Everyone deserves a day-to-day life elevated by design. We believe architects must absolutely be more involved in the industrial sector by creating projects that make a positive contribution to the urban landscape. They should also benefit the workers by providing more attractive, engaging, and productive workspaces."