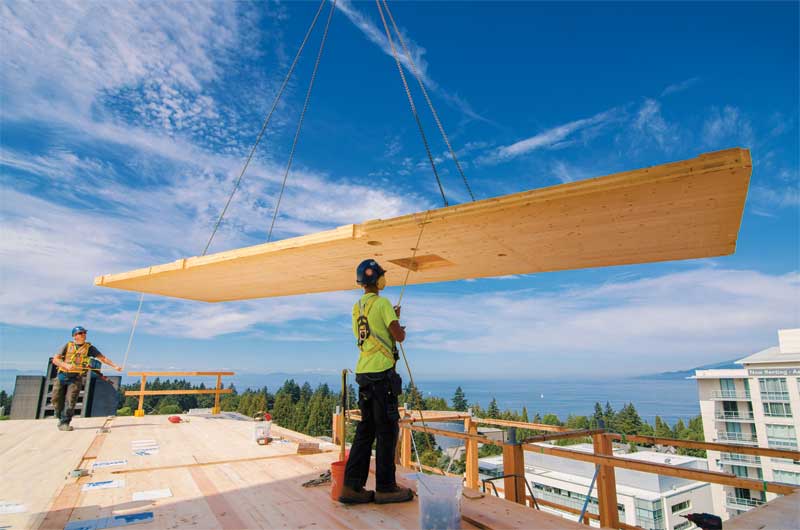 Day 1
On Day 1 of the cycle, the CLT floor plate would be installed. The three delivery trucks were scheduled to be received onsite as elements were required. This was necessitated by the site's space constraints, which would not permit any overnight storage of wood elements.
Deck installation typically took 5.5 hours. Once this was finished, the splines connecting the panels and the drag straps connecting wood elements to concrete elevator shafts would be installed. At the same time, work began on installing the concrete acoustic topping three levels below the CLT installation. The setup of the concrete pumper and off-load of the five concrete trucks required was easily completed within the same timeframe as the CLT installation.
Day 2
The second day of the installation cycle would see handrails installed, followed by placement and erection of the glulam columns on the CLT deck. At the same time, on the previous floor below, the curtain wall panels would be installed. A total of 22 envelope panels could be installed in approximately eight hours. This installation was critical in order to meet the encapsulation requirements for the permit.
Day 3
On the final day of the cycle, the team installing the wood structure was able to complete installation of the column alignment braces, as well as installation of the L-angle bracket along the building perimeter. This enabled installation of the curtain wall panels. As well, flashing installation between the panels could be completed.
At the same time, and five levels below, the underside of the CLT panels had non-paper-faced Type X gypsum wallboard installed. This additional drywall encapsulation was necessary to meet the permitting requirements of the building.
Reduced waste and noise
Accurate timing and co-ordination of all deliveries was critical. Precise hourly scheduling ensured the site never became overly congested. One notable difference for this project was the consistent speed of installation. Wood assembly is not only considerably faster than concrete, but using it significantly reduces the amount of truck traffic through the residential neighbourhood. The lack of concrete, formwork, reinforcing, shoring, and reshoring greatly reduced onsite waste generation and subsequent waste-handling.
Additionally, the prefabricated wood and envelope components produced nearly zero site waste upon delivery. Since both elements are completed in a separate manufacturing facility, any waste generated can be managed—either for reuse, recycling, or consolidation—without ever coming to the site.
One of the side benefits was the significant reduction in noise generated from onsite assembly and construction processes. This was attributable to the accuracy of the machining of the wood components, which ensured a precision fit to allow fast, easy, and quiet assembly.

Control the content you see on ConstructionCanada.net!
Learn More.