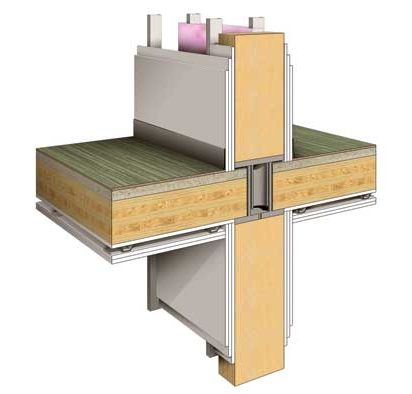 The roof is made of prefabricated sections of steel beams and metal decking, with the roofing membrane pre-applied to achieve quick watertightness during construction. The building envelope is a prefabricated panel system clad with wood-fibre high-pressure laminate (HPL).
Using this combination of mass timber, concrete, and steel provides a cost-effective and sustainable solution to construction challenges, as well as options to improve building performance and design. There are several benefits associated with using mass timber-concrete-steel hybrid systems, including:

constructing a lighter building, which is particularly advantageous in poor soil condition sites;

using prefabricated elements that reduce costs and speed up construction; and

employing wood to increase the strength-to-weight ratio for the building as a whole.
In this particular project, there was another benefit—exemplifying the wood products' use in a high-rise building to inspire other design teams working in this burgeoning field.
"A key achievement for the Brock Commons Phase 1 
project is the design of an innovative mass-timber structural system that is genuinely economically viable, repeatable, and adaptable to other building typologies and uses," explained Russell Acton, a principal at Acton Ostry Architects. "This project will positively impact the wood, development, and building industries in British Columbia."
This was echoed by Michael Giroux, president of the Canadian Wood Council.
"Above and beyond further establishing the safety, economic, and environmental credentials of massive timber products used in buildings, UBC's Brock Commons will inspire current and future generations of architects and engineers to consider its use—ultimately creating another and most welcomed construction choice for builders and new markets for wood product producers," he said.
Speed and ease of construction
The construction of Brock Commons has raised awareness about the opportunities afforded by prefabrication and manufacturing techniques using engineered wood products. Two of the most notable benefits are speed and ease of construction.
Once the concrete foundations and podium level were complete, the concrete elevator/stair cores were formed and placed from Level 2 to the roof using a unique climbing formwork system that made it possible to pour two cores, two floors per week. At this point, the steel angles that support the CLT panels at the cores were installed.
Once that work was completed, installation of the wood elements began. The first of these, the glulam columns, began on June 6, 2016. The first CLT floor (i.e. Level 3 ) was completed by June 10, while the last (i.e.  Level 18) was completed by August 9—it took less than 10 weeks to complete 18 levels.
The assembly crew of 10 people would complete an entire floor plate installation on a three-day work cycle. The site worked six days a week, except statutory holidays, which resulted in two complete floor levels, each about 910 m2 (9800 sf), achieved every week.

Control the content you see on ConstructionCanada.net!
Learn More.