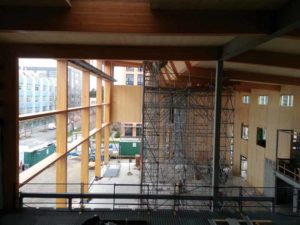 The solution
The main structure of the building consists of Douglas fir post-and-beam frames, running east to west across the building and set 6 m (20 ft) apart. A central line of columns divides the factory into two bays, reducing the span, depth, and cost of the roof beams. Each beam has continuous ledgers on both sides, providing support and simplifying the installation of roof panels.
The roof assembly consists of prefabricated panels framed with 50 x 254-mm (2 x 10-in.) solid sawn members sheathed with plywood. Dimensionally consistent and easy to secure, the roof panels kept the structure square and stable during erection, eliminating the need for additional bracing. The exterior walls are made from solid spruce/pine/fir (SPF) cross-laminated timber (CLT) panels laid horizontally. The 6-m column spacing optimizes the use of CLT, manufactured to a maximum length of 12 m (40 ft). Each row of panels is offset from the one below, avoiding the continuous vertical joints that can compromise the diaphragm action of the walls.
The CLT panels are exposed on the interior of the building, adding visual warmth to the workspace. Above the CLT, a continuous clerestorey wraps around the structure, providing abundant natural light and views of the mountain in all directions. The structural engineers at Equilibrium Consulting designed steel cross-bracing to connect the roof and wall diaphragms with minimal obstruction of sightlines.
The building exterior is finished in horizontal 50 x 102-mm (2 x 4-in.) fir and larch boards, chamfered on two edges and preassembled into panels. The boards were laid up in a jig to vary the spacing between them in a controlled manner. Vertical backing members were then attached to facilitate installation of the panels.
Varying the openness of the screens enabled the exterior appearance to remain consistent, while allowing each façade to respond to its own solar orientation. On the south and west façades, the slats over the clerestorey windows are closely spaced to provide shading, while those on the north and east façades are more open to maximize views. Additionally, the cladding is left unfinished to naturally weather over time.
The office and showroom spaces are designed to the Passive House standard. Using an airtight, double-walled system and high-performance wood windows, the envelope was optimized to reduce the energy required for heating and cooling. A high-efficiency heat recovery ventilator (HRV) provides a constant supply of fresh air to the office, thereby creating a healthier work environment.
A biomass, wood-fed boiler uses waste from the manufacturing process to provide the heat distributed to the plant through an in-floor radiant heat system. This creates a solution for plant waste while supplying the building with a carbon-lean heat source. As a single-storey building with conforming mezzanine, the structure is permitted to be of heavy timber construction and does not require additional fire-safety measures.

Control the content you see on ConstructionCanada.net!
Learn More.