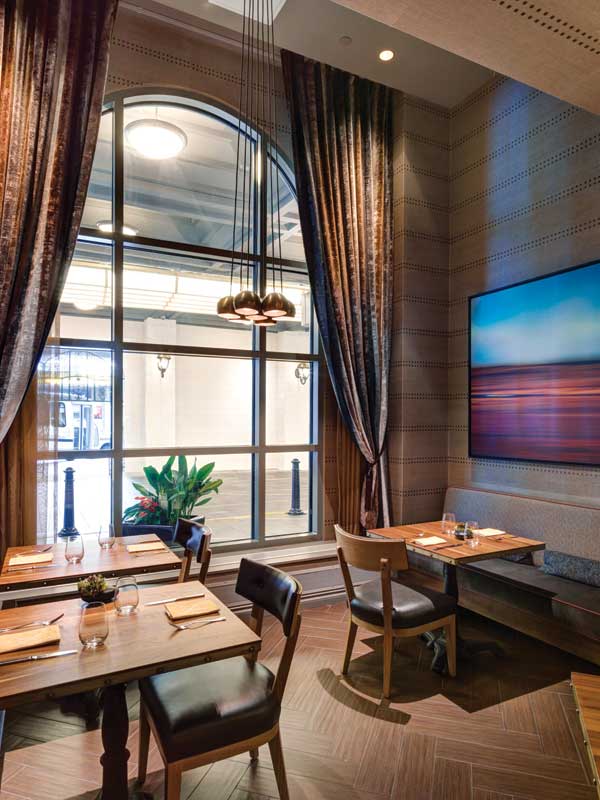 VNHS housing: A case study
A recent Vancouver Native Housing Society (VNHS) mixed-use project—Broadway+Fraser (pictured on the cover)—in partnership with BC Housing, the City of Vancouver, and Broadway Youth Resource Centre (BYRC)—provides a look at how fire-rated glass can contribute to a sustainable 'green' project seeking LEED certification. (BYRC is an integrated program that provides a wide range of social, health, housing, education, employment, and life-skills services to homeless and at-risk youth between the ages of 12 and 24. Services are provided by several non-profit agencies, a community college, a university, and all three levels of government. The goal of this multi-agency model is to provide a seamless continuum of integrated community-based social and health services.)
For context, VNHS is a registered charity and is governed by an all-Aboriginal board of directors. Founded in 1984, it manages a portfolio of 17 buildings with a total of 706 units; the group currently houses approximately eight per cent of the urban Aboriginal population.
VNHS works in partnership with federal and provincial government agencies to achieve affordability for individuals and families with low incomes. Initially, the primary funding agency was the Canada Mortgage and Housing Corporation (CMHC), which provided subsidies through the Urban Native Housing Program. In 1997, the responsibility for funding all housing programs was transferred to BC Housing; in 2013, administration of VNHS housing subsidies moved to the Aboriginal Housing Management Association (AHMA).
The new mixed-use project in question is one of 12 Vancouver-owned sites being developed under the Provincial Homelessness Initiative (PHI). It is a 8112-m2 (87316-sf) building that represents a commitment to build on the city's network of social and supportive housing projects. It consists of three major components:
subsidized rental housing and support services;
youth resource centre; and
commercial/retail area.
The building has since been named by BYRC as Kwayatsut (K-why-ah-sote)—a Coast Salish word holding the meaning of seeking one's power or spirit quest. Its design/construction team included sustainability consultant Blue Camas, along with architect Larry Adams and Neale Staniszkis Doll Adams (NSDA) Architects, MMM Group, Fast + Epp Structural Engineers, Perry and Associates, Horizon Engineering, exp Services, CES Engineering, Darwin Construction, Recollective, and E3Ecogroup.
Site context
The site is located at the northwest corner at the intersection of two major Vancouver streets, Broadway and Fraser Street, which were occupied by a one-storey commercial building with BYRC the major tenant. Immediately adjacent to the site on the west is a two-storey commercial building and a one-storey strip mall. To the north, across the lane, are three-storey residential buildings. To the east, across Fraser Street, is a series of small two-storey commercial buildings. Across Broadway are similar low-scale commercial buildings. Other neighbouring uses include a public park at Fraser and 8th Avenue, and the Mount Pleasant Neighbourhood House at Broadway and Prince Albert.
The site
The site is approximately 60 x 37 m (197 x 121 ft), and has an area of 2245 m2 (24,165 sf). It is located on a rise of land from both directions along Broadway. The site itself slopes from 2.1 to 0.9 m (7 to 3 ft), from Broadway to the lane. At construction time, there were no dedications or rights-of-way.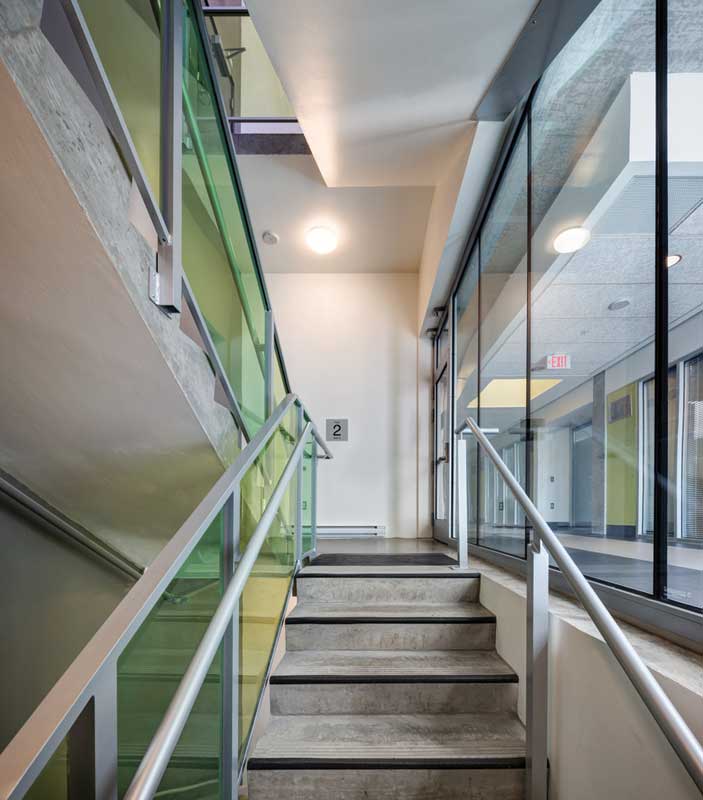 Residential and commercial
The residential component of the project consists of the equivalent of 103 single PHI units, plus amenity and support spaces. About 30 of the residents are youth and directly involved with the BYRC program, and the remainder of the units are available to individuals who have low incomes and are homeless (or at risk), referred through BC Housing. As per the memorandum of understanding (MOU) between the province and the city, priority was given to residents of Mount Pleasant and the Broadway Corridor.
The commercial component is approximately 1100 m2 (11,840 sf); it comprises the entire main floor facing East Broadway. It will be owned, managed, and leased by the City of Vancouver's Real Estate Services. Although dictated by current market trends, there is an opportunity for either community-oriented services suitable to the neighbourhood services or by a larger more destination-oriented retail space.
Design description
The selected building form comprises a two-storey commercial base with a six-storey residential component above, with an aggregate building form of eight storeys on East Broadway. This urban design response minimizes overshadowing to the residential areas to the north, defines the Broadway street edge, and provides a slim profile to traffic travelling both ways on Broadway. Active uses for BYRC, such as classrooms, art rooms, and meeting rooms, have been placed along Fraser Street and the lane to provide pedestrian interest and activity. Residential amenity areas and outdoor spaces have been provided on Levels 3 and 5. Large planters for urban agriculture are included as part of the outdoor amenity area on the fifth floor.
The landscape treatment of the streets has been designed to reinforce desirable urban design objectives. This includes the introduction of street trees, decorative paving, and bicycle racks.

Control the content you see on ConstructionCanada.net!
Learn More.