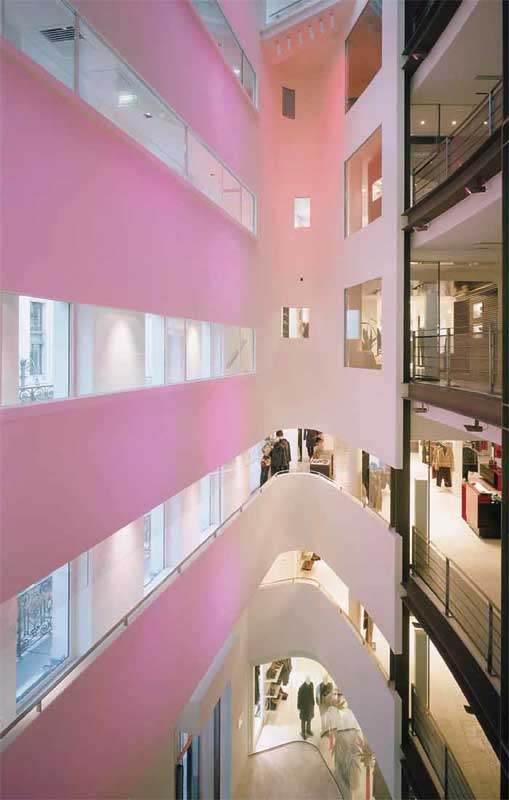 By Patricia Hernandez and Lori Jerome
Fire-rated glass products are specifically chosen to make buildings safer for occupants in life-safety situations, but these materials—whether windows, curtain walls, skylights, door lites, or floor assemblies—can also help make a space brighter, more inviting, and more energy-efficient. When considering integrated whole-building design and efficiency, choosing the proper glass products is critical. Simply put, the ideal material is one permitting the greatest amount of natural light to enter a building, while reducing or eliminating solar radiation and solar heat gain. This solar control can help maximize the performance of a building and allow warmth to enter a building during the winter, while also keeping the building cool in the summer months.
Fire-rated insulated glass units (IGUs) can have options for low-emissivity (low-e) coated glass and be insulated with a specialized gel to help reflect the energy of the sun and insulate the interior of the building. This enables high-density areas to comply with strict fire codes while contributing to the energy efficiency of the building at the same time.
Whether the project is a commercial office, school, or healthcare facility, allowing abundant daylight into interior spaces and providing a visual connection to the outdoors can have a positive impact on productivity or healing, improving the overall mood of the occupants. This means fire-rated glass that provides up to 90 per cent transmittance of visible light into a structure can bring in daylighting without compromising safety.
When thinking about sustainable projects, however, it can be important to understand how these glazing materials contribute to specific aspects of the predominate green building standard—the Leadership in Energy and Environmental Design (LEED) program.
Changes between LEED 2009 and LEED v4
LEED is currently undergoing a change. The existing rating system (often called 'LEED 2009'), with which many are familiar, is open for registration until October 31, 2016—this deadline was extended in order to give building owners and design/construction professionals enough time to prepare for the program's newest iteration, LEED v4, which debuted last year and features increased rigor and multiple updates. Consequently, this article examines how fire-rated glazing products could contribute to both rating system versions.
Energy and Atmosphere
Under LEED for New Construction (NC) 2009, fire-rated glazing products can contribute toward Energy and Atmosphere (EA) Prerequisite 2, Minimum Energy Performance, which mandates all projects achieve a minimum level of efficiency. It also helps a project earn points under EA Credit 1, Optimize Energy Performance, for increasing levels of conservation.
LEED 2009 uses American Society of Heating, Refrigerating, and Air-conditioning Engineers (ASHRAE) 90.1-2007, Energy Standard for Buildings Except Low-rise Residential Buildings, as its reference standard. LEED v4, on the other hand, invokes the 2010 edition of ASHRAE 90.1, along with updated advanced energy design guides and data centre energy modelling.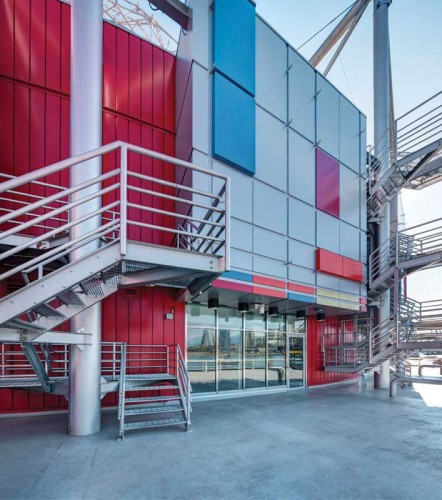 Regardless, the ideal glass product remains the one that permits the greatest amount of natural light to enter a building while still reducing the thermal effects of infrared (IR) energy and solar heat gain. (Of course, in fire-rated assemblies' case, it must also meet all relevant life-safety testing requirements.) This can be achieved by working with manufacturers in discussing options ranging from enhanced thermal insulation in opaque wall assemblies to double and triple glazing or specialized solar control or low-e coatings. When considering whole-building energy performance, the glass—in addition to measuring up to fire-rated, life-safety requirements—must aid in minimizing solar heat gain and reducing the load on the project's HVAC system.
Materials and Resources
Under LEED 2009, glazing products can help achieve Materials and Resources (MR) points, with certain considerations. For example, MR Credit 4, Recycled Content, requires materials to have at least 10 or 20 per cent (based on cost) of the total value of the materials in the project to contain recycled materials. Due to fire rating standards, however, many fire-resistive glazing materials lack any recycled content. Still, the accompanying steel framing system can incorporate post-consumer recycled material.
MR Pilot Credit 52, Material Multi-attribute Assessment, calls for permanently installed products that have a critically reviewed lifecycle assessment (LCA) or environmental product declaration (EPD). Earning this credit entails seeking fire-rated glazing products with EPDs conforming to International Organization for Standardization (ISO) 14025, Environmental Labels and Declarations−Type III Environmental Declarations: Principles and Procedures.
Similarly, MR Pilot Credit 76, Material Ingredients and Reporting, offers a point to projects with products demonstrating the chemical inventory to 1000 ppm through a manufacturer's inventory, health product declaration (HPD), or cradle-to-cradle certification. Such HPDs are expected to be forthcoming from fire-rated glass manufacturers in the immediate future.
Under LEED v4, these two pilot credits have 'graduated.' The new rating system has the credit, Building Product Disclosure and Optimization, which comes with two options: "Environmental Product Declarations" and "Sourcing of Raw Materials." For gaining a point under the first path, 20 different permanently installed products must be sourced from five different manufacturers with EPDs.
LEED v4 also offers a Construction and Demolition Waste Management credit. Many fire-rated glazing products are customized, produced, and manufactured to specific needs and dimensions. Since no sizing or cutting is necessary onsite, waste generation is reduced.
Indoor Environmental Quality
In LEED 2009, Indoor Environmental Quality (EQ) Credit 8.1, Daylight and Views−Daylight, rewards project teams for achieving natural light penetration in 75 per cent of regularly occupied spaces (it differs a bit for schools). To achieve this point, it is important to specify fire-rated glass products that allow admission of daylight into a space. The rating system offers a further point under EQ Credit 8.2, Daylight and Views−Views. This necessitates a direct line of sight to the outdoor environment via vision glazing between 762 and 2286 mm (30 and 90 in.) above the finished floor for building occupants in 90 per cent above the finish floor for building occupants in 90 per cent of all regularly occupied areas. Fire-rated glazing products helping achieve this must offer the translucence of a clear glass window.
Under LEED v4, the credit, Daylight, calls for:
provision of various glare-control devices for occupied spaces;
achievement of no more than 10 per cent annual sunlight exposure; and
demonstration of illuminance levels between 300 and 3000 lux.
EQ Credit, Quality Views, requires achieving a direct line of sight to the outdoors via glazing.

Control the content you see on ConstructionCanada.net!
Learn More.