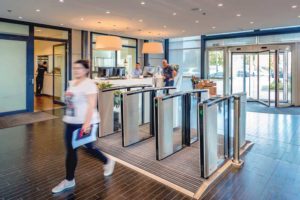 By Greg Schreiber
There are a range of entrance security requirements which vary in purpose, risk, and threat. What is acceptable for a community centre or subway paid zone may not be adequate for a company's research and development centre. Even higher security requirements may be required in other situations.
Physical security retrofit is not as simple as it used to be. In a continuous pandemic, health compliance mandates, and growing social polarization and upheaval, such as the January 6, 2021 attack on the Capitol Building—today's physical security upgrades must transcend previous technologies, which focused primarily on minimizing organizational risk.
Most enterprise companies have a pressing need for physical security modernization, which requires increased spending on technology solutions. Corporate physical security lacks in investing and adopting modern tools and technologies, especially when compared to cybersecurity, regarding it as a cost centre with little revenue potential to the bottom line.
According to a report1 on physical security threats, corporate security concerns have been accelerated by the pandemic and social discontent. The report states, "A proactive, always-on, data and intelligence-driven function powered by universal, accessible technology has never been more important for corporations, and a physical security digital transformation movement is underway."
The report also added, "This rapid change and expansion of the physical threat landscape has created an exponential increase in data and pre-incident indicators that have become unmanageable."
Evolving threats are the key motivator
The sudden enhanced desire for security upgrades and total retrofits has not been put into action yet because of concerns related to outdated technology solutions. Still, there is a higher awareness, organizational responsibility, and a renewed commitment to the "duty of care" to protect, not only people and anything of critical importance, but cyber-information as well; all while responding appropriately and promptly to lockdowns, intrusions, forensic information, and any unforeseen responses.
The facilities with existing secured entrance technologies realized their swinging doors with access readers will not meet the needs for tighter, more scrutinized security and health checks because of compromised throughput or tailgating issues. Conversely, other facilities which did not previously deploy security entrances may find them necessary now. However, simply specifying a new entrance is not a sound strategy to ensure a successful installation or upgrade as there are other key factors to consider.

Control the content you see on ConstructionCanada.net!
Learn More.