Musculoskeletal disorders
The most prominent of serious workplace injuries is a musculoskeletal disorder (MSD).
Every day in various job settings, including seemingly benign design firms or home office environments, people use muscles, tendons, ligaments, and joints to lift, push, pull, carry, kneel, stand, walk, move, and work in a variety of ways. However, sometimes these tasks, or the way they are performed, can put too much demand, on bodies, causing pain and discomfort. Additionally, they may lead to a more serious injury—a musculoskeletal disorder.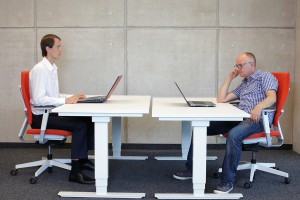 MSDs account for 43 per cent of workplace injuries—making them the most prevalent type of workplace injury, and one of the most costly safety and health problems in the modern workplace. They negatively impact personal lives, and can take longer to heal than acute injuries. Preventing MSDs needs to be a key part of every workplace health and safety program, including:
identifying and assessing job-related MSD hazards found within the workplace;
putting controls in place to reduce workers' exposure to MSD hazards;
advising and training workers about MSD hazards and how to prevent them;
encouraging workers to participate in their workplace's health and safety program through early reporting of MSD symptoms to their employer/supervisor; and
following up to ensure preventative measures are working.
Supervisors, workers, and Joint Health and Safety Committee (JHSC) members (discussed later in this article) need to check for MSD-related hazards during regular inspections, including:
unsafe lifting, lowering, pushing, pulling, and carrying of materials;
obstructions along routes of access, egress, and work locations;
poor housekeeping and improper storage of materials;
unsafe use of ladders and lack of adequate worker training;
poor maintenance of vehicles, machinery, and equipment that could result in increased physical demands; and
inappropriate use of equipment (such as boxes being used as ladders) by workers positioning themselves for overhead work.
There are other regulations applicable to specific tasks undertaken by architectural and design firms.
Prevention of falls from heights
Training is required for all employees who might work at heights while visiting construction sites; employers must retain records of training.
Workplace Hazardous Materials Information Systems
Training is necessary for both the basics of Workplace Hazardous Materials Information Systems (WHMIS) and for other specific onsite requirements. This training should be given to any worker onsite near controlled products. It applies to construction sites, industrial sites, and some office situations (i.e. use of ammonia).
Designated substances
A list of designated substances needs to be available onsite and must be prepared and issued with tender documents, for example asbestos and lead (listed by owner, inclusion by party issuing tenders).
Protective clothing, equipment, devices
Protective clothing, equipment, and devices should be worn or used as required by the construction regulation and in other situations as prescribed by other appropriate regulations.

Control the content you see on ConstructionCanada.net!
Learn More.