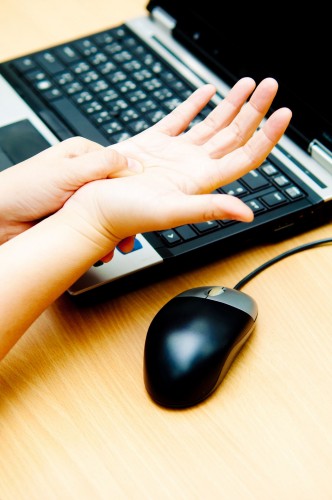 by Monica Szabo
Many architects and specifications writers spend long stretches of time at a desk in an office, and are potentially exposed to numerous other work situations that present health and safety hazards when out in the field. There is an entire series of regulations related to construction projects, many of which apply to representatives of architectural firms while onsite. It is recommended design professionals be familiar with provincial and federal regulations that apply not only to industrial and construction environments, but also to their own practices.
This article reviews some key ways to prevent injury and promote health, safety, and wellness in today's changing work environments, drawing on suggestions from the Public Services Health and Safety Association (PSHSA), funded by the Ontario Ministry of Labour.
Office ergonomics
Ergonomics play an important role in worker health and safety in an office setting for architects, designers, and specifiers. Ergonomics is the science of fitting the job to the worker; it has proven important in preventing the types of musculoskeletal injuries that contribute to workplace-related disability claims and long-term health impacts.
Once a person is injured, all of his or her daily activities may be disrupted. Ergonomic implementation works to prevent injuries, rather than treat them. It may include education about risk factors and causes of injuries, and encourages good habits in posture, body mechanics, and exercise.
Changes in the workplace environment continue to be driven by advances in technology. The overwhelming impact of bringing computers into the office resulted in a complete redesign of the space. In many instances, computers have changed not only the shape of the office and the way work is done, but have also affected the lifestyle of the workers.
The number of people working with laptop computers, tablets, and smartphones is growing. Some estimate they will soon account for more than half the working population, creating the biggest challenge for occupational health and safety. Tablets and laptops can cause bad posture as they tend to be used in awkward positions—on airplanes, at dining room tables, or on one's lap—which causes straining of muscles. Smartphones are small and are used frequently with repetitive motions in fingers over a small area of space.
Even more alarming is the high number of complaints about discomfort and injury. Against all expectations, the wider application of ergonomic principles is not dramatically alleviating the problems. This creates a new challenge to convince computer operators and all working people their own health and well-being depends as much, if not more, on their own actions than on the institutionalized healthcare system.
Prevention through participation may be the right approach. The Canadian Centre for Occupational Health and Safety (CCOHS) states, "the involvement of people in planning and controlling a significant amount of their own work activities, with sufficient knowledge and power to influence both processes and outcomes in order to achieve desirable goals."
Ergonomics assessments
In an effort to help offices reduce ergonomic-type injuries, PSHSA offers a variety of ergonomic services, including:
ergonomic assessments to identify ergonomic risk factors, determine the level of risk present in a job, and provide suggestions to minimize the risk of injury;
physical demands descriptions (PDD), which are in-depth explanations of the physical demands and environmental conditions associated with job performance; and
courses on how to conduct office ergonomics assessments (designed to help build internal capacity including both a classroom and practical application of exercises to identify office-related MSD hazards and opportunities for improvement).
A number of sectors are facing difficult challenges in prevention, including an aging workforce, growing workloads, shrinking budgets, and a demand for internal changes to process. These changes impact how an organization implements and integrates requirements related to legislation into its business operations, including addressing the hazards and providing mandatory health and safety awareness training to all employees.

Control the content you see on ConstructionCanada.net!
Learn More.