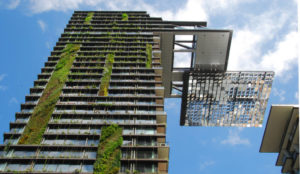 Thursday, November 24, 2022
Presented by: Luis Faria – Owens Corning
Explore green design and construction principles behind high-performance buildings
During this presentation, we will explore the green design and construction principles behind high-performance buildings, more specifically the different product green certificates and how they connect with the various green building certification systems.  This will lead us into a deeper dive of LEED certification.

Finally, we will see how the choices made by architects and engineers can have an impact on climate change and products available to minimize the building's ecological footprint. Luis Faria is a professional engineer with over 15 years of experience in Building Science focused on Residential and Commercial construction, Hydrology Analysis and O&G exploration in Canada and various countries across the globe.

He resides in the Lower Mainland in B.C. with his family and works extensively across Western Canada, helping the AEC community design and build low-carbon and energy-efficient buildings, which also provide comfortable and healthy living spaces for the occupants.He's a member of various technical committees across the country and actively engages with professionals that want to explore different aspects of insulation choices and how it affects the overall performance of commercial and residential constructions.
Click
here
for more information.