MAGLIO COMPANIES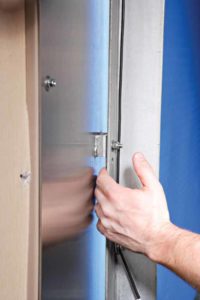 In Milwaukee, WI, produce processing facility Maglio Companies has been using bi-parting and high-speed, roll-up doors to maintain temperature and humidity levels for a large variety of fruits and vegetables.
After trying mechanical sliding doors with high RSI-values (10 in this case), and then strip curtains for three storage coolers within the loading dock area, the company knew it needed a new solution. If the doors were bumped into by forklifts, the downtime led to moving products from one cooler to another at best and potential spoilage of food at worst. Meanwhile, the strip curtains could not maintain a seal due to positive pressure from inside the coolers blowing them out.
The facility put in a high-speed, roll-up door on one of the coolers as a trial. The setup included a fabric door that rolled up into a header above the door. A motion sensor on the outside of the cooler automatically activated the door on the approach and closed it once the forklift was safely inside. To exit the cooler, a forklift operator would use a pull rope or push button to raise the door.
However, it was quickly determined the door would not be able to meet their needs. The door made from fabric curtain was not flexible enough to handle the cold temperatures. A new door was installed using a more flexible fabric made from smooth polypropylene and aluminum sides that are easily removable for cleaning from a one-piece radial header machined from a solid block of ultra-high-molecular-weight polyethylene (UHMW) plastic. It was successful.
The quick cycle times reduced the likelihood for forklifts to hit them, and increased their efficiency moving through them. Those quick cycles also diminished air infiltration, which stabilized the environment and reduced energy use. The fabric of the doors proved to be effective in minimizing conduction between different temperature and humidity zones.
Before the high-speed doors were implemented, the compressors were running constantly to keep the environment cold. After installing the doors, the compressors would cycle off frequently, saving energy and costs.

Control the content you see on ConstructionCanada.net!
Learn More.