By Jon Schumacher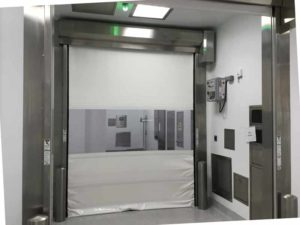 Although high-speed doors are not new, many of their applications are, along with the regulatory standards that apply to them. As such, choosing an appropriate model is more complex, and important, than ever.
For example, cleanroom doors are not just used in pharmaceutical facilities anymore—they are prevalent in a wide array of industries. Similarly, cold-storage doors have expanded beyond food processing plants, and are no longer evaluated solely on their insulating and cleanability characteristics (although their relevance to the food industry has only increased with the new U.S. Food and Drug Administration [FDA] standards, which are commonly referenced in Canada). In fact, according to the Canadian Food Inspection Agency (CFIA) and its Safe Food for Canadians Regulations (SFCR), which have been effective since January 15, 2019, doors should also be impervious to moisture, non-absorbent, resistant to deterioration, smooth, and durable. By following these guidelines, as outlined in sections 57 to 71 of SFCR, cold storage doors can help prevent a variety of hazards that would otherwise contaminate food.
Choosing the right door for a specific application can not only increase efficiencies, but also help ensure regulatory compliance.
Door types
The Door and Access Systems Manufacturing Association (DASMA) classifies a door as high-speed if it moves faster than 508 mm (20 in.) per second. It is a high-performance door if it opens and closes 100 times or more a day (also known as cycles). The most common high-speed door rolls upward into a housing frame known as a header when open. Bi-parting doors have two panels meeting in the middle of a door frame when closed. Strip curtains are sometimes used as an alternative option in food facilities in an attempt to slow heat transfer while simultaneously allowing quick access between rooms.
Cold storage trends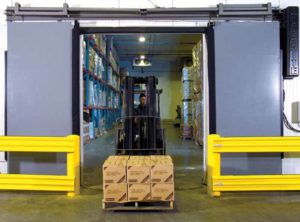 Cold storage facilities are an essential part of the food, beverage, pharmaceutical, and electronics manufacturing industries, among others.
Inside a food storage warehouse, doors serve as a literal gateway between different temperature zones and varying levels of clean areas. It is important these doors meet industry standards such as the National Building Code of Canada (NBC) requirements for door design, fit, marking, and performance.
When it comes to cold storage, there is a trend for bi-parting doors that combine the temperature separation of a high RSI-value and the quick cycle times of a high-speed door. This is especially true for facilities with high ceilings and tall door openings, as bi-parting doors offer openings from floor to ceiling at the same rate.
High-speed, roll-up fabric doors are also gaining popularity in cold storage facilities. In addition to food, they are suitable for keeping pharma products at the temperature levels mandated by government regulations like the Canada Food and Drugs Act. This awareness shift is taking place globally, with the International Energy Conservation Code (IECC) recognizing the importance of high-speed doors, along with the North American Fenestration Standard (NAFS), particularly NAFS-08, Canada's standard for doors, and the National Energy Code of Canada for Buildings (NECB). In fact, IECC's 2015 edition includes a revision to Table C402.4.3, which describes the maximum air infiltration rates for fenestration assemblies. As a draft copy of the table notes, their fast cycle times (up to 2.5 m [8 ft] per second) minimizes air exchange, which is a key part of reducing overall energy losses through a door opening.
Many types of cold storage doors are used in the food industry. While there is no specific 'cold chain' requirement in SFCR, it is paramount facilities and equipment within them have the capability to ensure food is kept safe. Frequently, the cold chain is a key component to this supply chain. However, not all doors in food facilities are designed strictly with the cold chain in mind.

Control the content you see on ConstructionCanada.net!
Learn More.